We see the talent level at the IBJJF World Jiu-Jitsu Championship rise with every passing year, the styles and strategies evolving and adapting over time. But the most important indicator for growth is the number of athletes entering the black belt divisions for the first time.

At the 2017 World Championships, we will see a number of young men and women making their Worlds debut, fighting alongside (and against) legends of the sport.

A lot of the young athletes were still children when their potential opponents were earning their first black belt world titles -- many hadn't even started training yet. But their past performances and dominating approaches to competition will prove that the new generation looks bright and is ready to shine.



BLACK / Adult / Male / Light-Feather

Rene Lopez
The Drysdale black belt earned his rank in 2015 but was working two jobs to be able to afford the full-time BJJ lifestyle he has now, and therefore was unable to make his Pan and Worlds debut last year. This year he has been sharpening his skills in the opens, earning golds at Mexican Nationals, Long Beach Open, Abu Dhabi trials/grand slam LA, Asian Open, and No-Gi Worlds.
Yuta Shimada
A constant presence on the podium at the largest competitions, Yuta is one of Japan's rising stars. He won the Asian Open just a week after being promoted to black belt and will try to maintain a top contender as he was at both purple belt and brown belt.
Watch Yuta Shimada matches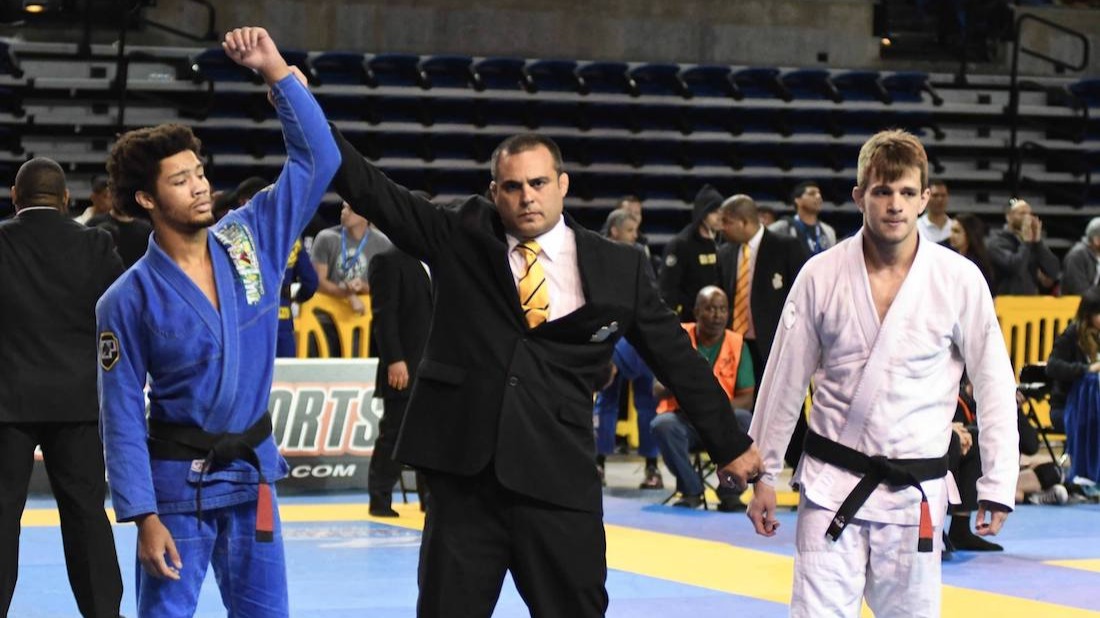 Jamil Hill (left). Photo:
Chase Smith / FloGrappling
BLACK / Adult / Male / Feather

Jamil Hill
Pans bronze medalist Jamil Hill is a world champ at purple and brown belt. The Team Lloyd Irvin member will hope to repeat his success in the colored belts now he's arrived at black belt, and his recent performance at Pans here at the biggest event of the year.
Watch: Jamil Hill vs Gianni Grippo IBJJF 2017 Pans
Caio Nunes
Known more locally in Brazil, Caio is a black belt under Fabio Gurgel at Alliance Sao Paulo. He secured his spot in the Worlds by gathering ranking points with a gold at Belo Horizonte Open, Salvador Open, and third at Curitiba Open.
Silvio Duran
Jointly-promoted to black belt by his mentors Rodrigo Cavaca and Vitor Shaolin, Silvio earned medals at the lower belts in Pans, Pan No-Gi, Worlds No-Gi, Brazilian Nationals. But recently he took home the gold at many of the IBJJF Opens around the U.S. to secure his ranking points to compete and gain experience to give it a solid chance at Worlds.
BLACK / Adult / Male / Light

Yan Lucas
The 2015 brown belt featherweight world champion sat out his first Pans and Worlds at black belt last year due to knee surgery. But since healing up, he has earned medals in the IBJJF Opens in the middle-heavy division, despite being a lightweight.
Watch Yan Lucas matches
Renato Canuto
Listed as someone to watch, the 20-year-old Drysdale black belt has put on wars with notable opponents at Pans and Marianas Open. He won gold last year as a brown belt at both gi and no-gi Worlds and has a promising, long, future in the sport.
Watch Renato Canuto matches
Johnny Tama
Fresh off wins over Michael Liera Jr. and Lucas Rocha at the Marianas Open last month, the Ecuadorian Alliance representative is looking to cement himself as a consistent top level black belt athlete. He has spent time on both coasts of the U.S. competing in IBJJF Opens and had a good run at Pans earlier this year.
Watch Johnny Tama matches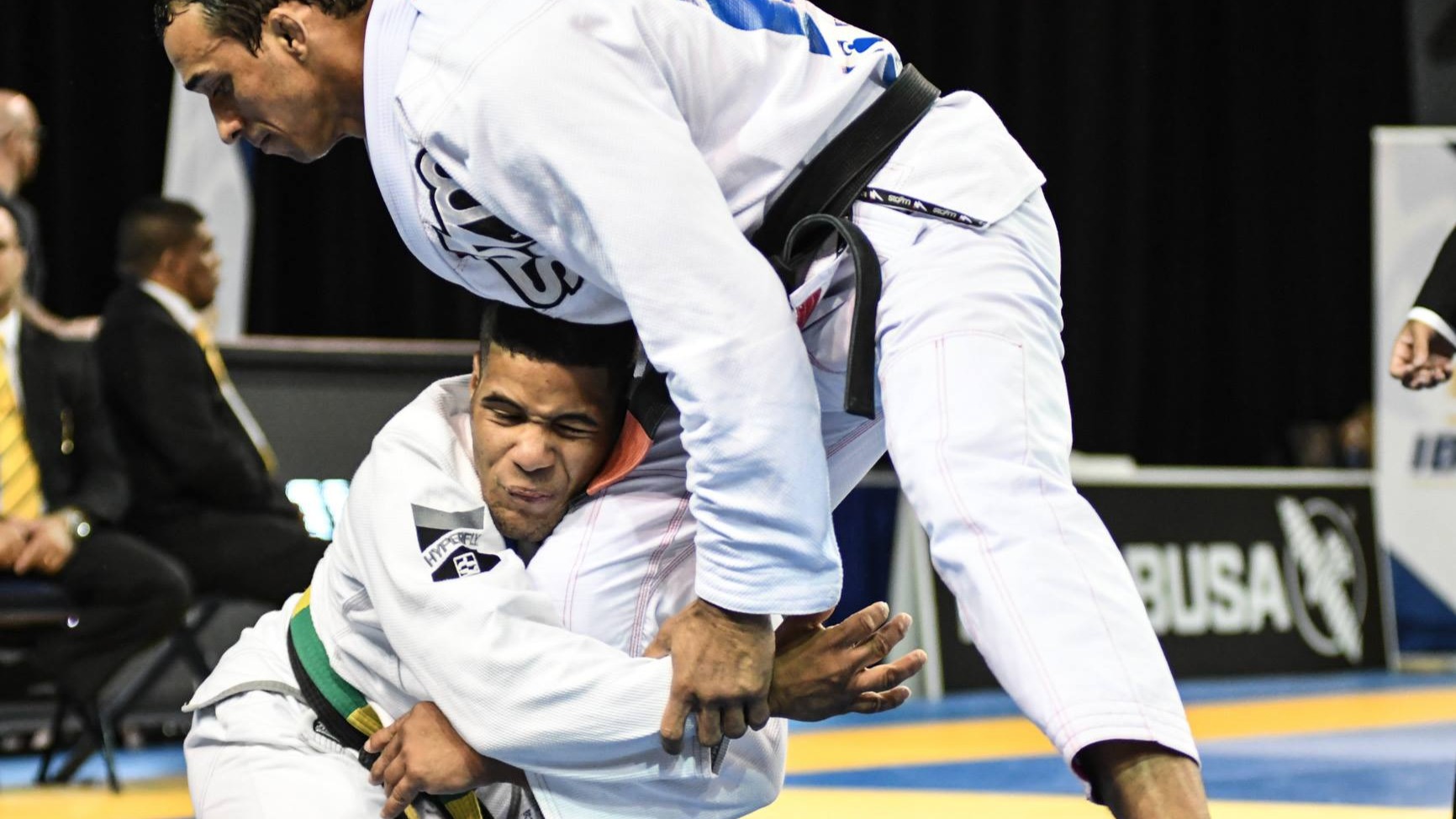 Isaque Bahiense goes for a takedown on Romulo Barral. Photo:
Chase Smith / FloGrappling
BLACK / Adult / Male / Middle

Isaque Bahiense
One of the most impressive first year black belts, Isaque made waves at the Europeans with wins over notable names and a second-place finish at Pans. He knows how to balance aggressiveness with strategy and Alliance is banking on big moves from this 21-year-old.
Watch Isaque Bahiense matches
BLACK / Adult / Male / Medium-Heavy

Horlando Monteiro
Now living in the U.S. and training under his professor Gustavo Dantas, Horlando is continuing to add more black belt medals to his collection. The 2016 brown belt world champion earned two initial golds at the Paris Open and Berlin Open, giving him momentum for a silver at Europeans, a bronze at Brazilian Nationals and medals at various other opens.
Watch Horlando Monteiro matches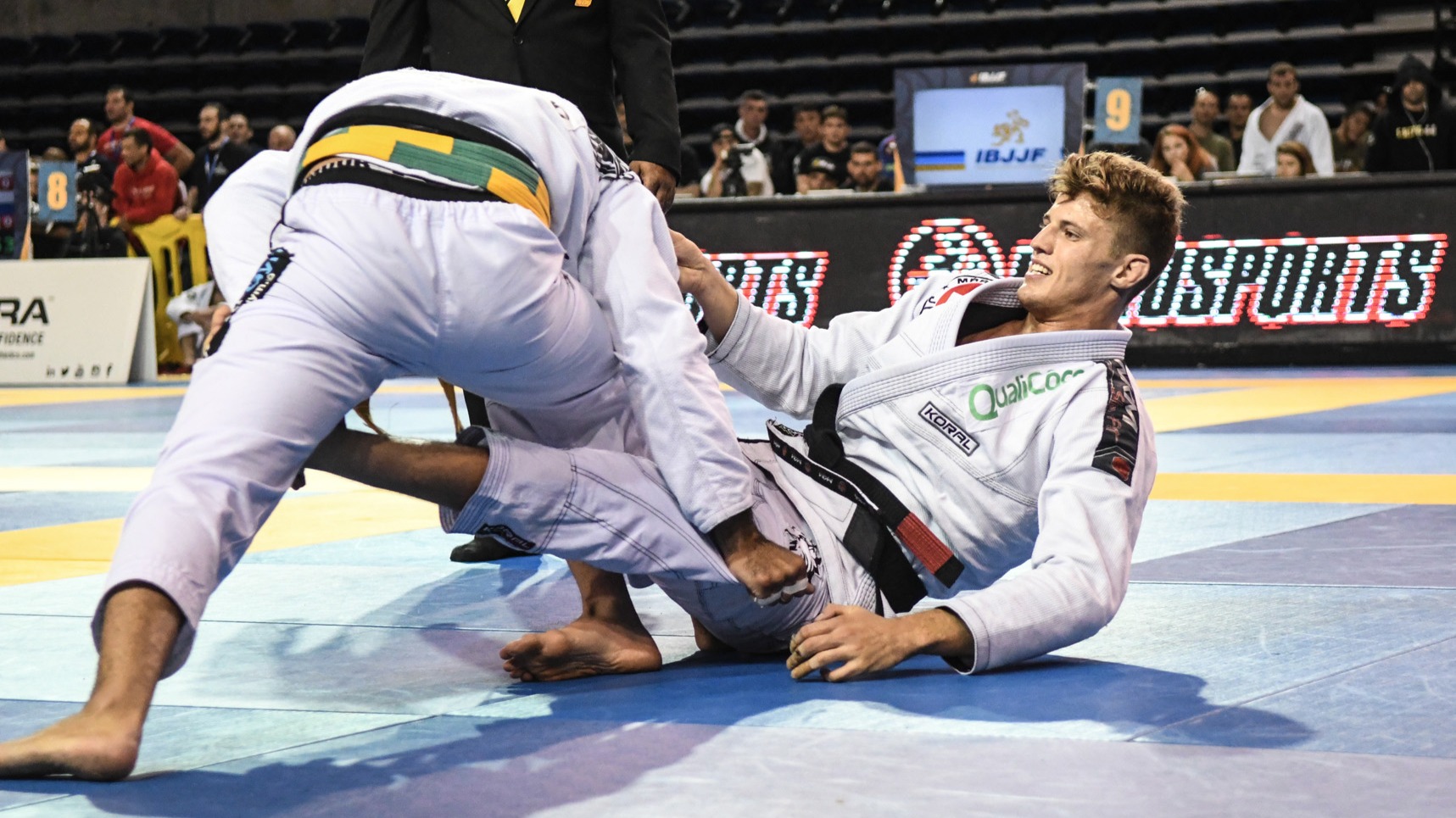 Nicholas Meregali uses his trademark De la Riva guard against Leandro Lo. Photo:
Chase Smith / FloGrappling
BLACK / Adult / Male / Heavy

Nicholas Meregali
Though we haven't seen him compete as much at his new rank, the Alliance star under Mario Reis won the four major IBJJF tournaments last year at brown belt, also known as the Grand Slam. He also gave Leandro Lo two battles in the weight and absolute at Pans this year, earning a bronze in the absolute, proving that he is a solid contender at black belt.
Watch Nicholas Meregali matches
Adam Wardzinski
A Polish native, he quickly came onto the black belt scene giving battles to beasts like Felipe Pena, Xande Ribeiro, Vinny Magalhaes, and more. Earning second at the Abu Dhabi WPJJC and winning many of the opens gives him momentum for the Worlds.
Watch Adam Wardzinski matches
Nick Schrock
After earning his black from Gracie Humaita St. Louis' JW Wright, "Moose" moved to San Diego to train at University of Jiu Jitsu under Saulo and Xande Ribeiro. His touch of judo training and strong base make him a great top player and stand-up guy in the heavyweight division.
Watch Nick Schrock matches
BLACK / Adult / Male / Super-Heavy

Fernando Reis
After Pans and Worlds last year where he placed second in both, Fabio Gurgel promoted the super heavyweight to black belt at the age of 21. Since last year he has racked up 14 medals at 7 tournaments, 8 of them gold.
BLACK / Adult / Female / Light-Feather

Livia Gluchowska
A brand new black belt from Australia, Livia won the brown belt roosterweight world title last year and so is able to enter the black belt division without ranking points. Her performance in a large round-robin division at the Abu Dhabi WPJJC earned her a bronze medal as a brown belt last month.
Talita Alencar
After winning brown belt worlds last year, she was promoted by GF Team's Julio Cesar and went on a rampage at the black belt level. She switched teams to Alliance and went on to win Worlds No-Gi, two Abu Dhabi Grand Slam events, Pans, Abu Dhabi WPJJC, and various other super fights and events. Her growth in the past year has been incredible.
Watch Ana Talita Alencar matches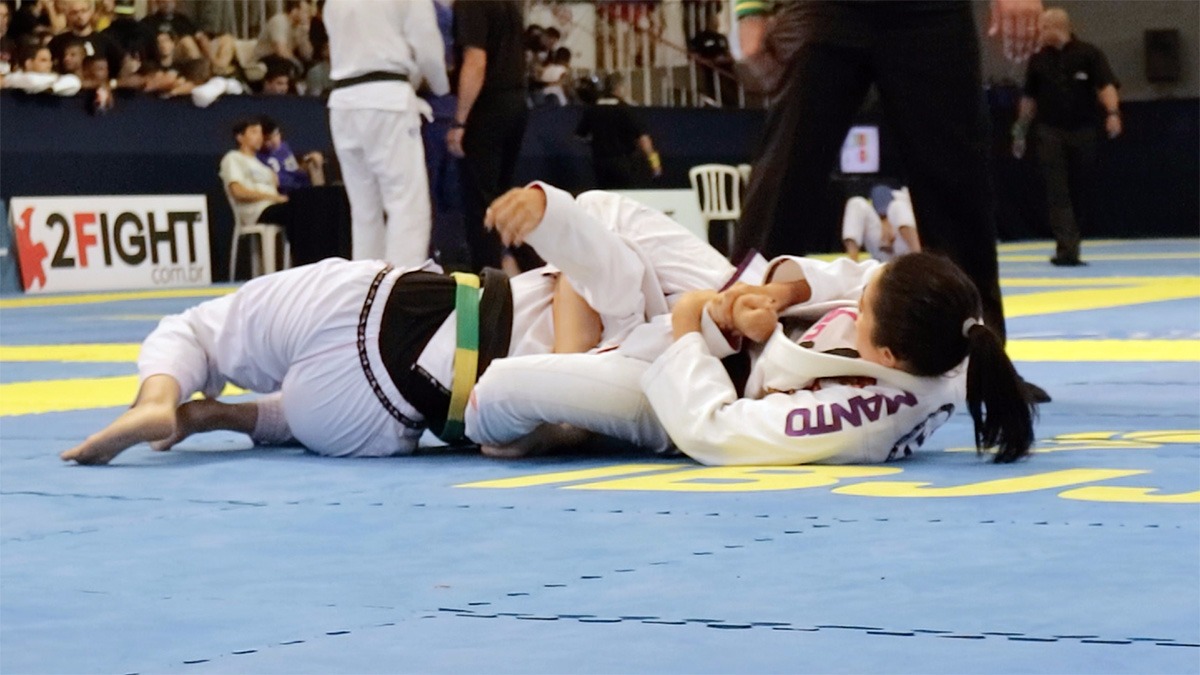 Thamires Aquino applies a nasty submission. Photo: FloGrappling

Thamires Aquino
Graduating to black belt also after winning her brown belt division at Worlds last year, the GF Team light-featherweight went on to win the Sul Americano, Abu Dhabi Grand Slam Rio, Europeans, and placed third at the Abu Dhabi WPJJC. She also won Worlds in the year prior as a purple belt among many other titles in the lower belt ranks.
Watch Thamires Aquino matches
BLACK / Adult / Female / Feather

Bianca Basilio
Having won the Worlds at every lower belt rank so far and finding success as a Pan champion already at black belt, the bets are off that Bia will be on the podium at Worlds. Her days on the mat from kid to juvenile to adult black belt will suit her well for this first attempt at the black belt world title.
Watch Bianca Basilio matches
Aarae Alexander
Lloyd Irvin's lone black belt female star just recently earned an engineering degree while also having earned multiple world titles in the process. She only trains on the weekends but still managed a good run at brown belt and as a new black belt including third at Pans this year.
Watch Aarae Alexander matches
BLACK / Adult / Female / Light

Danielle Alvarez
The Texan earned her black belt just after the Pans from her father and since she won the brown belt featherweight world title last year. she earned her spot at the Worlds. She recently earned her first black belt gold at the Dallas Open and even earned straight A's in her semester at school. Once she graduates in August, we'll see more of her.
Watch Danielle Alvarez matches
Jess Fraser
Another Australian representative and a world jiu-jitsu traveler, Jess earned her black belt at Bali MMA form Justin Sidelle and earned the bronze medal at the Abu Dhabi WPJJC in a stacked division. She has also represented Australia four times at the WPJJC winning the trials each time.
BLACK / Adult / Female / Middle

Ana Carolina Vieira
One of GF Team's stars, she has won worlds at every belt rank. She too was promoted by her master, Julio Cesar, on the podium at least year's Worlds. And in impressive fashion, has won every single black belt tournament she has entered including Abu Dhabi Grand Slam Rio and Abu Dhabi, Europeans, and Abu Dhabi WPJJC.
Watch Ana Carolina Vieira matches

Ida Fløisvik
The Norway native (turned nomad) has been spending a lot of time in the United States gathering up medals at the Las Vegas Open, New York Open, and Boston Open where she won double gold, And with a solid performance at both Europeans and Pans, a podium finish is likely.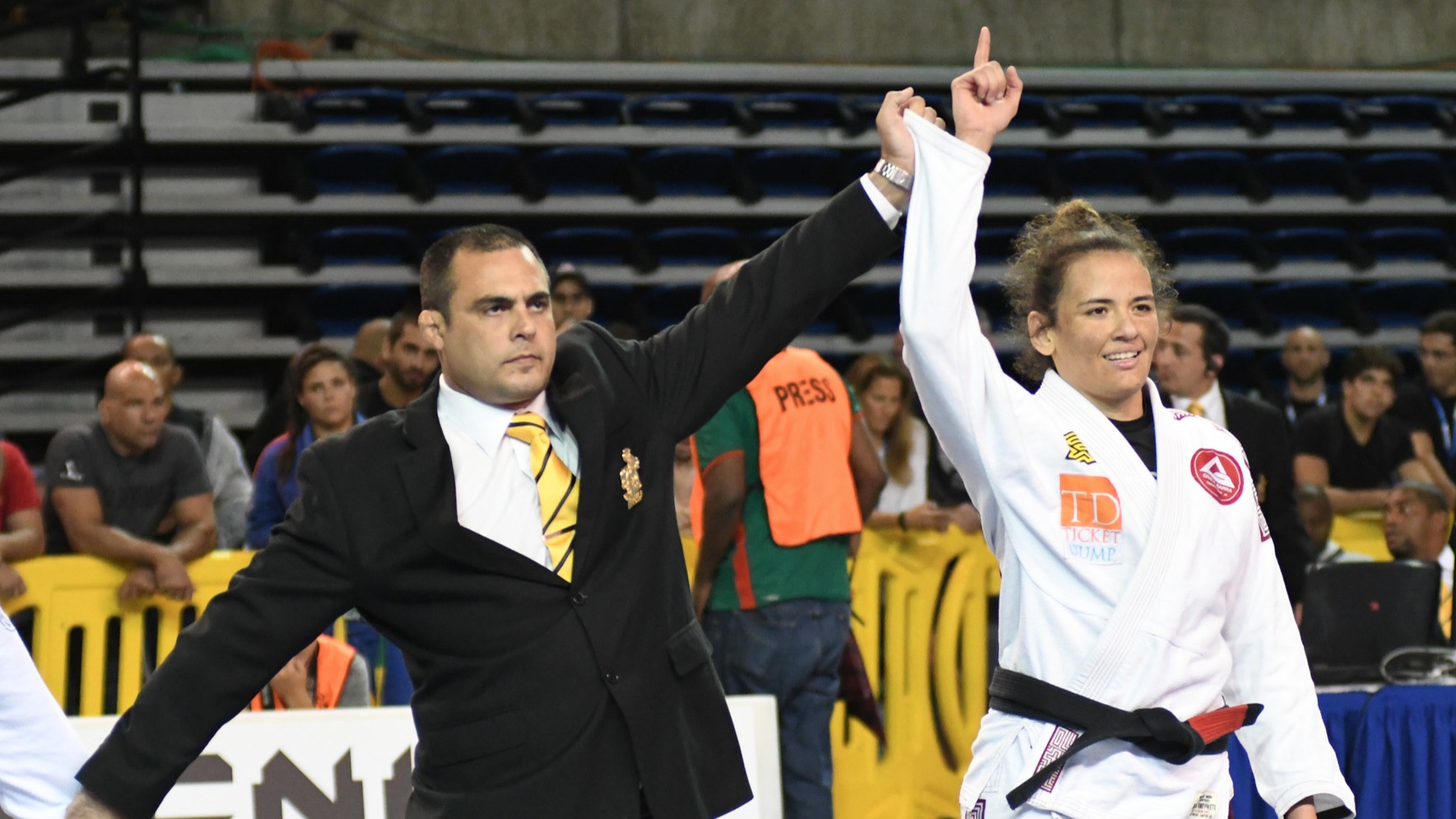 Jessica Flowers get her hand raised. Photo: Chase Smith / FloGrappling
BLACK / Adult / Female / Medium-Heavy

Jessica Flowers
Known for defeating the champion Gabi Garcia at the 2015 ADCC as a brown belt, Jessica already picked up gold in her divisions and silver in the absolute at Pans this year at black belt. The Gracie Barra star has been dominant in the lower belt ranks and now at black belt there's no stopping her.
Watch Jessica Flowers matches

Nathiely de Jesus
One of the most notable rising stars, the Cicero Costha black belt won worlds at both purple belt and brown belt but made her name as a champion of the Abu Dhabi WPJJC brown/black division last year as a brown belt. She repeated the accomplishment this year after winning the Europeans earlier in the year.
Watch Nathiely Jesus matches
BLACK / Adult / Female / Heavy

Claudia do Val
Despite only competing seriously since 2015 as a brown belt, the De La Riva black belt has burst onto the scene with golds at Europeans, Floripa Open, Salvador Open, and a silver at Pans. There is a good chance of seeing her on the podium in both her division and the absolute.
Watch Claudia do Val matches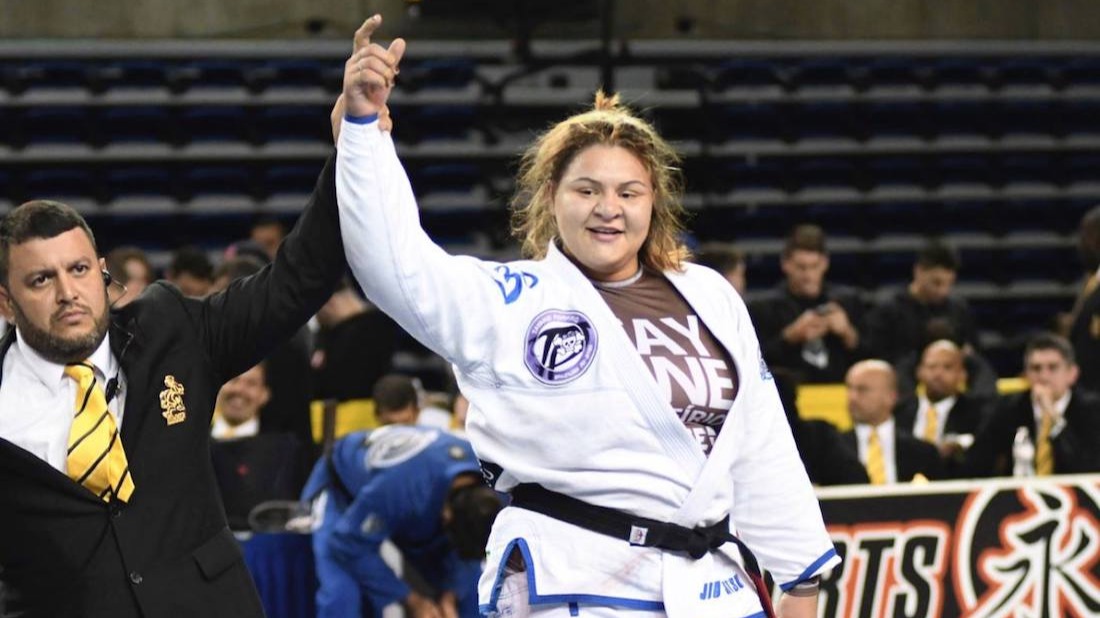 BLACK / Adult / Female / Super-Heavy

Tayane Porfirio
Easily the most dominant female in the past year, she won the brown/black division and absolute as a brown belt at the Abu Dhabi WPJJC last year. And she has since taken gold at the major tournaments in both weight and absolute. The only reason she was absent from the Abu Dhabi WPJJC this year was the newly created weight restriction. However, she will be back in her element come Worlds in both weight and absolute.
Watch Tayane Porfirio matches
---
How to Watch IBJJF 2017 Worlds
On TV:
Now available on Roku and Apple TV 4 -- download the FloSports app today.
STREAMING:
Available only on FloGrappling via monthly or yearly memberships. A yearly FloPRO subscription provides access to ALL FloSports sites.
SIGN UP HERE
Join The Conversation On Social

• Follow us on Twitter
@FloGrappling
• Follow us on Instagram
@FloGrappling
• Follow us on
Facebook
FloGrappling's hottest content, delivered to your inbox
Don't miss breaking news, feature stories, event updates, and more. Sign up for the FloGrappling mailing list today.