IBJJF 2017 World Jiu-Jitsu Championship
Cobrinha Shooting For The Super Grand Slam: IBJJF & ADCC In The Same Year
Cobrinha Shooting For The Super Grand Slam: IBJJF & ADCC In The Same Year
Every high-level grappler dreams of a career-defining moment; only a few ever manage to achieve the highest goals.
Jun 7, 2017
by Hywel Teague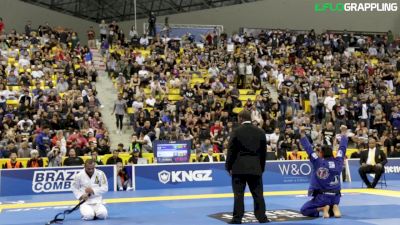 Every high-level grappler dreams of a career-defining moment; only a few ever manage to achieve the highest goals.
While most athletes are happy with winning a major tournament, Rubens "Cobrinha" Charles looks to be shooting for an achievement beyond anybody else's grasp in 2017 -- a Super Grand Slam.
To complete the IBJJF "Grand Slam" is to win the four major tournaments of the year; the European Championships, Pans, Brazilian Nationals, and Worlds. All of this takes place in the space of six months, from January to June.
Cobrinha did all of that, winning gold in Lisbon, Portugal; Irvine, CA; Sao Paulo; and Long Beach, CA.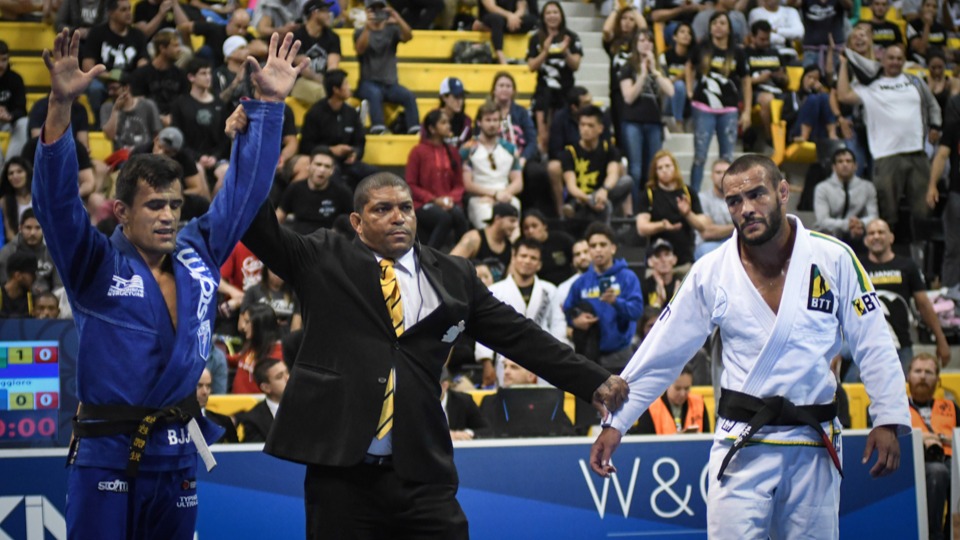 Cobrinha wins world title No. 5. Photo: Chase Smith / FloGrappling
Champion in 2015, Cobrinha will return to defend his ADCC -66kg title at the World Championships in Finland in September -- meaning he's aiming for the Super Grand Slam.
As ADCC only comes around once every two years, the chance of any athlete achieving this becomes even more difficult.
Cobrinha's performances this year have been nothing less than incredible.
• He won the European Championships in January in Lisbon, submitting four out of five opponents.
• He followed this up with a victory at the Pan Jiu-Jitsu Championships in Irvine, beating permanent contender Osvaldo "Queixinho" Moizino.
• Just a few weeks later, he fought his way through the Brazilian Nationals -- widely considered to be one of the toughest tournaments in the world -- to take his third major gold of the 2017 season.
• He bested the top black belts on the planet in a stacked World Champoionship bracket to claim his fifth world title.
To make this all the more impressive, Cobrinha has achieved all of this at the grand age of 37 -- a time in life when most other world-class grapplers have already retired from elite-level competition.
How Cobrinha Achieved The Incredible
Over the last six years, he has battled back and forth with his nemesis Rafael Mendes, who announced his shock retirement just 10 days before IBJJF Worlds.
That doesn't mean Cobrinha had a clear path to the finals, though, as he lost last year to the young up-and-comer (and 2016 silver medalist) Marcio Andre.
Cobrinha had to get past four elite grapplers: Wanki Chae, Gilson Nunes, Shane Jamil-Hill Taylor, and Leonardo Saggioro. Each progressive match became more and more difficult, culminating in a razor-thin win by one advantage in the final.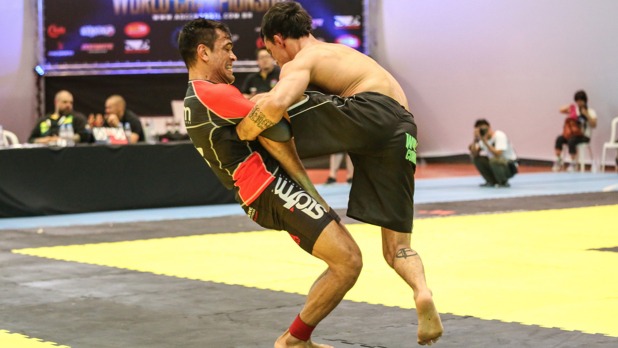 Cobrinha in action vs Bruno Frazatto at ADCC 2015. Photo: Hywel Teague
ADCC: Toughest No-Gi Tournament in the World
The 66kg division of ADCC is stacked with talent and poses an entirely different challenge to the veteran grappler.
ADCC attracts only the best no-gi grapplers in the world, hosting trials events across five continents and inviting the toughest representatives of jiu-jitsu and MMA.
What's Next for Cobrinha?
And who knows -- if Cobrinha really wants to do the incredible, he may even choose to round off the year by competing at the IBJJF No-Gi World Championships in November.
He's not yet confirmed his participation, but if he wants to do it in style then it wouldn't be a surprise if he went for no less than SIX major gold medals in the same year.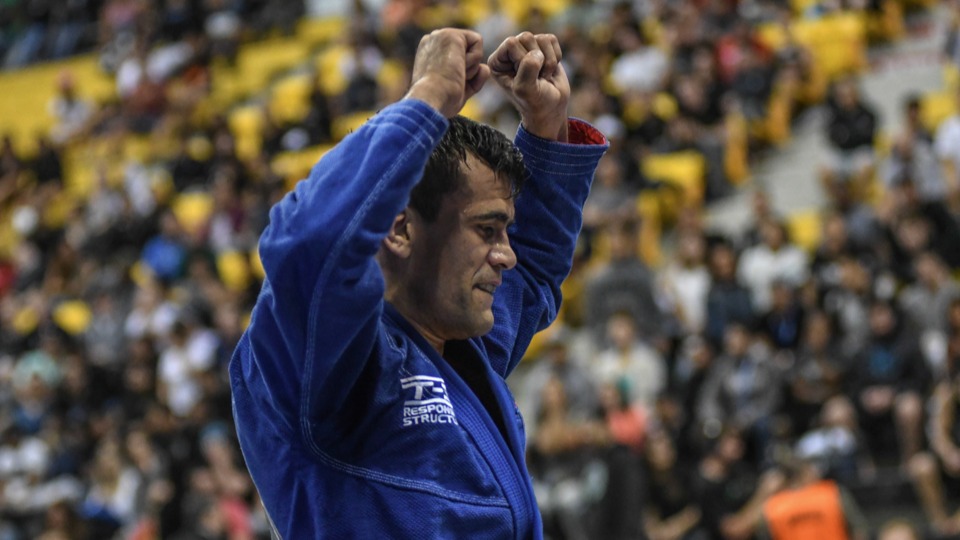 Photo: Chase Smith / FloGrappling
Is This A Farewell?
Some people close to Cobrinha have speculated that this could be his farewell to competition. By stamping his name in the record books once and for all, he could retire with nothing left to prove.
At the same time, others have said Cobrinha is far from retiring and plans to continue fighting in the adult division until his son, Kennedy Maciel -- currently a brown belt -- reaches the black belt division, at which point they would aim to close out a World Championship.
In fact, as you can see in the video above, Cobrinha says he's going for world title number six next year!
Whatever Cobrinha's end goal, fans and followers alike are likely to witness nothing less than the extraordinary from this phenomenal athlete.
Watch Cobrinha's matches from 2017 IBJJF World Jiu-Jitsu Championships:
Opening round vs. Wanki Chae

---
Quarterfinal vs. Gilson Nunes

---
Semifinal vs. Shane Jamil-Hill Taylor

---
Final vs. Leonardo Saggioro