A native of Rio's City of God favela in the eastern peripheral of Rio de Janeiro, an area rarely visited by tourists, Gabrieli Pessanha, a member of the Infight team, goes relatively unnoticed throughout the jiu-jitsu community.
For the last two years, the young Carioca has been quietly working her way to the top of the podiums in Rio, Portugal, and now the United States. For the second time, she took home double gold at the IBJJF 2017 World Championships in Long Beach, California.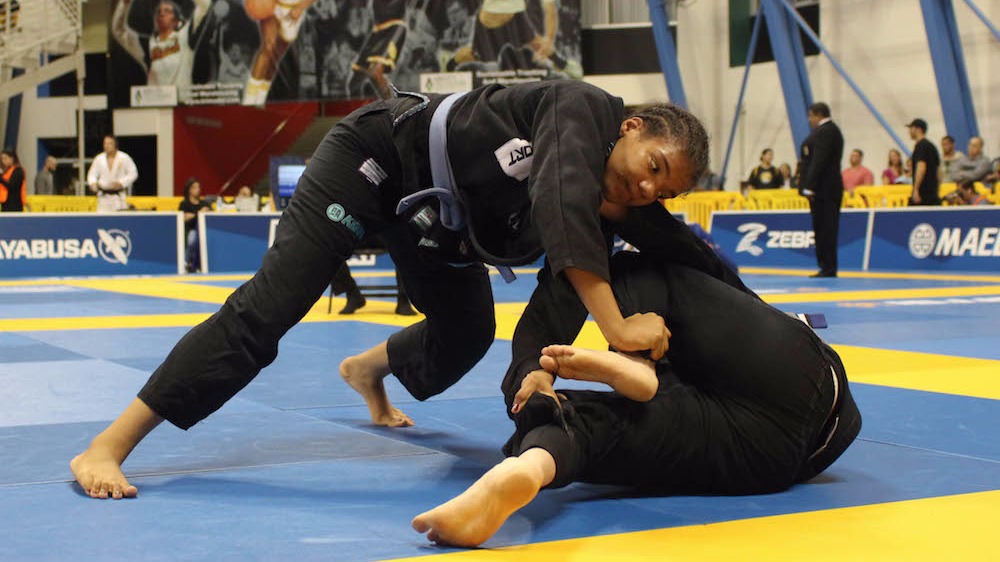 ​Gabrieli Pessanha passes the guard. Photo: Nico Ball

Born and raised in one of Rio's most infamous favelas, the 16-year-old blue belt is no stranger to the struggle.
With no sponsorship or financial support, Pessanha and her teammates have had to train hard and think creatively in order to finance their trip to the dreams of becoming World Champions.
While some athletes count on the support of their families or their teams, Pessanha and her teammates travel alone, generally with their coach, sleep on couches, and survive on ramen noodles and pasta to avoid paying for overpriced food at tournaments.
"It takes months of preparation: technical and physical training, as well as mental preparation, to be able to come here and give our best," says Marcio de Deus, their coach and head instructor at the Projeto Social Lutadores de Cristo (Social Project of Christ's Fighters), where the students train for free.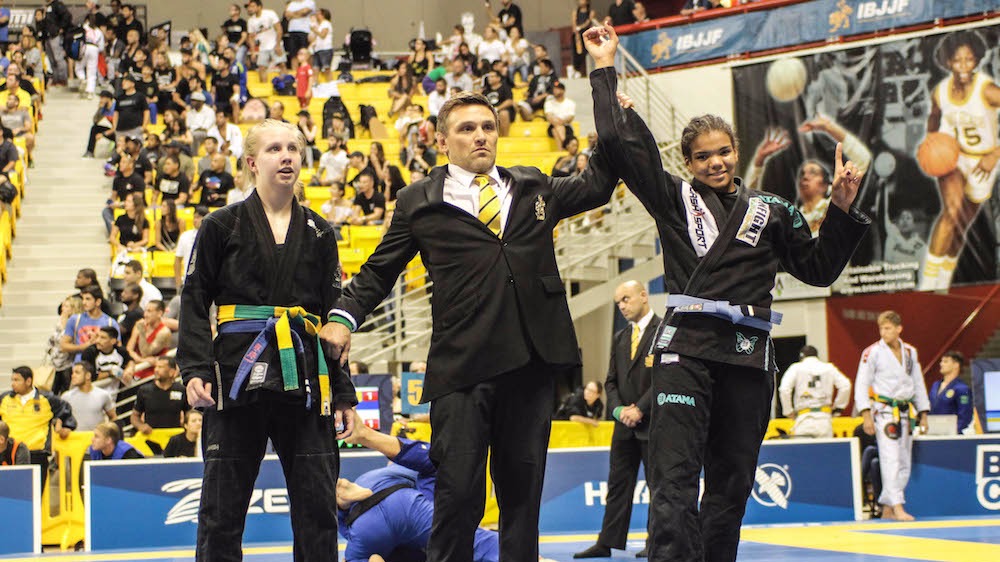 ​Photo: Nico Ball

Marcio accompanies them on all of their trips but this year, due to his own obligations as an IBJJF referee, it was a fellow teammate Victor Lima that was leaning over the yellow barriers to coach Pessanha through her matches. Fellow teammate Andressa Motta -- who was also in the U.S. for her first international competitions -- was pressed close to his side with a camera in hand.
They were born and raised in the same favela. They trained together at the same project, went to school together and -- despite both of them having fallen short in their own matches -- they were going to see Pessanha through to the final together.
Against the odds
Pessanha is no stranger to winning. A veteran of the Rio de Janeiro tournament circuit, she is accustomed to competing against high-level competitors from juveniles that train at top-tier academies like GF Team.
Despite the economic challenges inherent with growing up in a favela and training at a social project, Pessanha has been able to earn herself a quite a few international titles as well.
In 2016 Pessanha won medals at Pans and Worlds, taking double gold at the latter. 2017 saw her take double gold at Europeans.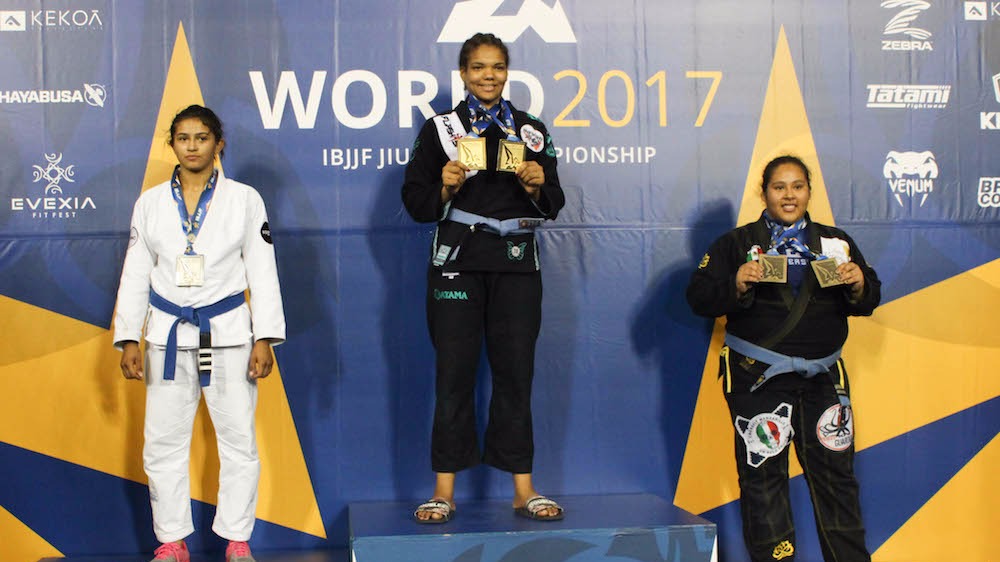 Photo: Nico Ball
Double gold at Worlds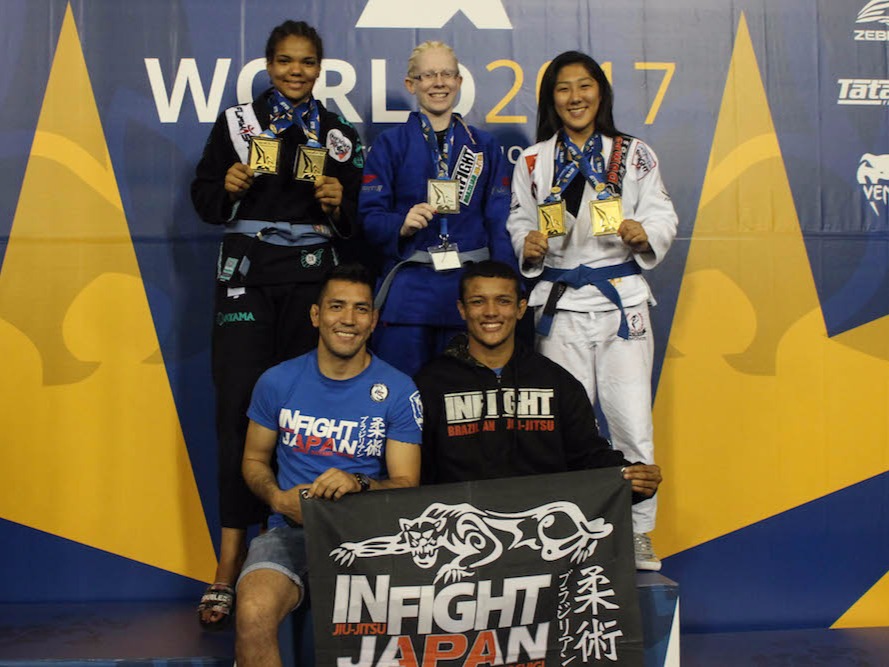 In Long Beach for the 2017 Worlds and a gold in her weight already secured, Pessanha appeared relaxed midway through the afternoon of the penultimate day of the tournament. As she waited in the bullpen for the absolute division, many big name black belts moved about nearby, including Caio Terra black belt Kristina Barlaan.
She was calm and collected as she stepped onto the mats for the second time against her opponent, Sami Lima of Alliance. Victor Lima was leaning over the barrier coaching her and Andressa was there for support. They functioned as a tight-knit group: Andressa cheered as Victor instructed Pessanha.
The match was close and came down to one advantage, scored for Gabi's near armlock. The joy on her face would be the same regardless of how she had won.
Though Pessanha was the only one of the three athletes to make it to the podium this year they couldn't have been happier as they piled in to take pictures, waving their team banner alongside athletes that came from all over the World.
Back at the Walter Pyramid bright and early Sunday morning for the black belt finals, Pessanha and her teammates enjoyed their last day in the U.S. before heading back to the City of God.
Next -- they'll train for upcoming IBJJF competitions in Rio, and work to come back to the U.S next year in search of more golds.
World Blue Belt Juvenile 2 Female Open Class Final
Match starts at approx 11min

---
Gabrieli Pessanha major tournament results:

Pan Jiu-Jitsu IBJJF Championship 2016
BLUE / Juvenile 1 / Female / Open Class Heavy
1 - Elisabeth Ann Clay - Anchorage Brazilian Jiu Jitsu
2 - Sarah Janea Paul - Iron Lion Jiu-Jitsu Academy
3 - Gabrieli Pessanha de Souza Marinho - Infight Jiu-Jitsu
3 - Elizabeth Joy Liera - Atos Jiu-Jitsu
IBJJF World Jiu-Jitsu Championship 2016
BLUE / Juvenile 1 / Female / Super-Heavy
1 -- Gabrieli Pessanha de Souza Marinho -- Infight Jiu-Jitsu
2 -- Beatriz Alexandre Santos Machado -- Gracie Barra
BLUE / Juvenile 1 / Female / Open Class
1 -- Gabrieli Pessanha de Souza Marinho -- Infight Jiu-Jitsu
2 -- Elisabeth Ann Clay -- Anchorage Brazilian Jiu Jitsu
3 -- Caitlyn Abbigail Gabriel Acha -- Jean Jacques Machado BJJ
3 -- Maia Alexis Rolland -- Team Lloyd Irvin
European Jiu-Jitsu IBJJF Championship 2017
BLUE / Juvenile 2 / Female / Super-Heavy
1 - Gabrieli Pessanha de Souza Marinho - Infight JJ
2 - Jessica Sydney Klein - Gracie Barcelona
3 - Ainhoa Munoz Carrillo - Alliance
3 - Holly Felton - Gracie Barra
BLUE / Juvenile 2 / Female / Open Class
1 - Gabrieli Pessanha de Souza Marinho - Infight JJ
2 - Meshy Rosenfeld - Soul Fighter's Israel
3 - Ainhoa Munoz Carrillo - Alliance
3 - Jessica Sydney Klein - Gracie Barcelona
IBJJF World Jiu-Jitsu Championship 2017
BLUE / Juvenile 2 / Female / Super-Heavy
1 -- Gabrieli Pessanha de Souza Marinho -- Infight JJ
2 -- Sarah Janea Paul -- Iron Lion Jiu-Jitsu Academy
3 -- Marianne Alejandra Gaviño Barenca -- Schon BJJ
BLUE / Juvenile 2 / Female / Open Class
1 -- Gabrieli Pessanha de Souza Marinho -- Infight JJ
2 -- Sami Lima de S. Galvão -- Alliance
3 -- Kaelyn Martinez -- Gracie Barra
3 -- Marianne Alejandra Gaviño Barenca -- Schon BJJ