Grappling Pro Championships 3: The Bantamweights
Daddy And Daughter To Compete Side By Side At Grappling Pro
Daddy And Daughter To Compete Side By Side At Grappling Pro
Noted black belt Vagner Rocha will take to the mats this weekend at Grappling Pro -- and his 15-year-old daughter Jasmine will be competing alongside him!
Jun 21, 2017
by FloGrappling Staff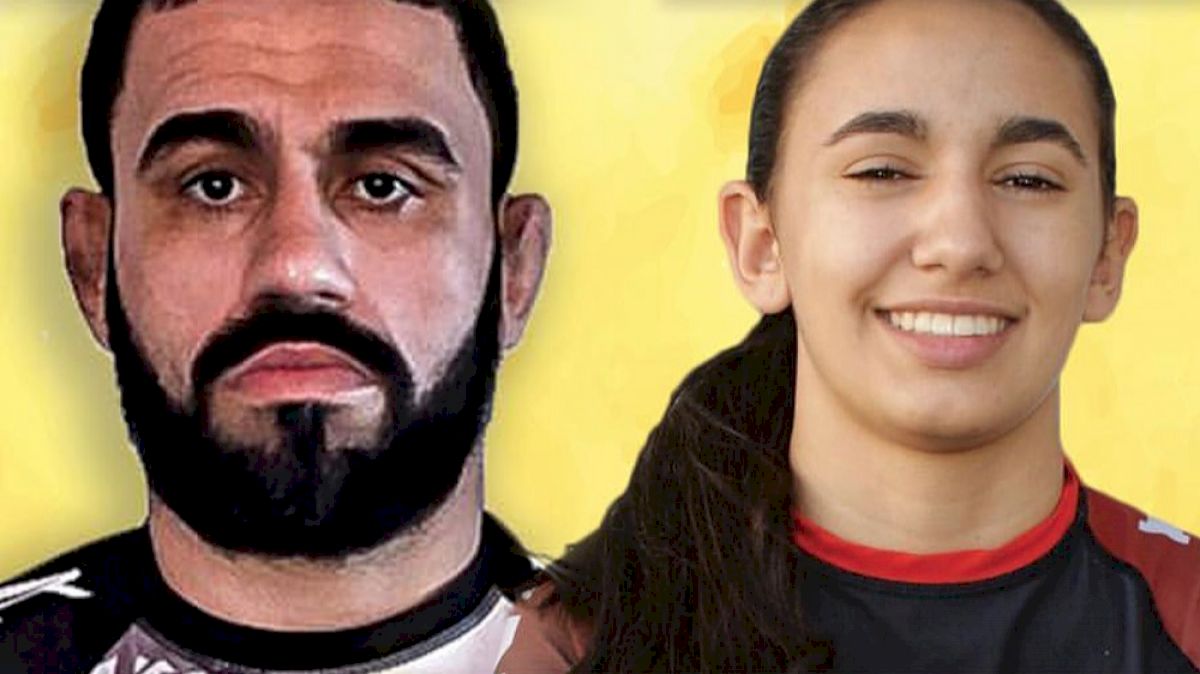 Noted black belt Vagner Rocha isn't the only member of his family taking to the mats this weekend at Grappling Pro in Miami, FL -- his 15-year-old daughter, Jasmine, is also competing alongside him.
Vagner is facing DJ Jackson in a welterweight superfight that features as the main event of Sunday's show. Rocha is an ADCC veteran who recently qualified for another trip to the Worlds Championships when he won the North Amzrican West Coast Trials.

Jasmine is a green belt who has trained under her father for the last nine years. Vagner never pushed his daughter to do jiu-jitsu, but now that she is competing in the sport, he gives her everything she needs to be her best.
"Since an early age, I always pressed her to roll with advanced people so she can step up her game and be ahead of the curve," Vagner said. "For her age, she's pretty advanced. She trains a lot with higher belts and younger men. She has very aggressive jiu-jitsu, which is uncommon for girls -- most girls are kind of laid-back.
I watched the trend -- the Mackenzie Derns, super aggressive girls like her. I think that's very important for jiu-jitsu, and I'm trying to get her to base her game off these type of girls who push the pace.
The younger Rocha fought before on the previous Grappling Pro event, impressing everybody with a solid performance and a strong finish. She also competed at the ADCC West Coast trials, having two matches.
"She went to the ADCC trials and was placed in her first match against the No. 3 girl in the bracket, an Eddie Bravo brown belt. She did really well, won 5-0," Vagner said.
The opponent who beat Jasmine in the next match lost to overall winner Elizabeth Clay, who is only 16 years old. Far from being discouraged, the experience was a hgue benefit to Jasmine.
"It opened her eyes to show her the sport is evolving," Vagner said. "She thought she was kind of young to be doing this, but it showed her she's ready for this kind of environment."
Now she's back, and she's part of an eight-woman tournament that has a HUGE $10,000 cash prize for the winner.
Jasmine qualified for the event by fighting in an in-house elimination bout organized by promoter Marcel Goncalves, which was live-streamed on Facebook.
Watch Jasmine qualify for the Grappling Pro Bantamweight Tournament here:
​Match starts 28.50
[facebook url="https://www.facebook.com/GrapplingProChampionship/videos/1007442149358933/"]
She won by submission in the third of three five-minute rounds. Speaking with Marcelo after the match, Jasmine had this to say:
It is an honor to be given this opportunity. It was tough match; it was fun. I feel honored to be given an opportunity to fight such high-class people. At only 15, I got plenty of years to go.
Vagner jumped into the video to joke, "Now Jasmine's going to go and get me 10K! I need $10,000, honey! She's gotta go get my money!"
The prospect of Jasmine mixing it up with such experienced and accomplished competitors doesn't worry Vagner, who said he's excited and not nervous for his daughter at all.
"I want her to do her best, that's all that matters," he said. "She's in a group with three black belt world champions, girls who have made their names. For her just to be a part of this is pretty awesome. She's 15, you know? She's got 10 years to do what these girls are doing, and she's right there in the mix."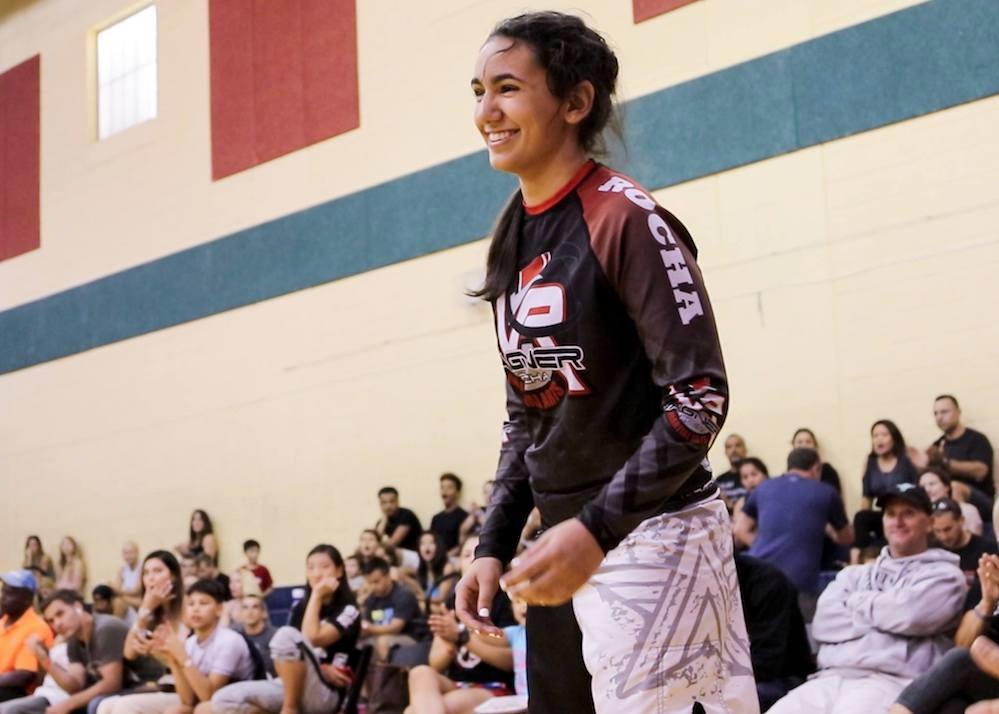 As the youngest competitor in the pack, Jasmine will go up against experienced competitors such as black belt world champions Beatriz Mesquita, Talita Alencar, and Amanda Alequin.
The brackets have already been decided, and Jasmine's first match will be against 10th Planet standout Lynn Vuong.
The prospect of going up against such big names doesn't bother Jasmine though, who said she's excited for the opportunity.
It was tough, fun though. I like competing. I train with a bunch of grown women, so I'm used to everybody overpowering me. It's where my technique gets the best. I love the rule set. They press people to go forward, really push it and not stall.
Regardless of her performance this weekend at Grappling Pro, Jasmine earned her spot on the card the hard way and has shown flashes of a bright future in the sport. hints at a possible career in the sport.
"She's been holding her own with purple, brown, and black belts at Fight Sports and at my school," Vagner said. "She's got a long way to go. It all depends on how far she wants to take it and how much love and dedication she has for what we do. Whether Jasmine decides to do jiu-jitsu is up to her. She has plenty of time to make that decision. I'm not going to put pressure on her to make that decision. You never know, she may decide to do something else with her life. I will guide her and wish her the best in anything she decides to do with her life."
Catch up on Jasmine Rocha's most recent Grappling Pro match

​​​​Watch Grappling Pro 3: The Bantamweights LIVE or On Demand ONLY on FloGrappling!
How to Watch Grappling Pro 3: The Bantamweights
On TV:
Now available on Roku and Apple TV 4 -- download the FloSports app today.
STREAMING:
Available only on FloGrappling via monthly or yearly memberships. A yearly FloPRO subscription provides access to ALL FloSports sites.
SIGN UP HERE
Join The Conversation On Social

• Follow us on Twitter
@FloGrappling
• Follow us on Instagram
@FloGrappling
• Follow us on
Facebook
FloGrappling's hottest content, delivered to your inbox
Don't miss breaking news, feature stories, event updates, and more. Sign up for the FloGrappling mailing list today.