Gui Mendes Talks Building An Army & What It Takes To Win!
Gui Mendes Talks Building An Army & What It Takes To Win!
Gui Mendes Explains How To Deal With Competition Nerves & More
Jul 11, 2017
by Reid Connell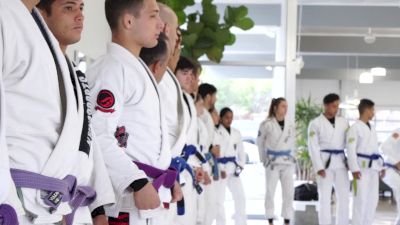 Guilerme Mendes took the jiu-jitsu world by surprise in 2015 when after just winning his fourth World title be abruptly announced his retirement from the sport. Fast forward two years later and Gui Mendes is at the forefront of building one of the largest and most successful teams in the world.

The once star competitor has transformed his life in pursuit of building a juggernaut team to challenge for World titles every year. And has already had early success with up and coming athletes like Johnatha Alves, Tainan Dalpra, Sophie Flores & many more.

In this 20 minute deep dive with professor Gui Mendes you'll learn some of the philosophies and practices that have made AoJ and the Mendes bros so successful. From dealing with competition anxiety to what makes a good coach, Gui leaves no stone unturned. Watch the full uncut interview below!





Interview Notes:
1:00 - 'What people think doesn't matter' Gui talks preparing mentally for a competition.

4:04 - 'The more you enjoy the process, the better you get.' Gui talks dealing with pressures of winning and how to overcome negative emotions.

6:02 - Gui talks building the right program. The differences between teaching different people from different walks of life. The biggest challenges facing professors.

8:10 - 'The pleasure of coaching outweighs the pleasures of competing' Gui talks seeing his students achieving their goals.

9:03 - Dealing with losing. A good coach knows the ups and downs of competition and prepares his/her students accordingly.

11:27 - Gui and Rafa are now both dedicating 100% of their efforts to the team and school. How will this affect AoJ moving forward?

13:13 - 'The thought of being a World Champion doesn't motivate me like it used to.' Gui talks shifting his focus and creating a new stage in life.

17:42 - To train or not to train? How to prepare mentally and physically the week of a competition.




FloGrappling's hottest content, delivered to your inbox

Don't miss jiu-jitsu highlights, feature stories, event updates, and more. Sign up for the FloGrappling mailing list today.