Fight to Win Pro 45
First Thomas Keenan Builds The Stage, Then He Fights On It
First Thomas Keenan Builds The Stage, Then He Fights On It
Thomas Keenan is focused on being the best competitor, coach, and employee he can be ahead of his Fight To Win Pro 45 matchup with John Combs on Friday in Denver.
Aug 17, 2017
by Averi Clements
Thomas Keenan has been making waves for a while now. Not only has he experienced significant success at F2W Pro -- where he'll be competing opposite John Combs in Friday's main event in Denver -- but he was also the only American brown belt to win a gold medal at the 2017 Abu Dhabi World Pro in April.
​​Watch Fight To Win Pro 45 LIVE or ON Demand ONLY on FloGrappling



After finally receiving his black belt by Gustavo Dantas in June, Keenan is now on a mission to carve his own path. He recently opened his own academy after it was decided that Dantas' association was no longer a good fit for him. Keenan hasn't forgotten where he came from, but now he's looking toward the future.
"I have respect for Gustavo, and I especially miss my friends, teammates, and training partners at [his academy], but now given the circumstances and choices that I've made, I'm on my own," Keenan said. "I hope to see the day where jiu-jitsu politics no longer exist and people can cross-train freely where they like and not let business get in the way of what really matters: the art of jiu jitsu and what it can do for people."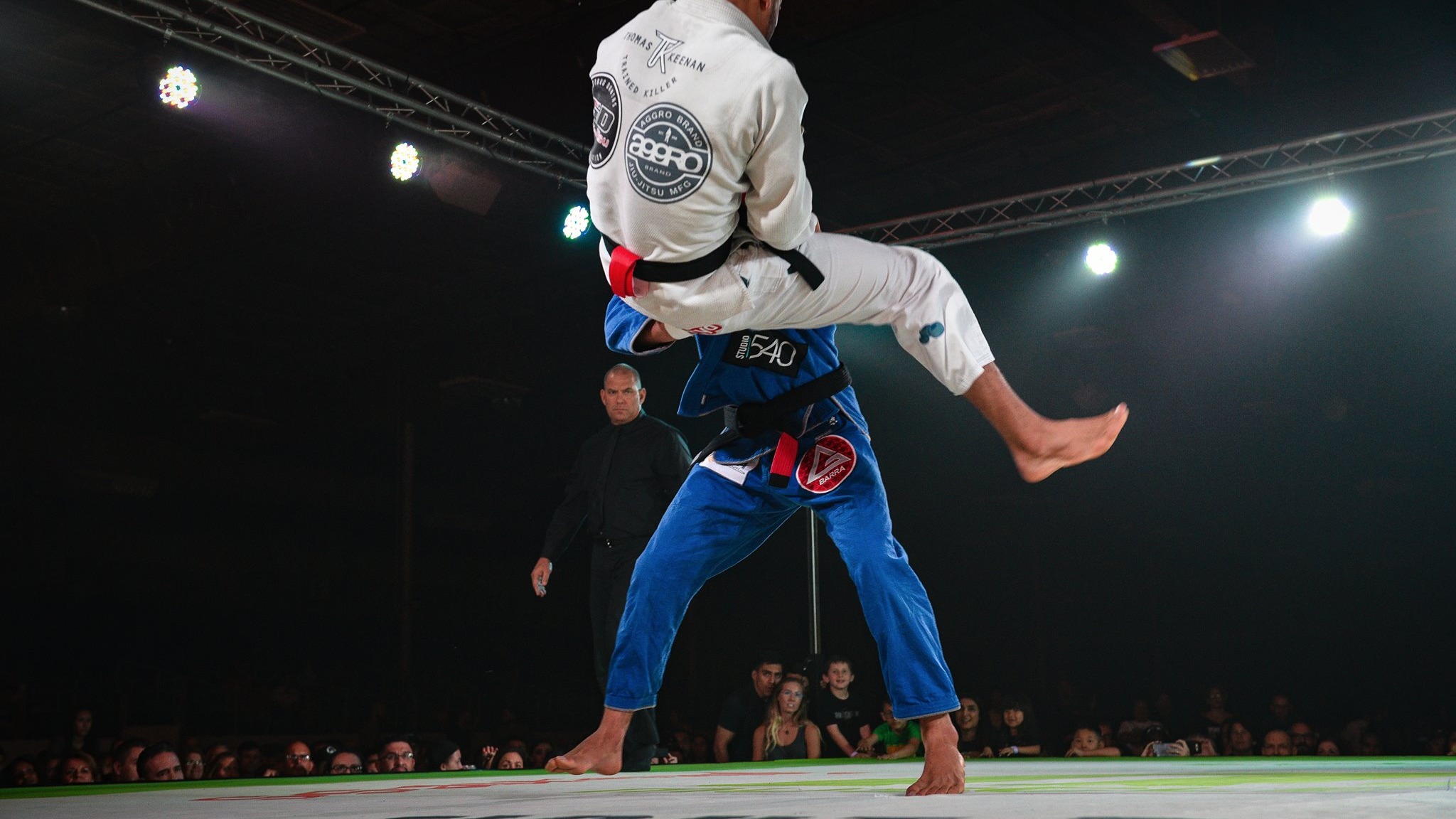 Thomas ​Keenan launches a high-flying attack on the Fight To Win stage. Photo: Mike Calimbas
In addition to being a full-time competitor and a gym owner, Keenan has also taken a more active role at Fight To Win. He's been consistently working as a referee for the promotion, and he's also regularly taken on the tough job of helping F2W's "Team No Sleep" set up and tear down the stage. It's a lot of work, but he's more than happy to do it.
"I now get to travel the country, have a front-row seat for amazing jiu-jitsu each and every card, and test myself in new territories," Keenan said. "The production gives me a newfound appreciation for just how much work is put in to make these shows happen...
I'm proud to be a part of the movement that is making jiu-jitsu more professional and compensating fighters for all the work they put in.
While it's never easy juggling everything he has on his plate, Keenan knows that's always going to be the case for someone with big dreams. He's focused on being the best competitor, coach, and employee he can be, and now that Keenan is in a position of leadership, he's not the only one who wants to see him succeed.
"I want to help others chase after their dreams and accomplish their goals," he said.
I still have much to do myself, but I'm grateful for the students and friends that decided to stay on this journey and path with me. Everyone wants to ride with you when you're on top, but the true people you want around are those that are there for you during the hard times, the struggle, the grind.
After his match at F2W 45, Keenan will shift his focus to qualifying for (and then winning) Worlds as a black belt. It may be a lofty goal for someone who was promoted so recently, but if there's anyone who's willing to put in the work, dedication, and heart necessary to do it, it's going to be this guy.
"I plan to lead by example. My dreams are already becoming reality, and I'm grateful for every moment," Keenan said.
This is just the beginning, and the best is yet to come. If you don't believe in yourself, who else will?
---

How to Watch Fight To Win Pro 45: Thomas Keenan vs John Combs
On TV:
Now available on Roku and Apple TV 4 -- download the FloSports app today.
STREAMING:
Available only on FloGrappling via monthly or yearly memberships. A yearly FloPRO subscription provides access to ALL FloSports sites.
SIGN UP HERE
Join The Conversation On Social

• Follow us on Twitter
@FloGrappling
• Follow us on Instagram
@FloGrappling
• Follow us on
Facebook
FloGrappling's hottest content, delivered to your inbox
Don't miss breaking news, feature stories, event updates, and more. Sign up for the FloGrappling mailing list today.