Abu Dhabi Grand Slam Los Angeles 2017
One Of Over 300+ Polish Black Belts, Adam Wardzinski Is A Rising Star
One Of Over 300+ Polish Black Belts, Adam Wardzinski Is A Rising Star
In his first year at black belt Polish grappler Adam Wardzinski is moving up the ranks and has his sights set on the Abu Dhabi Grand Slam Los Angeles.
Sep 19, 2017
by Erin Herle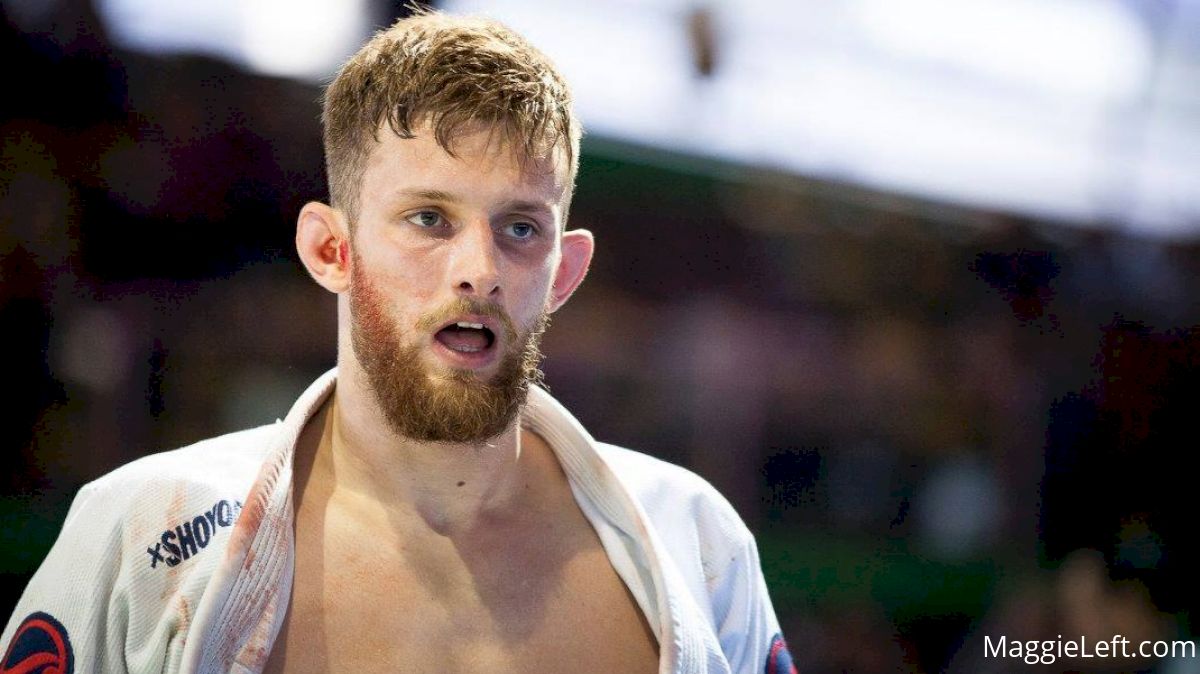 Adam Wardzinski boasts a resume littered with victories over legends and new talent alike on the UAEJJF Grand Slam Tour.
As he moves up the ranks in his first year at black belt, the 26-year-old Polish grappler is next turning his attention to the
Abu Dhabi Grand Slam Los Angeles
at the L.A. Convention Center this Saturday and Sunday.

Wardzinski's beginnings in the sport were similar to a lot of martial artists -- he found aikido as a kid because of his parents' urgings and then migrating to jiu-jitsu. Outside of the U.S. and Brazil, there's a notion that the jiu-jitsu community is lacking, but in Poland there are over 300 black belts. The first academy that Wardzinski walked into was that of Karol Matuszczak, the man responsible for bringing jiu-jitsu to Poland.
As a purple belt, Wardzinski began training under Checkmat's Alan "Finfou" Nascimento, a Brazilian who has an academy in Sweden.
"After two years my first professor retired from jiu-jitsu, so me and Andrzej Stolzmann, a black belt under Karol, took care of the academy," Wardzinski said. "Alan 'Finfou' became our professor, and the academy started to work as a Checkmat affiliate, of course."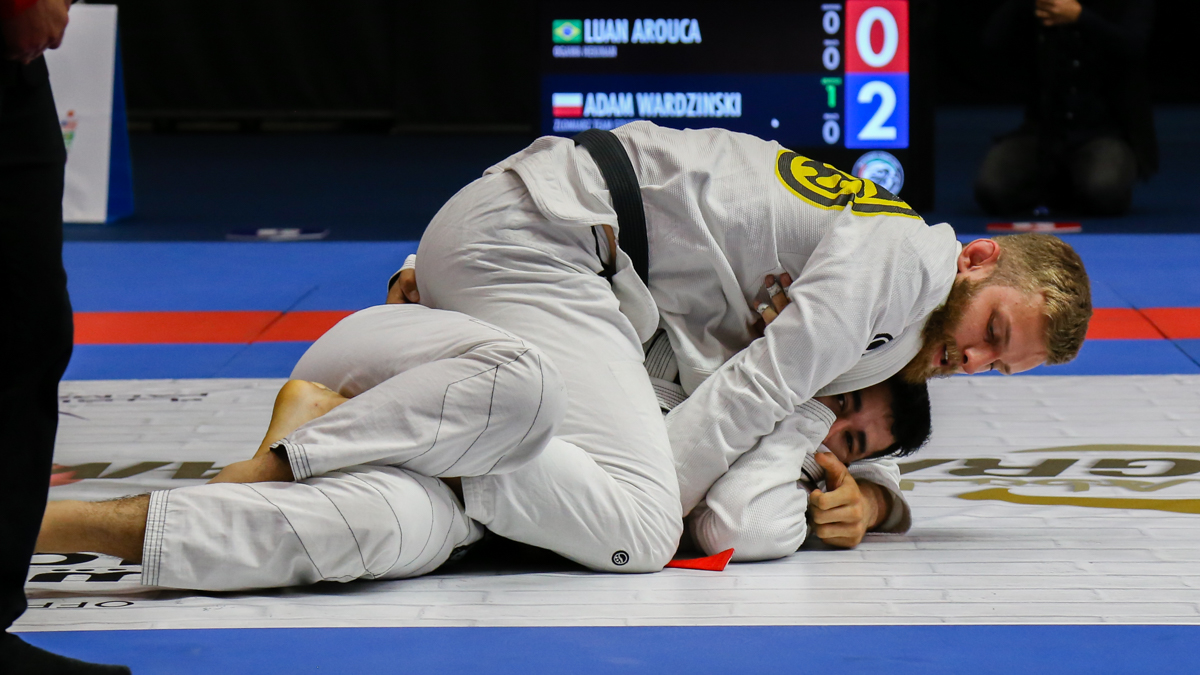 ​Wardzinski competing at the Abu Dhabi Grand Slam in Tokyo, 2017.
The jiu-jitsu community within Poland is strong, and Wardzinski believes it is the toughest in Europe. Perhaps this is because of the country's history, rooted in war and repression, which paved the way for a resilient society. But the Polish also have a love for training and being on the mats, with many athletes also coming from wrestling and judo.
"What's most important is that the community stays together," Wardzinski said. "Very rarely will you see some bad blood between academies, and we don't care so much about politics.
"Before I started I didn't know anything about the community; I just wanted to train. To be honest when I started it was just developing, but in the last five years we've made huge steps forward. We have a lot of good competitors and tournaments almost every week."
The most notable competitions in the country each year are the Polish No-Gi Nationals and the Polish Nationals, which gather around 1,300 competitors.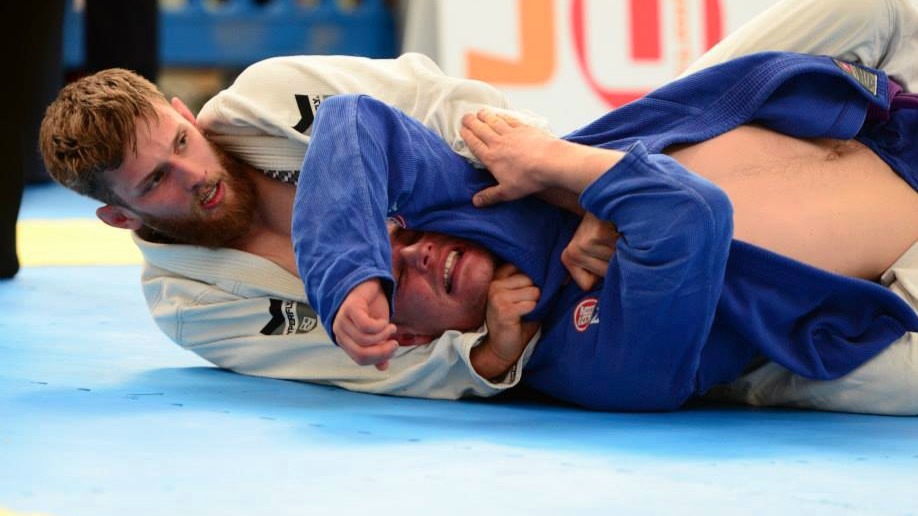 Wardzinski has won both of those tournaments multiple times, including as a black belt. He also conquered the IBJJF European title twice as a brown belt and came home with four silvers as a black belt from the UAEJJF.
Three were from the Grand Slam, and the most important was his second-place finish at the World Pro in Abu Dhabi. He reached the fifth spot on the UAEJJF male adult black belt ranking in the 2016-2017 season. Currently he is tied for second, although the new season has just begun.
He accomplished this within months of being promoted to black belt by Finfou in October 2016.
Training With Checkmat's Best
How Wardzinski prepares for such tournaments is done right at home in Poznan. He places heavy emphasis on drilling and completes three training sessions a day. The first of which is an hour of drilling, and later in the day he adds in sparring and specific training.
His game is one that not too many people play these days, given that it focuses mostly on the butterfly guard. Marcelo Garcia would be the most likely influence on him. Yet, prior to researching the legend in-depth, Wardzinski was playing with these hooks from his guard simply because they felt comfortable for him.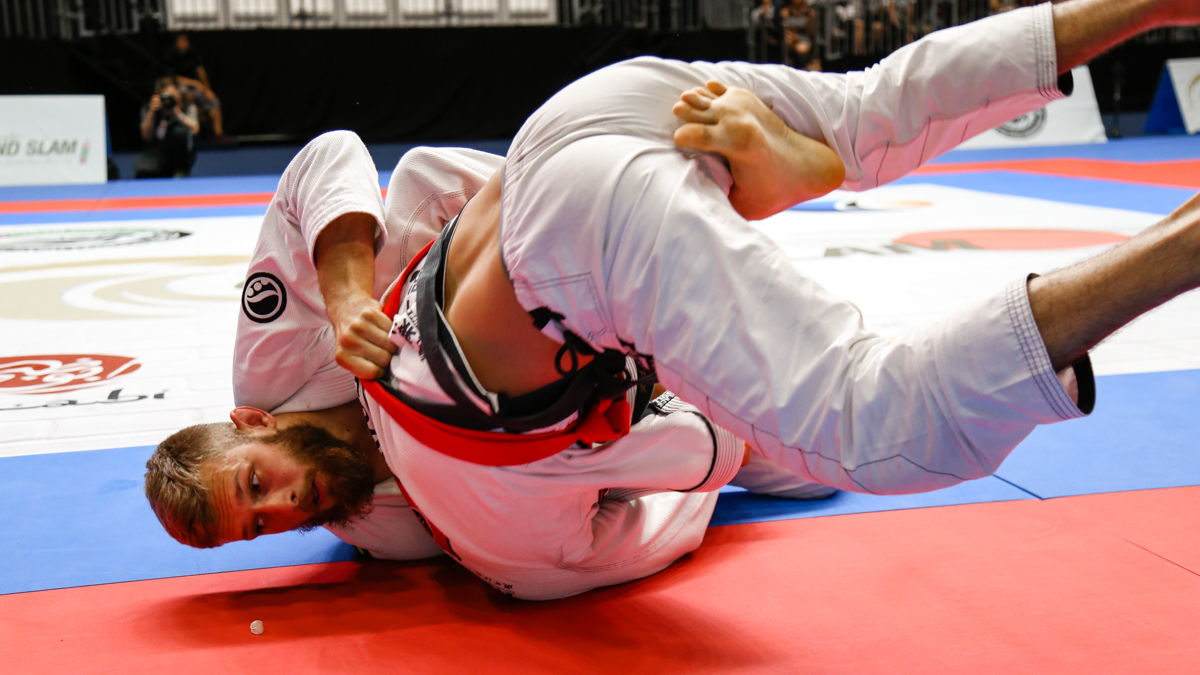 ​Adam Wardzinski attacks with one of his trademark butterfly sweeps at the Abu Dhabi Grand Slam in Tokyo, July 2017. Photo: Hywel Teague
In fact, he considers three members of his Checkmat team as his main influences: Alan Finfou, Thiago Sa, and Marcus "Buchecha" Almeida.
"Finfou is my professor, and he really cares about the development of my game," Wardzinski said. "Every time we meet he puts some new moves into it, and they always works perfect for me. As it comes to Thiago and Buchecha, I just steal their moves from their seminars and when we roll. There are always some guys that you roll with and it's just a pure pleasure and Buchecha is this kind of the guy."
With more opportunities on the horizon, Wardzinski finds himself continuously searching for what more he can achieve -- instead of admiring his own accomplishments thus far. His last three weekends were spent teaching seminars and camps within Europe, and he attributes the constant demand to his game. He is proving that the butterfly guard is still a very effective strategy even against 'new school' opponents.
The Abu Dhabi Grand Slam Los Angeles
Many athletes count the cash prizes as motivation for these Grand Slam tournaments: A first place in an adult male black belt weight division warrants $2,500.
But as Wardzinski prepares to head to Los Angeles this weekend, money is not the main motivation for making the journey across the globe for each stop of the Grand Slam Tour.
What gives me the motivation is my love for fighting and traveling. If I get to the ranking podium at the end of the season and I get some money it will be cool, of course, but the most important thing is to have a nice journey towards it.
---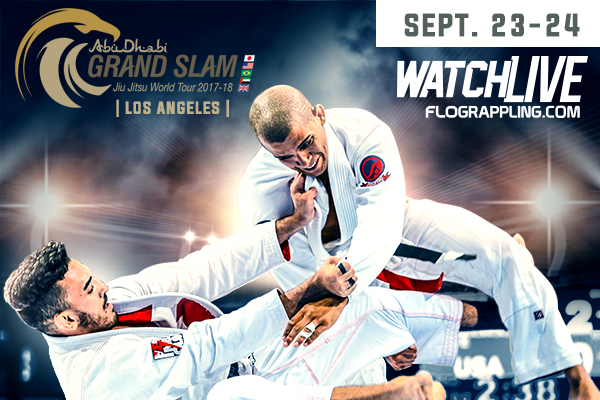 How to Watch Abu Dhabi Grand Slam Los Angeles
On TV:
Now available on Roku and Apple TV 4 -- download the FloSports app today.
STREAMING:
Available only on FloGrappling via monthly or yearly memberships. A yearly FloPRO subscription provides access to ALL FloSports sites.
SIGN UP HERE
Join The Conversation On Social

• Follow us on Twitter
@FloGrappling
• Follow us on Instagram
@FloGrappling
• Follow us on
Facebook
FloGrappling's hottest content, delivered to your inbox
Don't miss breaking news, feature stories, event updates, and more. Sign up for the FloGrappling mailing list today.