Abu Dhabi Grand Slam Los Angeles 2017
7 Elite Women Ready To Impress In LA Grand Slam Shootout
7 Elite Women Ready To Impress In LA Grand Slam Shootout
The female divisions contain some of the biggest names in the sport, with five 2017 world champions and three of the top four ranked women from last year's UAEJJF season competing.
Sep 20, 2017
by Michael Sears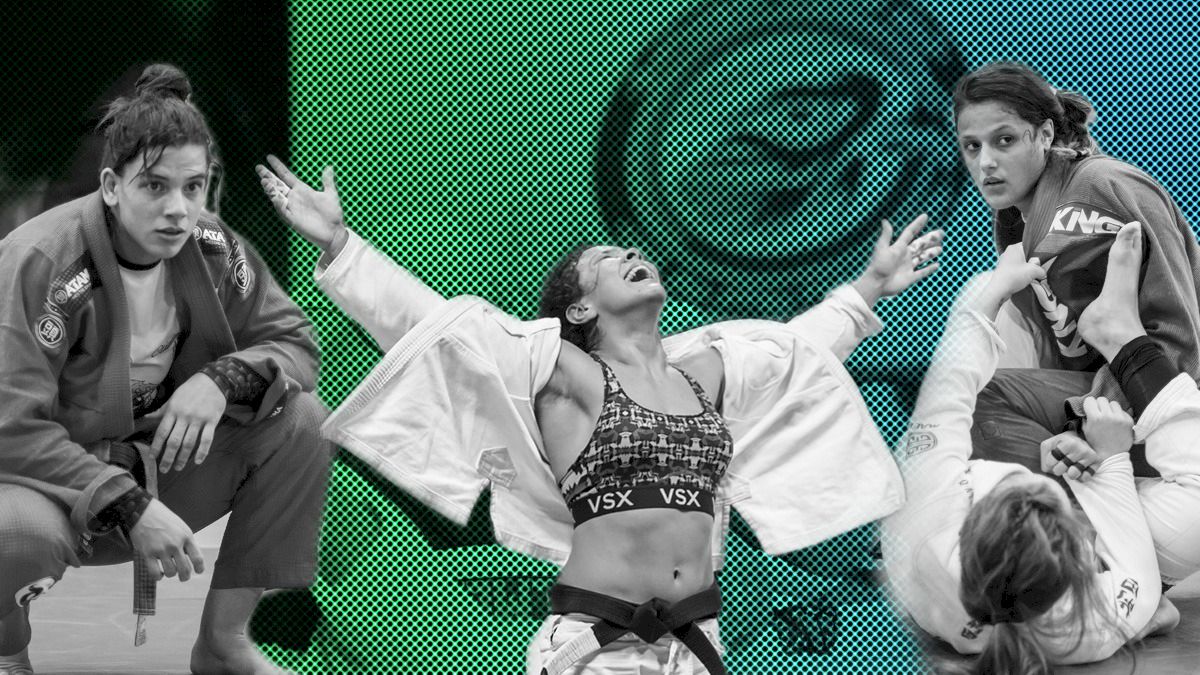 The weekend of September 23rd and 24th brings the UAE Jiu-Jitsu Federation's (UAEJJF)
Los Angeles Grand Slam
. This is the second out of five Grand Slams scheduled for the 2017-2018 UAEJJF season and will be held at the Los Angeles Convention Center.
With the UAEJJF giving out over $125,000 in cash prizes and up to 200 ranking points for the end of season awards many top competitors have registered. The female brown/black belt divisions pay out $1,500 for first place, $1,000 for second and $500 for third.
The female divisions contain some of the biggest names in the sport, with five 2017 world champions and three of the top four ranked women from last year's UAEJJF season competing.
Here we will take a look at several of the women to watch out for during this weekend's stream. Note that at UAEJJF events the brown and black belts compete in the same brackets for women's divisions.
---

Nathiely de Jesus -- 90kg

The Cicero Costha athlete and 2017 world champ ran away with last season's top ranking, winning by almost 400 points after claiming seven golds and one silver medal. Nathiely won the 2017 World Pro as well as the Grand Slams in Los Angeles, Tokyo, Rio de Janeiro and Abu Dhabi.
She followed up an incredible UAEJJF season with an IBJJF world championship in the medium-heavyweight division, as well as bronze in the world absolute. Nathiely is currently ranked third for the 2017-2018 season at 200 points after winning the Tokyo Grand Slam, and is the highest ranked female competitor competing in Los Angeles.
---

Claudia Do Val -- 90kg

Nathiely will face tough competition in the 90 kg division from 2017 IBJJF heavyweight world champion Claudia Do Val. Since receiving her black belt from Ricardo De La Riva in December 2016 Claudia has been tearing up the competition scene.
Val holds a 2-0 record against Nathiely, both wins coming by advantages at the 2017 Brazilian Nationals. Claudia is no stranger to the UAEJJF scene, having taken bronze at the 2016 Rio Grand Slam and silver in 2015.
---

Ana Carolina Vieira -- 70kg

The younger sister of legendary competitor Rodolfo Vieira stepped out of her brother's shadow in 2017, claiming an IBJJF world title at middleweight in her first year at black belt. This goes along with previous world titles won by Ana Carolina at blue, purple and brown belt.
Vieira finished the 2016-2017 UAEJJF season at fourth place at 1000 points after four very impressive gold medals. She won the 2017 World Pro along with Grand Slams in London, Rio de Janeiro and Abu Dhabi.
---

Luiza Monteiro -- 62kg

Luiza Monteiro of NS Brotherhood finished the 2016-2017 season ranked second after bringing home 7 golds and 1 silver medal. Monteiro is currently tied for fifth at 60 points this season after winning the Florianopolis International Pro, and will be the 2nd highest ranking female black belt competing in Los Angeles.
2016-2017 saw Monteiro win the Grand Slams in Los Angeles and London, while also finishing 2nd at the Abu Dhabi Grand Slam. Luiza followed up this solid string of UAEJJF performances with winning her 2nd IBJJF world title in 2017.
---

Maxine Thylin -- 62kg

Monteiro will have to contend with another 2017 IBJJF world champion in Swedish national Maxine Thylin of Gracie Humaita. Thylin won the featherweight division at worlds this year after closing out with teammate Ana Carolina Schmitt, who will be competing at 55kg in Los Angeles. A year ago Thylin took home the gold medal at the 2016 UAEJJF Los Angeles Grand Slam.
---

Mayssa Bastos -- 49kg

Brown belt Mayssa Bastos of GF Team has been very successful on the UAEJJF circuit considering she is always competing against higher ranks and often at a higher weight. Bastos ended the 2016-2017 season as the top ranked female brown belt at 880 points. She won the 49 kg brown/black belt division at the 2017 world pro.
Bastos would compete up a weight at 55 kg and still take bronze at the 2016 Rio and Abu Dhabi Grand Slams. She also had an incredibly successful year at IBJJF tournaments, placing third at worlds light-feather and also first at Europeans and the Brazilian Nationals. Just last weekend Mayssa won her weight and the absolute division at the San Diego BJJ Pro.
---

Tammi Musumeci -- 62kg

In the 2016-17 UAEJJF season Tammi Musumeci of Caio Terra Association ended up ninth in the rankings after 2nd place finishes at the World Pro and Los Angeles Grand Slam. In Los Angeles Tammi lost a close 2-0 match to Maxine Thylin.
Musumeci has medaled at IBJJF Worlds four years in a row now, with silver in 2014 and then bronze three years in a row. A gold medal at 62kg (with two 2017 world champs in the bracket) would no doubt be a big statement as to whether Tammi will finally get the world title in 2018 that she's been so close to getting for several years.
---
How to Watch Abu Dhabi Grand Slam Los Angeles
On TV:
Now available on Roku and Apple TV 4 -- download the FloSports app today.
STREAMING:
Available only on FloGrappling via monthly or yearly memberships. A yearly FloPRO subscription provides access to ALL FloSports sites.
SIGN UP HERE
Join The Conversation On Social

• Follow us on Twitter
@FloGrappling
• Follow us on Instagram
@FloGrappling
• Follow us on
Facebook
FloGrappling's hottest content, delivered to your inbox
Don't miss breaking news, feature stories, event updates, and more. Sign up for the FloGrappling mailing list today.