Abu Dhabi Grand Slam Los Angeles 2017
Take A Look At The Stacked Divisions At Abu Dhabi Grand Slam Los Angeles
Take A Look At The Stacked Divisions At Abu Dhabi Grand Slam Los Angeles
The Abu Dhabi Grand Slam Los Angeles is the second out of five Grand Slam events scheduled for the 2017-2018 UAEJJF season.
Sep 21, 2017
by Michael Sears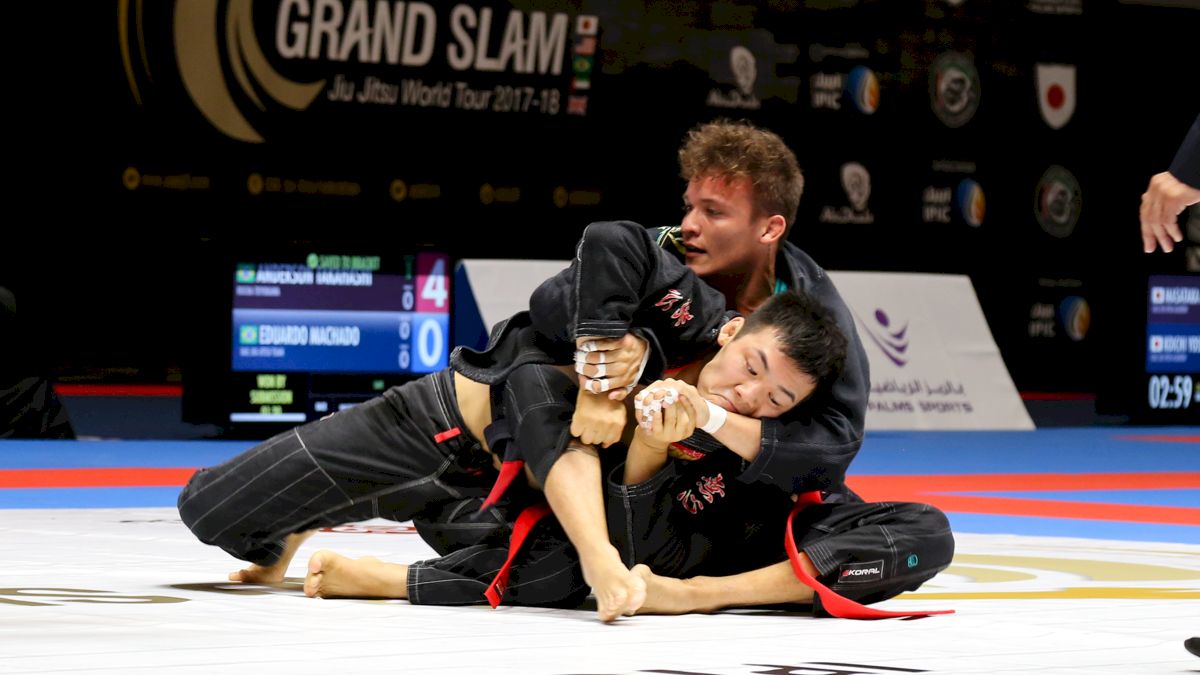 This weekend's
Abu Dhabi Grand Slam Los Angeles
is the second out of five Grand Slam events scheduled for the 2017-2018 UAEJJF season. With the UAEJJF giving out over $125,000 in cash prizes and up to 200 ranking points for the end of season awards, many top grapplers have registered to compete at the LA Convention Center on Saturday and Sunday.
The men's black belt divisions pay out $2,500 for first place, $1,500 for second, and $1,000 for third. The end-of-season rankings prizes are $25,000, $10,000, and $5,000 for first through third place.
Here is a quick preview of how the divisions are looking at adult male black belt. Registrations for this event have been extended to Thursday, Sept. 21, so a name or two might jump in these brackets at the last minute.
56kg
Rodnei Barbosa (Qatar BJJF) was the 2017 UAEJJF World Pro champion at 56kg and has won Brazilian Nationals two years in a row. Joao Carlos Kuraoka (Axis) is currently in the rankings lead at 200 points after winning the Tokyo Grand Slam in July. Lucas Pinheiro (Alex Martins) has placed second at Pans the last two years. Jose Lima (GF Team) took third at this year's Pans and should also contend for the 56kg title in Los Angeles.
62kg
Two members of the Cicero Costha team should be the favorites to meet in the final, with Joao Miyao and Hiago George both registered. The three-time world silver medalist Miyao took second at this tournament a year ago. George put together an incredible UAEJJF season in 2016-17, finishing sixth in the end-of-season rankings with 840 points. Along the way he took first at the Grand Slams in Rio de Janeiro, London, and Abu Dhabi before eventually finishing third at the World Pro.
​Alexandre Vieira. Photo: Hywel Teague
69kg
While the 69kg division might lack the star power of other weights, an evenly matched field of competitors should result in an interesting battle for the gold. Alexandre Vieira (BTT) enters this tournament ranked 10th after a bronze medal in Tokyo. Vieira will be joined in this bracket by Brian and Kevin Mahecha (ATT), Brandon Walensky (Clark Gracie), Victor Moraes (Cicero Costha), and Thiago Macedo (Rodrigo Pinheiro). Any of these competitors has a realistic shot at going home with the gold medal and $2,500.
77kg
Jaime Canuto (GF Team) is currently ranked seventh after grabbing the silver medal at the Tokyo Grand Slam while competing up at 85kg. Canuto has looked on point this year, winning Brazilian and American Nationals and earning bronze medals from Worlds and Europeans. He will be joined at this weight by another Canuto, Renato Canuto (Zenith). Renato won this tournament a year ago as a brown belt and took home a Pans bronze medal in his first year at black belt.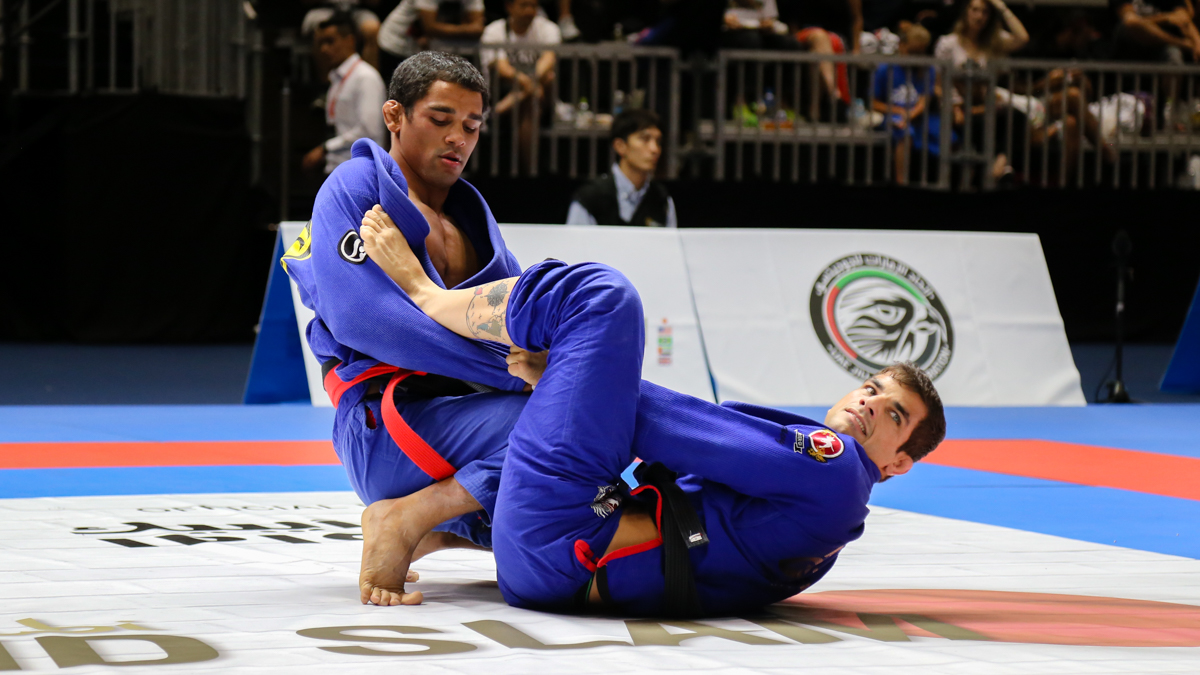 ​Jamie Canuto on top vs Marcus Soares. Photo: Hywel Teague
Yan "Pica Pau" Lucas is a very active competitor who has wins over some elite competitors. However, the 2017 Worlds bronze medalist has lost twice by submission to Jaime Canuto, including by armlock just last weekend in San Diego. Also keep an eye out for exciting competitors John Combs (Easton), Andris Brunovskis (Atos), and Francisco "Sinistro" Iturallde (Trujitsu).
85kg
The 85kg division is an interesting mix between young up-and-comers and established veterans. Three-time world champion Otavio Sousa (Gracie Barra) looked on fire last week at the San Diego Pro, defeating Jaime Canuto 8-0 in the final. Sousa would close out the division semifinal with teammate Victor Silverio. Sousa took second at the 2016 L.A. Grand Slam while still a member of GF Team, losing to new Gracie Barra teammate Edwin Najmi in the final.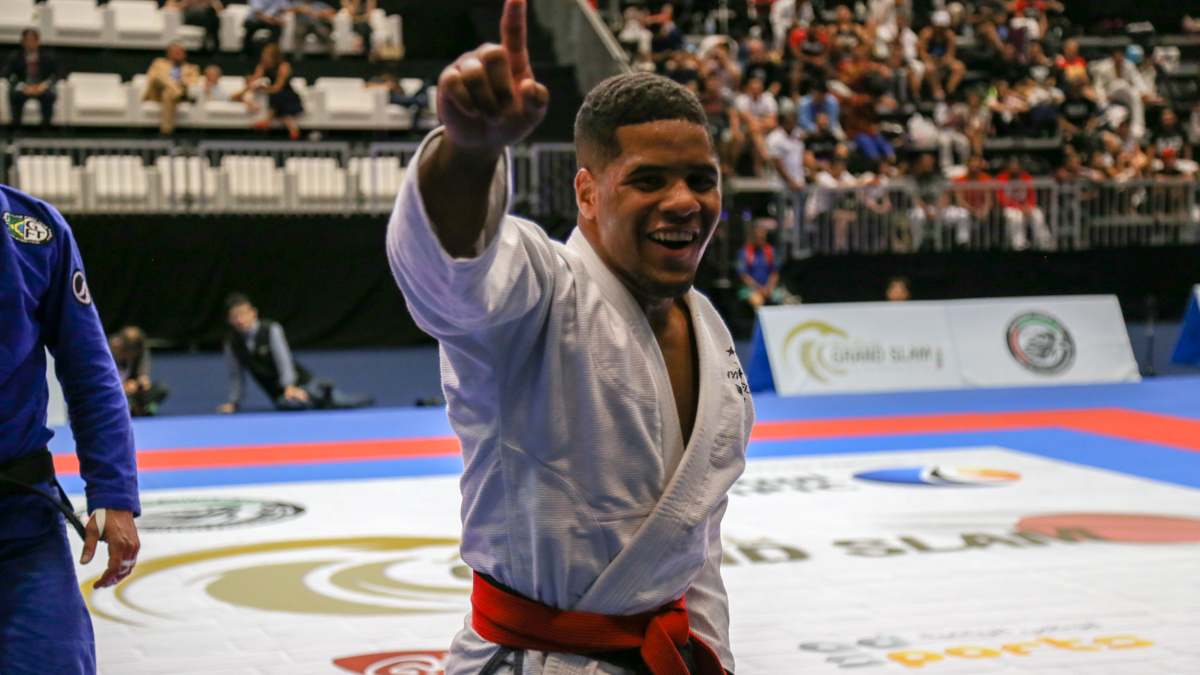 ​Isaque Bahiense. Photo: Hywel Teague
Isaque Bahiense (Alliance) and Dante Leon (GF Team) are easily two of the most explosive and athletic competitors on the scene today, and any match involving either grappler usually provides some excitement. Bahiense is currently ranked third for the 2017-18 season after defeating Jaime Canuto in the 85kg final at the Tokyo Grand Slam. Bahiense had an impressive rookie year at black belt, taking home a Pans silver and Europeans bronze medal. To make the Pan final, Isaque defeated legend Romulo Barral in the semis. In the final, Bahiense was submitted with a flying triangle by Otavio Sousa.
Leon won this tournament a year ago at brown belt and has looked impressive in the competitions he has entered during a very short black belt career. Diego Ramalho and Lucas Rocha (ZR Team), along with Manuel Ribamar (NS Brotherhood), could spoil the day of anyone in this bracket and add depth to a well-rounded weight class.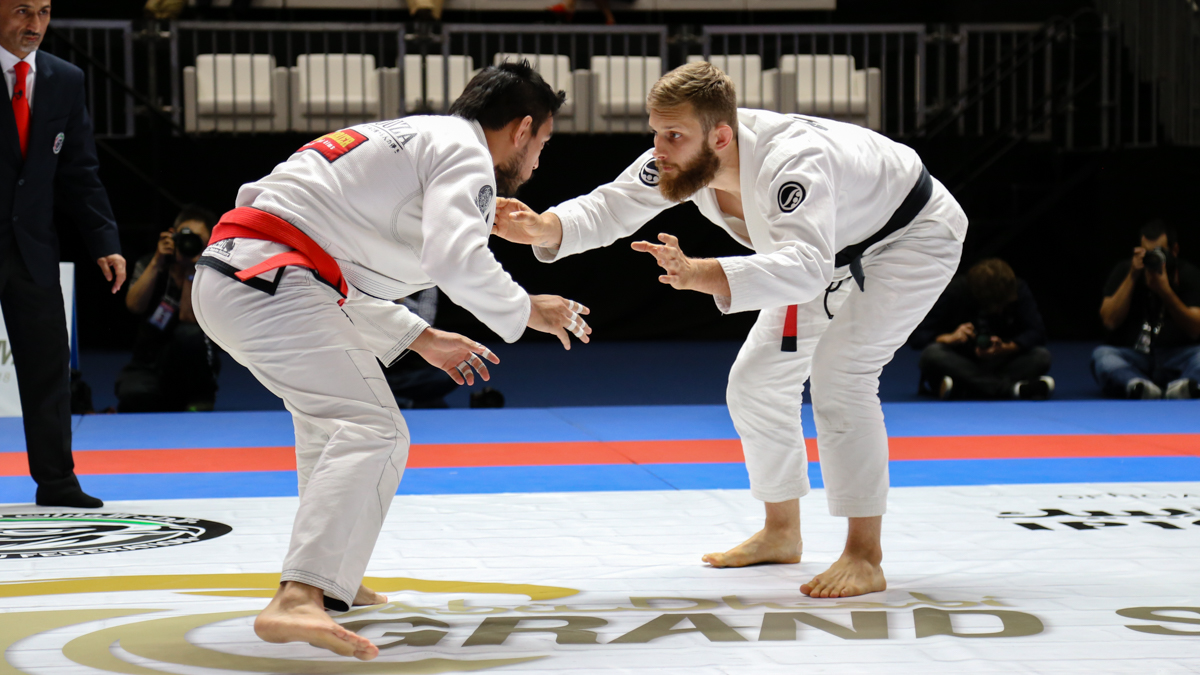 ​Adam Wardzinski (right). Photo: Hywel Teague
94kg
Adam Wardzinski (Zlomiarz Team Gdansk) is one of the most active competitors on the UAEJJF circuit. Wardzinski took fifth in 2016-17 and is currently ranked second for this season. He has yet to win a Grand Slam though, finishing second at London and Abu Dhabi last season along with another silver this season in Tokyo. This goes along with a silver medal at the 2017 UAEJJF World Pro. Wardzinski arguably should have made the podium at this year's Worlds, losing a controversial match in the quarterfinal. Tanner Rice (Soul Fighters) was the 2017 Pans and Europeans runner-up in the heavyweight division as well as 2015 Los Angeles Grand Slam champion. Rice and Wardzinski are 1-1 against each other, with Wardzinski winning the last meeting by choke at the 2017 Worlds.
Patrick Gaudio (GF Team) has been on fire lately and will pose a serious threat to Wardzinski getting that Grand Slam gold medal. After placing first at Pans and Brazilian Nationals and second at Worlds in 2017, Gaudio just won $4,000 at the IBJJF San Diego Pro last weekend. Gaudio also holds victories this year over legends Romulo Barral and Claudio Calasans.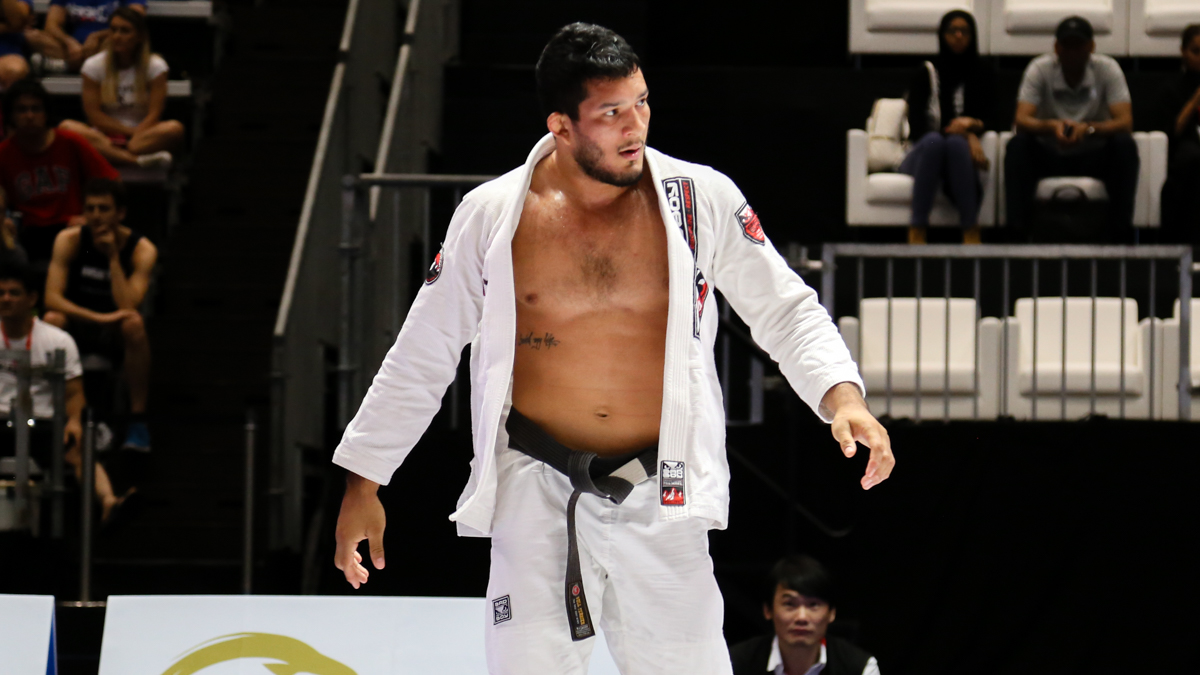 ​Lucas 'Hulk' Barbosa. Photo: Hywel Teague
Lucas "Hulk" Barbosa is currently 140 points out of first place in the UAEJJF rankings after a bronze medal at the Tokyo Grand Slam. Hulk also took third at this tournament a year ago. Gaudio and Hulk have met twice this year at the 2017 Pans and last weekend in San Diego -- in both meetings, Gaudio won by two points. Nick Schrock (Ribeiro) and Helton Jose Junior (Cicero Costha) are two young black belts to keep an eye on in this bracket.
110kg
Gustavo Dias (Ribeiro) was the 2017 world runner-up. Dany Gerard (Atos) has lost a couple close matches to Dias, including last weekend in San Diego. But it would be no surprise for Gerard to end up on top of the podium here. Max Gimenis (GF Team) is a former world champion in the brown belt super-heavyweight division and should contend for the 110kg gold medal.
---



How to Watch Abu Dhabi Grand Slam Los Angeles
On TV:
Now available on Roku and Apple TV 4 -- download the FloSports app today.
STREAMING:
Available only on FloGrappling via monthly or yearly memberships. A yearly FloPRO subscription provides access to ALL FloSports sites.
SIGN UP HERE
Join The Conversation On Social

• Follow us on Twitter
@FloGrappling
• Follow us on Instagram
@FloGrappling
• Follow us on
Facebook
FloGrappling's hottest content, delivered to your inbox
Don't miss breaking news, feature stories, event updates, and more. Sign up for the FloGrappling mailing list today.