With a silver medal around his neck from the 2017 ADCC World Championships, AJ Agazarm is on a career high right now.
Not since he climbed to the top of the podium at the IBJJF No-Gi World Championships in 2014 has he enjoyed such success. Always known as a dangerous and durable competitor, he gritted his way through two tough days in Espoo, Finland, this past weekend to arrive at the highest levels of the sport.
Agazarm's ADCC medal-winning performance began well before he stepped on the mats. He was faced with a weight cut to 66kg (145.2lb), a weight he hasn't been for over 10 years. ADCC rules require competitors to step on the scale three times: a day before weigh-in on Friday, then two subsequent weigh-ins on each day they compete.
"It was agony. Not something I'd recommend," Agazarm said.
He needed to rise at 4:30 AM on the opening day of the tournament to hit the bike and sauna to make weight.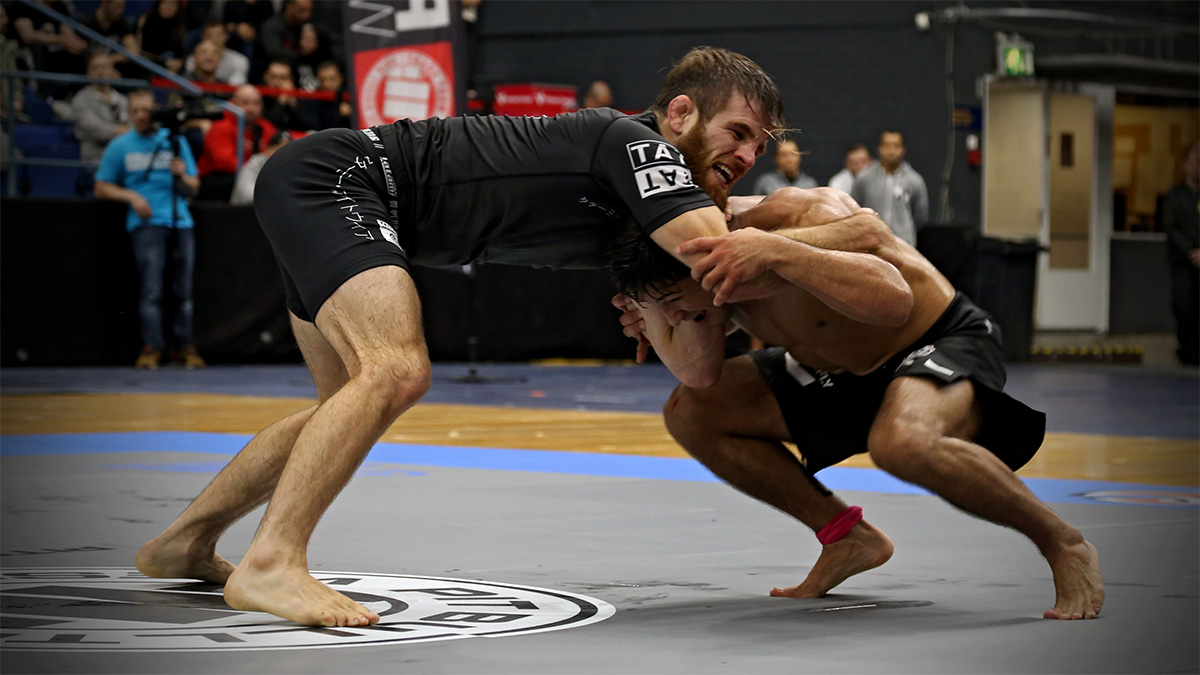 Agazarm versus Mantovani in the semifinal. Photo: Hywel Teague / FloGrappling
Day one began with a 10-minute match against the youngest competitor in ADCC history in 16-year-old Nicky Ryan, followed by a 15-minute battle against another member of the "Danaher Death Squad," Ethan Crelinsten. This was followed by a hard-fought 15-minute war on day two with Pablo Mantovani of Atos before the final with Cobrinha.
Don't be fooled into thinking Agazarm had an easy path to the finals because you may not immediately recognize his opponent's names. Ryan is the younger brother of 2017 ADCC 88kg champ and absolute silver medalist Gordon Ryan and one of the hottest up and comers in the game.
"He's setting the jiu-jitsu world on its ear," said Agazarm, who won 2-0.
Crelinsten was the perpetrator of the infamous arm break in the
viral video
that came out of the ADCC West Coast Trials. A dangerous submission hunter, he too was outpointed 2-0 by Agazarm, this time in overtime.
Mantovani, Agazarm's semifinal opponent, won the Trials in Sao Paulo, Brazil. Though "only" a brown belt, Mantovani took out 2015 bronze medalist Augusto "Tanquinho" Mendes to earn his place in the semis. Agazarm outwrestled him over 15 minutes to win.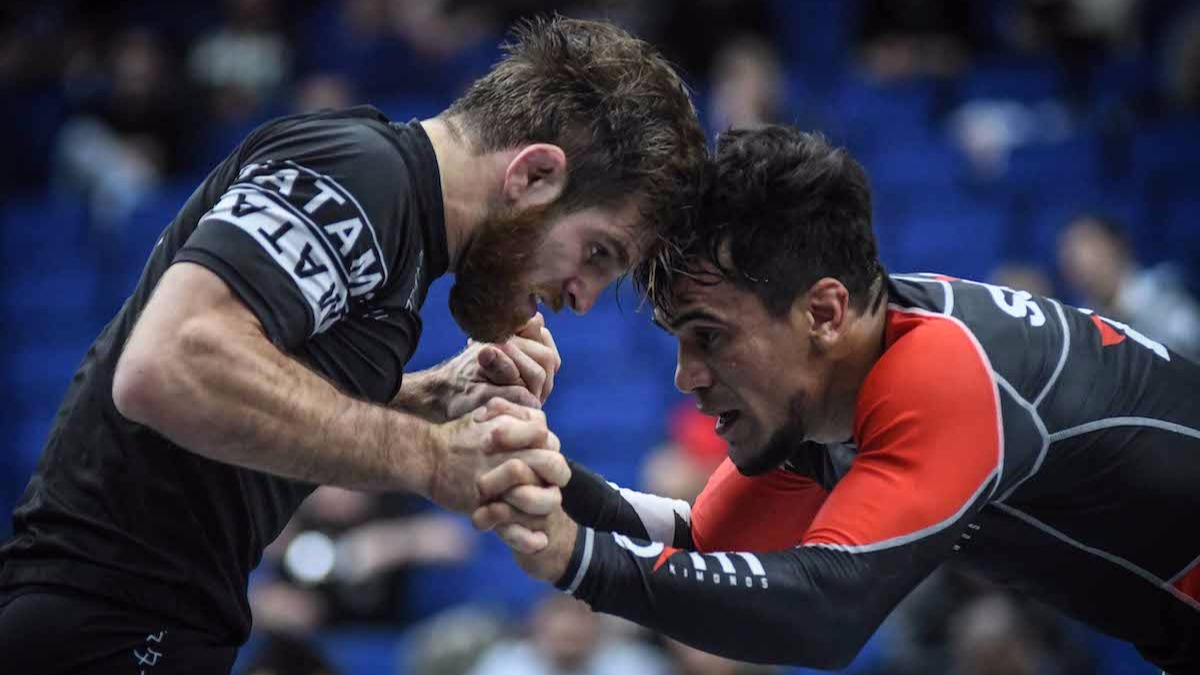 Agazarm vs. Cobrinha in the 66kg division final. Photo: Chase Smith / FloGrappling
The silver medal at ADCC was Agazarm's best performance in six years of competing in the biennial tournament. He had competed in China and Brazil before this year's event in Finland. ADCC rules seem to suit Agazarm, who won five matches to make it to the finals of the North American Trials and three to fight for the World Championship gold.
I don't regret going. I do regret making a technical error that kept me from winning the championship. ADCC represents an opportunity to compete but also to self-critique. These two factors are equal in measure and evenly distributary in terms of beneficial experience.
WATCH:
•
AJ Agazarm vs. Nicky Ryan
•
AJ Agazarm vs. Ethan Crelinsten
•
AJ Agazarm vs. Pablo Mantovani
•
AJ Agazarm vs. Cobrinha
Next up: Submission Underground 5
Agazarm flies back from Finland to compete at Chael Sonnen's
Submission Underground 5
in a no-gi co-main event match against the veteran MMA fighter Phil Baroni on Oct. 1 in Portland, Oregon.
For Agazarm to bounce from ADCC to Submission Underground in such short order may seem like a challenge, but it's the actually the norm for the jet-setting athlete, who has had 38 matches this year already.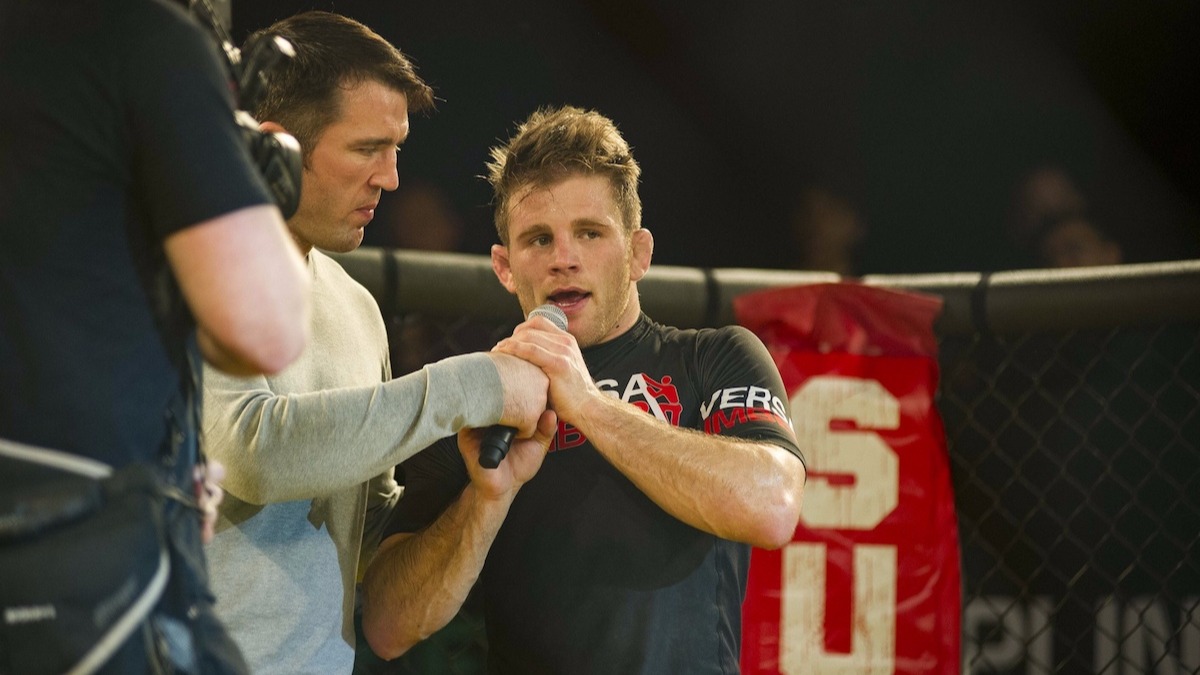 Agazarm being interview by Chael Sonnen at SUG3. Photo: Joseph Weiser-USA TODAY Sports
The real challenge is knowing what to expect from Baroni. Bigger and heavier, Baroni may not have the same submission wrestling credentials his opponent, but Agazarm is all too aware of the threat he poses.
"Baroni is a battle-seasoned, incredibly strong, fearless competitor," Agazarm said. "He is a match for any man on any day. His lack of experience in high-level jiu-jitsu only makes him more dangerous, more unorthodox. His toughness is legendary. He's the type of guy who chases down shots better players give up on, because he doesn't know enough to realize certain positions are hopeless; so he ignores orthodoxy, and escapes, from positions the group-think BJJ community considers inescapable.
I have no idea what he's going to do, or what's going to happen. He's like a proponent of 'Guerilla Theater;' no script, no lines, no predictive model of behavior, no predetermination. I have no idea how to handle that.
Watch AJ Agazarm vs. Phil Baroni LIVE or On Demand ONLY on FloGrappling.
---

How to Watch Submission Underground 5
On TV:
Now available on Roku and Apple TV 4 -- download the FloSports app today.
STREAMING:
Available only on FloGrappling via monthly or yearly memberships. A yearly FloPRO subscription provides access to ALL FloSports sites.
SIGN UP HERE
Join The Conversation On Social

• Follow us on Twitter
@FloGrappling
• Follow us on Instagram
@FloGrappling
• Follow us on
Facebook
FloGrappling's hottest content, delivered to your inbox
Don't miss breaking news, feature stories, event updates, and more. Sign up for the FloGrappling mailing list today.