The IBJJF's global expansion shows no signs of slowing down, with four championships running in three countries (and three different continents) all on the same weekend.
Here's a quick rundown of the noteworthy results from the Pan No-Gi in New York, the Brazilian No-Gi Nationals in Rio de Janeiro, the Copenhagen International Open (gi and no-gi) in Denmark, and the Dallas Fall International in Texas.
---
​Michelle Nicolini gets her hand raised. Photo: Chase Smith / FloGrappling
Pan Jiu-Jitsu No-Gi Championship 2017
We were on-site in Manhattan for this tourney, always seen as the traditional start to the IBJJF no-gi season. We already mentioned how ADCC bronze medalists Jackson Sousa and Michelle Nicolini rode the wave from Finland straight to NYC just a week later to take double gold in the men's and women's black belt weight and absolute divisions.
Two pieces of interesting info regarding NYC teams came to light from the weekend:
Unity Jiu-Jitsu -- the smallest and newest of the big four teams in New York ,with the other three being Marcelo Garcia-Alliance, Renzo Gracie and Shaolin -- took top spot in the team placing, beating Alliance 76 points to 67. Coming in third was PSLPB Cicero Costha with 32 points, a team that enjoyed close links and a lot of talent sharing with the Unity squad.
Team Fabio Clemente, formerly of Alliance and also known as Jiu-Jitsu For The People, have affiliated with Checkmat. Clemente was one of the original Alliance black belts in the city and instrumental in bringing over a number of key names from the team.
​​Click here for results
---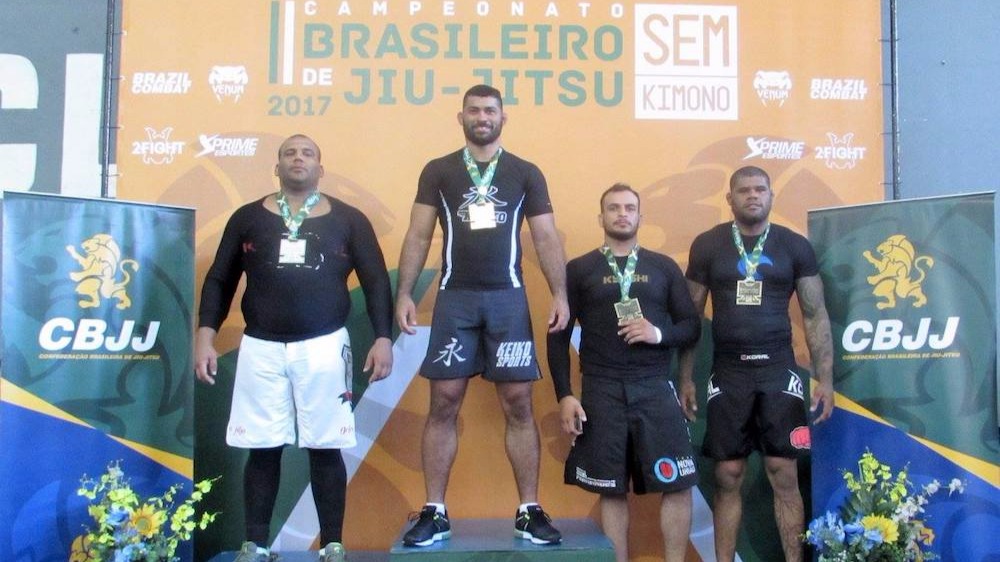 ​GF Team's Ricardo Evangelista tops the podium. Photo: IBJJF
Brasileiro No-Gi 2017
The Brazilian No-Gi Nationals has never been a particularly noteworthy event, as the gi still reigns supreme in Brazil and especially Rio de Janeiro. It was hard to find any big names among the list of entrants, with only GF Team powerhouse Ricardo Evangelista (who took gold at ultra heavyweight) stand out.
GF Team ran away with the team prize with 304 points, beating out second place CheckMat (254) and Gracie Barra in third with 225.
---
Dallas Fall International Open Jiu-Jitsu 2017
With all of the excitement going on in New York and Rio it would have been easy to overlook the far-smaller Dallas Fall International Open, but the tournament drew together some strong competitors and delivered a solid absolute division.
Lucas 'Hulk' Barbosa stood on top of a stacked podium, beating out Gabriel 'Fedor' Lucas of Checkmat in the final. GF Team's Jaime Canuto and Manuel Ribamar of NS Brotherhood took joint third place.
​BLACK / Adult / Male / Open Class
1 - Lucas Daniel Silva Barbosa - Atos Jiu-Jitsu
2 - Gabriel Lyrio Lucas - CheckMat
3 - Jaime Soares Canuto - GF Team
3 - Manuel Ribamar V. de Oliveira Filho - Ns Brotherhood
---
Copenhagen International Open Jiu-Jitsu (Gi and No-Gi) Championship 2017
Adam Wardzinski, the prolific Checkmat black belt from Poland, took three gold medals and a silver in Denmark's capital city, winning his weight class both gi and no-gi, taking gold in the no-gi absolute and silver in the gi absolute.