In association with Favela Jiu-Jitsu, a 501(c) nonprofit organization that advocates for the transformative power of the sport in disadvantaged communities, we present a series of articles about jiu-jitsu Rio de Janeiro's favelas.

Beginning this series is an article focused on the internationally known "City of God" favela located in Rio's west zone.
Lift a stone and you will find me: jiu-jitsu is everywhere
"Get out from behind him!" I hissed at Erin Herle, who had managed to reduce herself down to two squinty eyes and a tuft of blonde hair poking out from behind one of our group member's shoulders.
There were five of us altogether -- two Ecuadorians, two Americans (Erin and me), and one blonde-haired, blue-eyed Brazilian who looked more like a gringo than any of us actual gringos. She was our guide, our local connect. We had left the other locals back at the social project to head in search of pre-training coffee. I didn't see the gun that had Erin scurrying, but I've spent enough time in favelas to consider interactions with armed dealers to be commonplace -- you do your best to ignore them.
Despite pacification in 2009, the City of God is still victim to constant violence.
"Before I even went to Brazil, people made sure to steer me clear of the favelas, using stories of kids flaunting their assault rifles and hand grenades," said Erin, a brown belt under Marcelo Garcia.
Like most stereotypes the negative images that shroud Rio's favelas can be highly exaggerated. While favelas do suffer from years of government neglect, police brutality and a general oversight by society as a whole, they constitute a large part of Rio's historic and cultural identity, one that has so much more to offer than your standard stories of violence and corruption.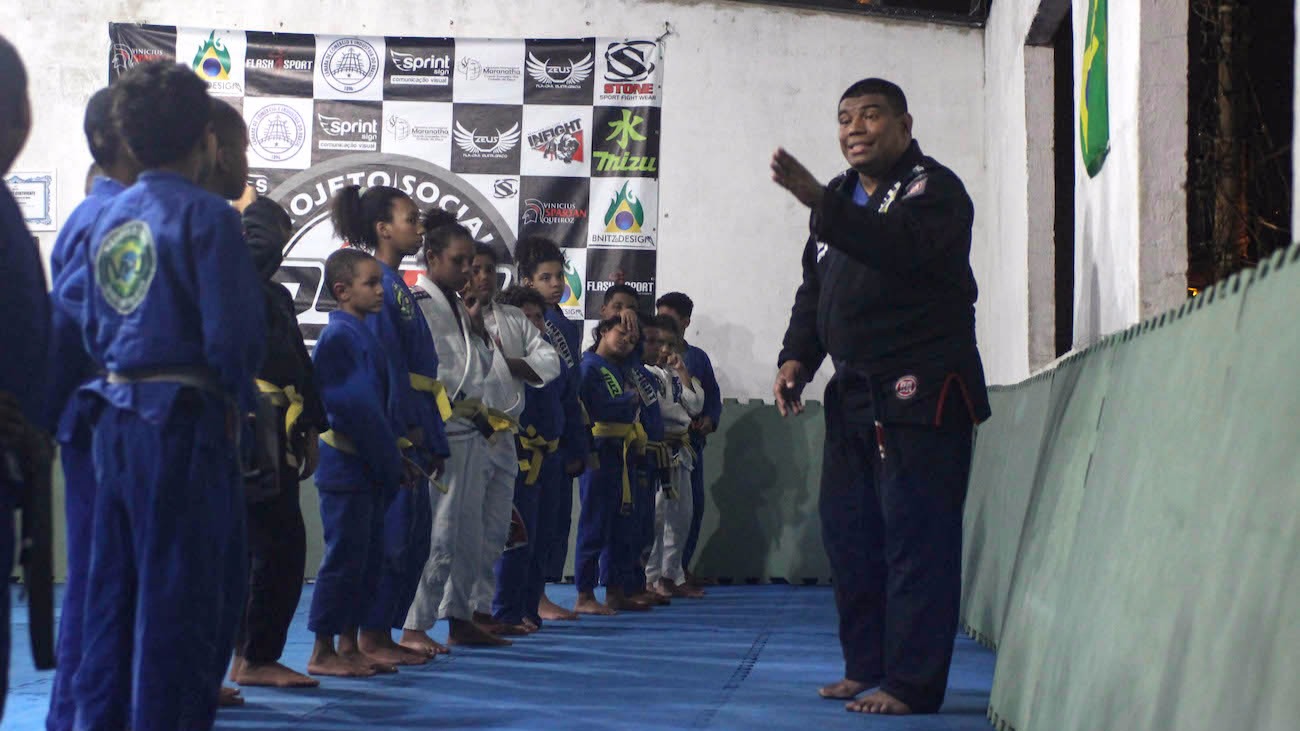 PSLC head coach Marcio de Deus. Photo: Nico Ball
I would never recommend an uncharted trip into the favela, or any unknown urban environment for that matter. I highly support programs and initiatives that aim to shed light on the lives of these people who are so often overlooked, such as the Projeto Social Lutadores de Cristo (PSLC, translated as "Social Project of Christ's Fighters").
The Gentle Art on Rio's West Side
Unlike most favelas that are sprawled throughout the luscious greenery of Rio's tropical mountains, the City of God is a flat favela, located in the less frequented west zone of the city. Far from the normal beaches and bars that attract so much attention, the City of God is the product of a futile government initiative to separate the city's favelas from the mainstream areas of commerce.
In 2009, police interventions (operations known as pacification) brought some positive changes for the residents, but unfortunately, motorcycle-riding drug dealers toting automatic rifles are still a daily fixture in most favelas.
Although the news and popular films like 2002's "City of God," depict favelas as lawless areas, populated by gun-toting savages, the majority of the residents are simply the causalities of an unfavorable environment and ineffective government policies. In the absence of government organizations, they rely more and more on local social projects for cultural, educational, and recreation outlets.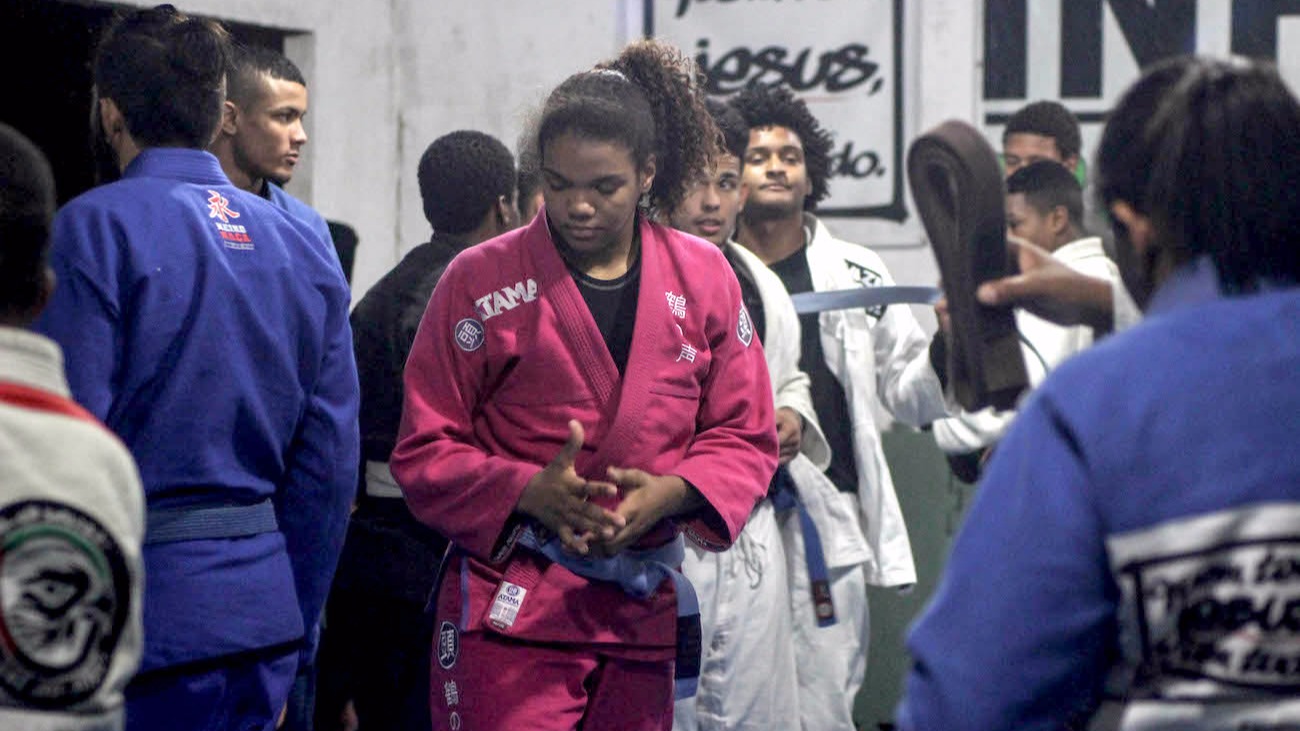 "You don't train at the best academy in the world, you don't train on the best mats in the world, but you train in the place that is the answer to your prayers. Is there anything better than that?"
-- Gabi Pessanha quoting her coach and pastor Marcio de Deus
Standing quietly next to her coach in the corner, a mere 17 years of age and dressed in a pink Atama gi, you might mistake Gabi Pessanha to be a sweet little girl, but once she slaps hands and bumps fists, her true nature comes out: she's a beast.
Gabi is a two-time world champion, a European champion, and a Pan American champion. And it's not just her. This tiny gym in one of the most notorious of Brazilian favelas has a habit of putting out technical savages.
There were over 40 of them jam-packed onto the mats the night I visited, training takedowns and complex berimbolo techniques generally reserved for the more experienced of practitioners.
The project is located next to a fenced-in soccer field that was lit up and filled with kids. There was no sign, but the children would come out of the dark with gis in hand to dart inside the gym. Upstairs there was what looked like an abandoned classroom lined with old desks where some would go to change their clothes.
Despite the ominous warnings about the dangers of the City of God, PSLC has been challenging the prevalent stereotypes since it opened its doors in 2009. It currently serves over 150 kids from the community.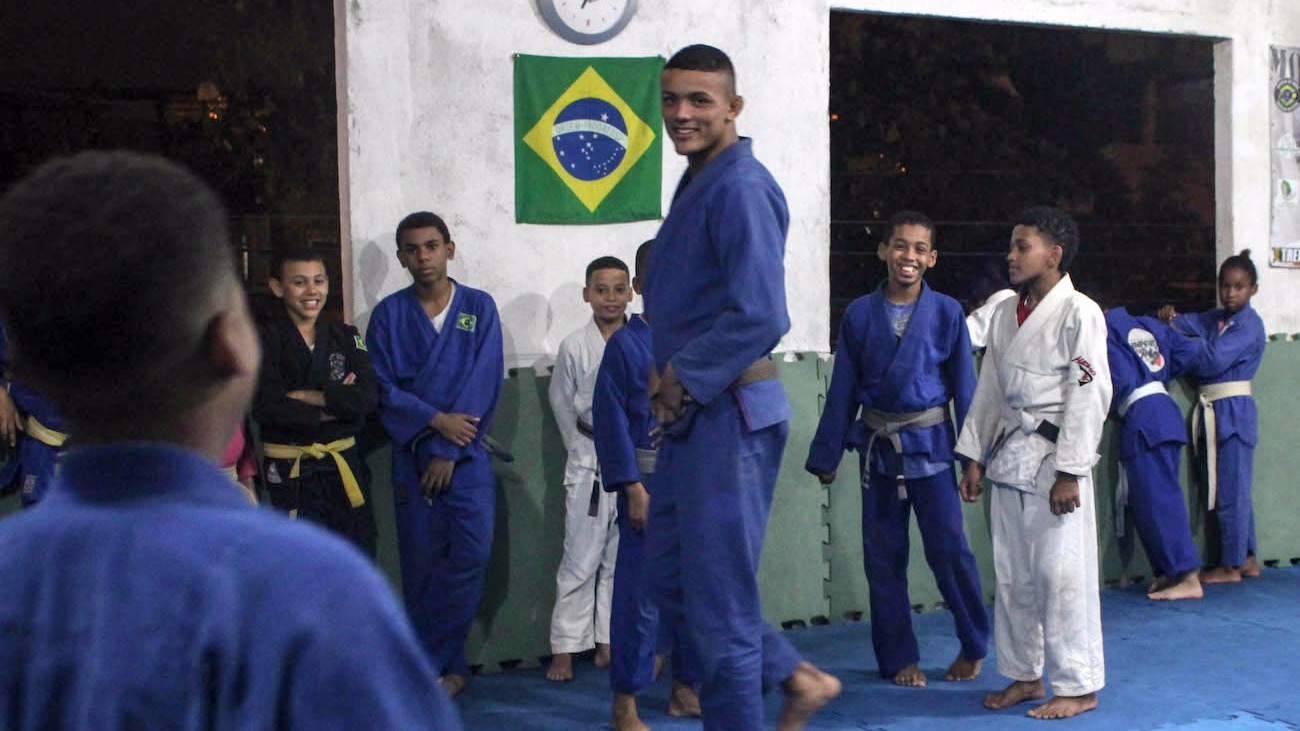 "Marcio lent me a gi top so I started training with a gi top and sweatpants." -- Victor de Lima
Growing up, Victor de Lima never had aspirations to be an athlete. It was by chance that at 16 years old, he decided to follow two friends to go train. Now he is a brown belt under PSLC head coach Marcio de Deus and an instructor at the project.
"Today I've traveled three times to the USA and once to Portugal to fight for PSLC, which today is now one of the biggest projects here in the City of God community," Victor said.
'Faith, Focus, Force'
PSLC is a small independent social project and not an official nonprofit organization (NPO), an important distinction. Lack of NPO status means that the organization functions privately, without the help of the government resources that would pay for teachers, snacks, and additional educational programs. It was Pastor Josue, Marcio's spiritual mentor, who opened the doors of his church so that kids from the community could learn jiu-jitsu.
"Having NPO status in Brazil is not easy," Marcio said. "Bureaucracy gets in the way. There are a number of 'ghost projects' and then there is corruption. That's why we choose to keep our work to ourselves. We have a lot of difficulties, but we don't negotiate our principles of honesty. We don't have financial support, what we have is faith and willingness to work."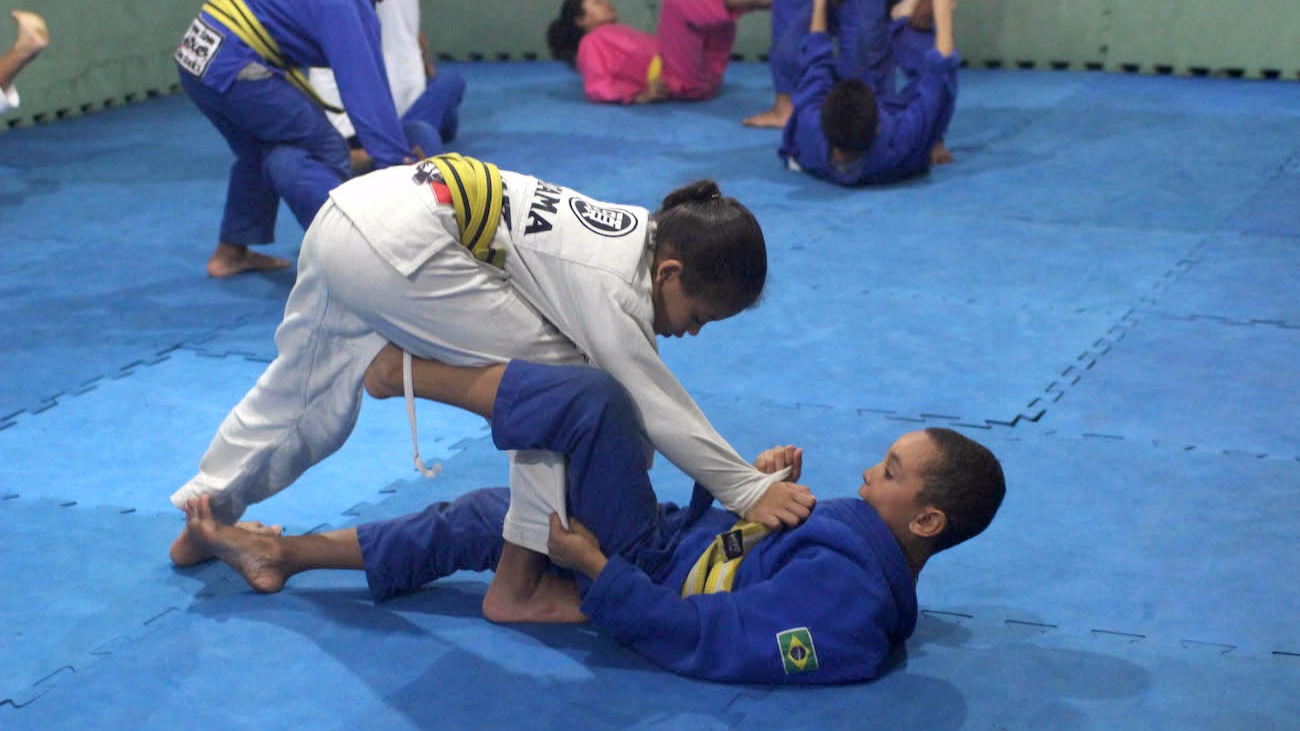 Photo: Nico Ball
Through faith, focus, and a lot of hard work, Marcio has been able to ensure that his students make it to all the major tournaments. They run raffles, sell sweets, and hold events in order to cover travel expenses. Victor is still paying off his ticket to the 2017 IBJJF Pans in California, but it's an investment that he's willing to pay.
"Projects are very important in the community," Victor said. "For me, it changed my life. Now today it's my job. I believe they have the power to change a lot of people's lives and take them places they've never imagined."
Jiu-Jitsu is All You Need
People may think the City of God is a lawless place, but PSLC and other community organizations are doing their best to break that stereotype. And they are adamantly proud of their work, of where they came from.
People told me not to go there. They said it was too dangerous, but there were so many kids, so many smiling faces and so many friendly gestures, that I kept going back.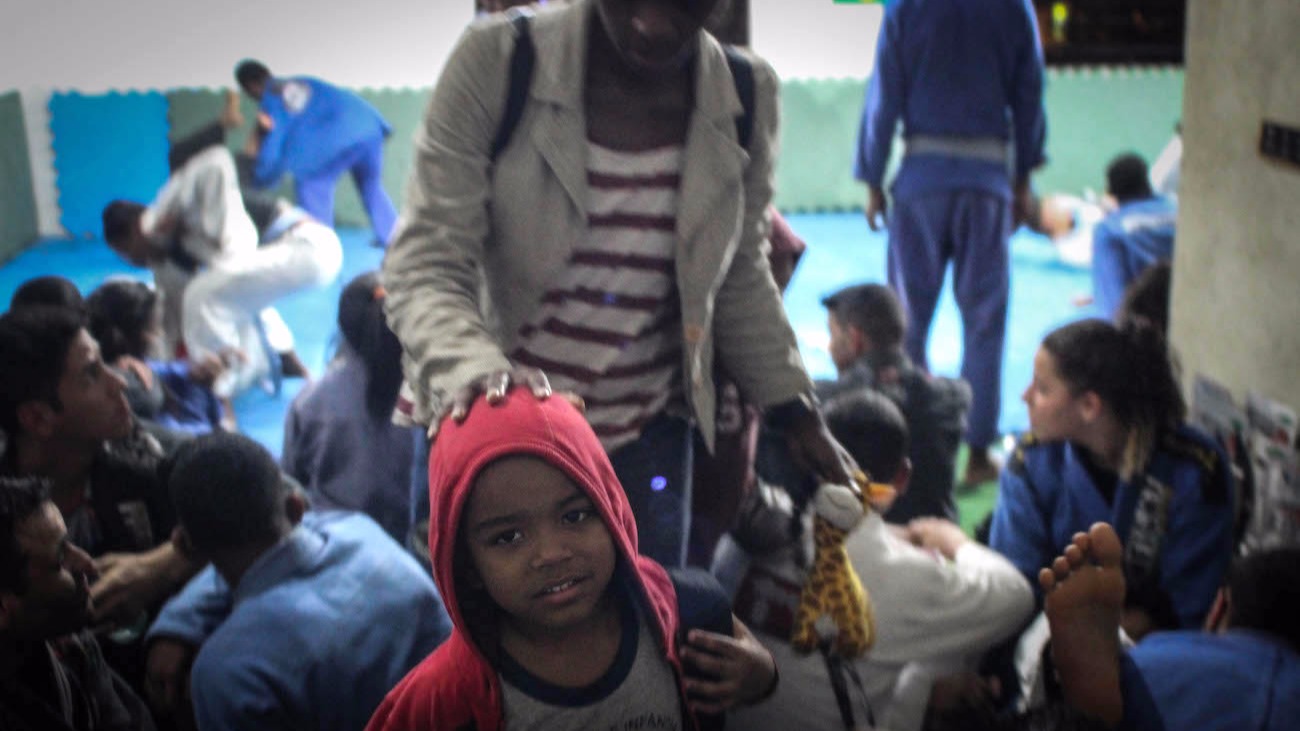 Photo: Nico Ball
I tried to pay them. Gyms normally have drop-in fees from 40-100 Brazilian reals ($12-32 USD), but they refused the money. We tried to buy patches but they gave them away as presents. They have so little and give so much.
"We form champions. We want this, we have world champions, European, Brazilian, South American, state champions. Our team is growing and we're united. I make athletes and new teachers," Marcio said.
Through jiu-jitsu, Marcio is not only teaching kids to be athletes but also trying to instill in them the values and other tools they need to have pride in their community, uphold their values, and be persistent in their faith for a brighter future.
I am happy with my work and the best of all is seeing a new generation of good people, respectful people, honest people and people who want to help others. That's my salary! Seeing lives transformed is my biggest medal.