​​​In association with Favela Jiu-Jitsu, a 501(c) nonprofit organization that advocates for the transformative power of the sport in disadvantaged communities, we present the second in a series of articles about jiu-jitsu in Rio de Janeiro's favelas.

Here we visit Instituto Reação, a project founded by judo Olympian (and jiu-jitsu blackbelt) Flavio Canto.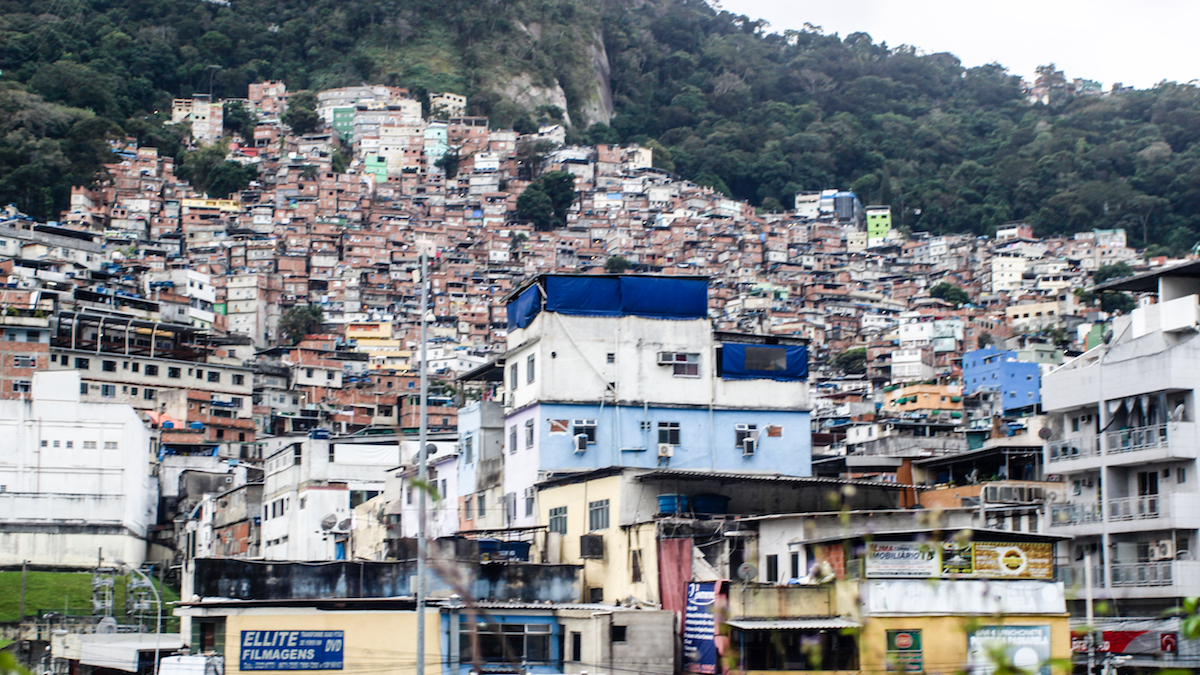 ​Rocinha, Rio's largest favela. Photo: Nico Ball.
Instituto Reação
As the sun starts to descend behind the mountaintops, the kids make their way down from the hill and across the overpass that divides the oversized community from the large sports complex that serves as their after-school refuge.
The nonprofit Instituto Reação's main location is in the Complexo Esportivo da Rocinha, located next to a busy highway at the base of Rio's biggest favela.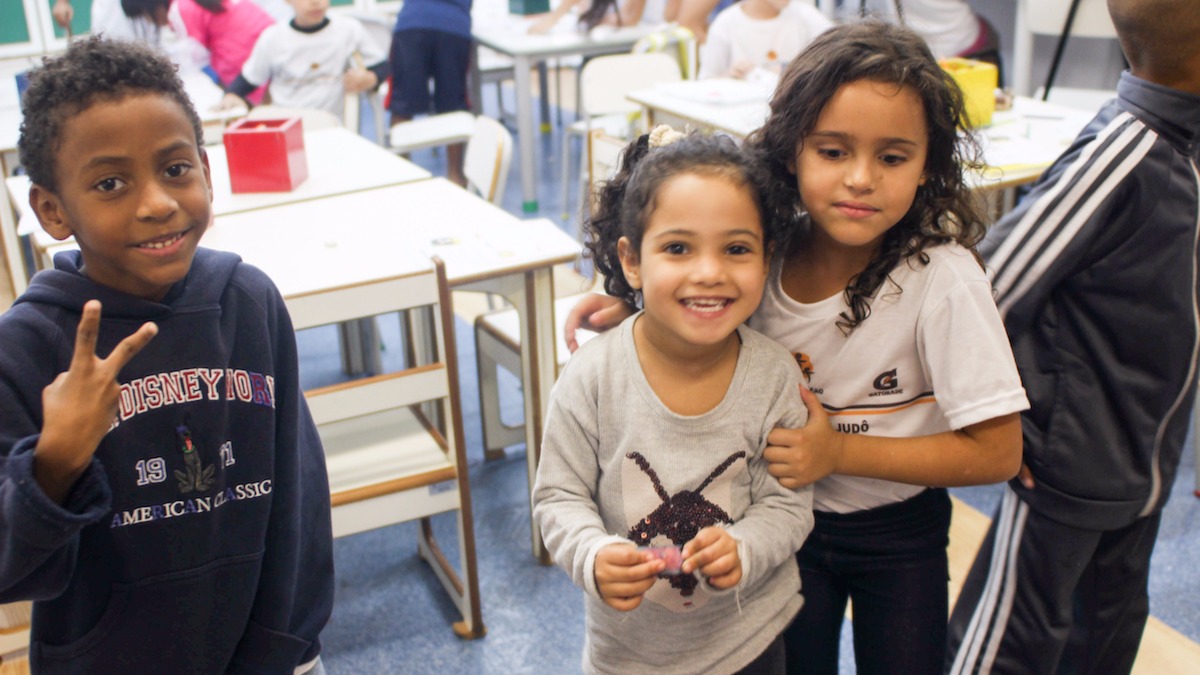 ​The classroom at Instituto Reação. Photo: Nico Ball
As soon as the classroom door opened, kids started tumbling out. They surged around us, small hands clutching papers and paints. Some of them looked up at us with wide-eyed curiosity, but others took the opportunity to rush for freedom. The more daring ones abandoned their papers in pursuit of my camera, whirling around us with so many questions that we couldn't do anything but smile and nod as we tried to tread through them and into the classroom. Inside, kids, crayons, and books lay scattered around on almost every available surface.
The timid ones kept to themselves, but our small group of assailing judokas soon began to grow, closing in on me and my escort.
"Caves! Caves!" One boy kept repeating as he bounced up and down in front of me. When he tired of his mantra he reached out for my camera, sliding agilely under my arms and positioning himself in the center of the straps that were wrapped around my neck.
"Gold! Have you ever explored a cave in your country and found gold?" He bounced around in a manner that made me think he was incapable of opening his mouth while his feet were still on the ground. His bold behavior was inspiring two little girls with curly blonde hair to demand a turn on the camera as well.
They wanted to know if I spoke Spanish, and they wanted to know where "gracias" came from. They were so busy talking that they could barely manage to listen. Not to my answers, not to each other, and not to their teachers when they were told to line up.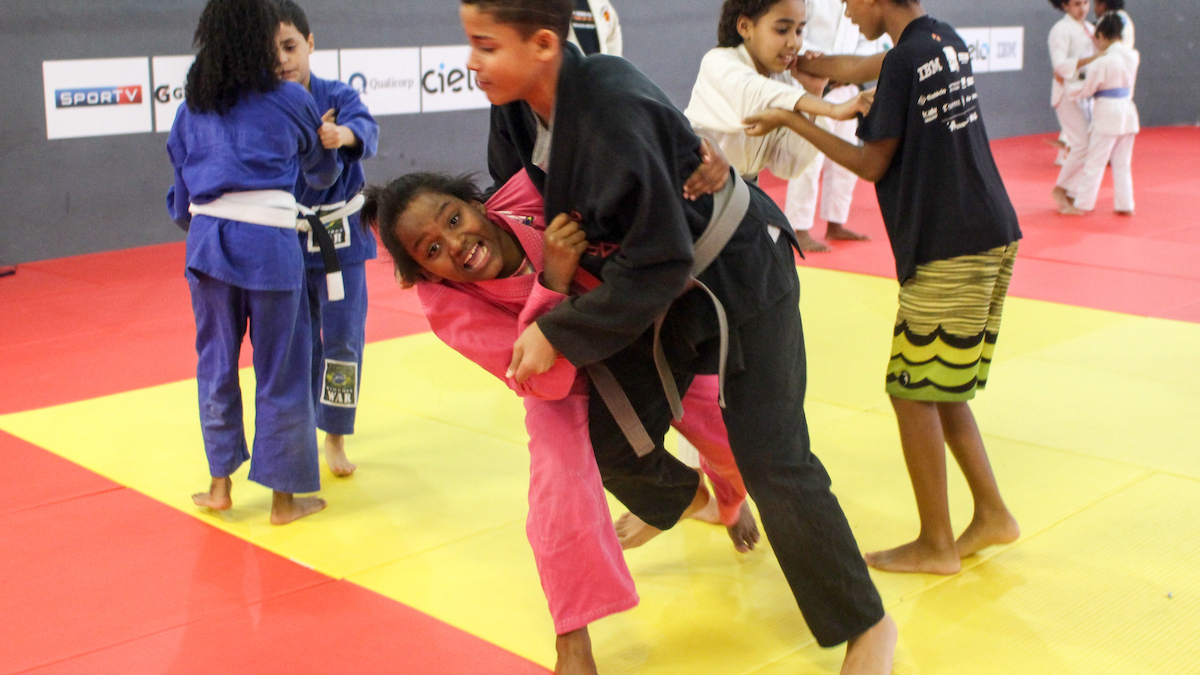 ​Photo: Nico Ball

An hour later, when it was their turn to don their kimonos and switch with the older kids on the mats below, it took over 10 minutes for the judo instructors to get my anxious interrogators to form some semblance of order. The tranquility lasted long enough for an instructor to distribute directions, and then within five minutes they were off again, jumping on each other and bouncing off the walls in their teacher's attempt to tire them out enough to show them the technique of the day.
There were over 50 kids on the mat, and it was not the first, the last, or even the busiest class of the day.
Action and reaction in Rocinha
Instituto Reação is a social project located at the base of the sprawling Rocinha favela that offers judo classes for local youngsters.
Most people haven't heard of Reação or Rocinha, but they have probably heard of Rafaela Silva, the Olympic medalist who claimed Brazil's first gold at the 2016 Olympics and a local hero to kids and adults alike. It was at this project that Silva got the tools that she needed to rise from her humble favela beginnings to become one of Rio de Janeiro's star athletes.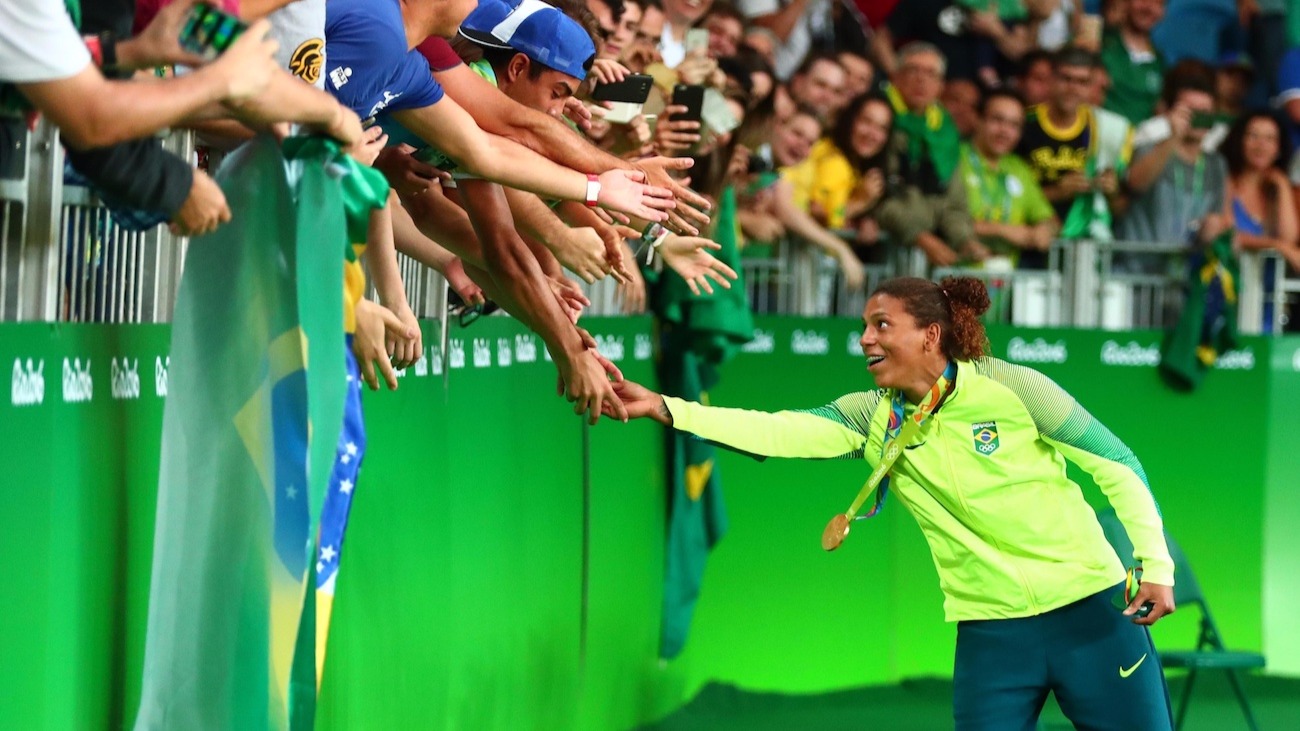 ​Rafaela Silva meets Brazilian fans during the women's 57kg medal ceremony during the Rio 2016 Summer Olympic Games. Photo: Rob Schumacher-USA TODAY Sports
The project was originally located inside a small gym in the City of God favela, just around the corner from Silva's house. The organization was forced to relocate after the gym closed down, but despite the numerous challenges Instituto Reação has since grown to include five different locations throughout Rio, including its main center at the base of Rocinha, Rio's largest favela.
Thanks to the size of the facility, Instituto Reação is able to offer multiple programs. Its judo classes include mandatory participation in an educational program in which students learn about values such as respect and equality through the medium of art and games. Those athletes that show a special interest in the sport can work towards becoming part of the pre-Olympic training team and thereby receive the support they need to begin competing in local and international competitions.
Overcoming bureaucracy to reach the people
Maintaining a nonprofit organization (NPO) in Brazil is no easy feat, but it's not impossible. Instituto Reação is part of the Rede Esporte Pelo Mundança Social (Sports Network for Social Change), an organization of over 86 NGOs that are using sports to promote inclusion.
It was the loss of political support that forced Olympic medalist Flavio Canto to open his own project when the organization that he had been working with shut down. They had lost government financing and the facility they trained at, but together with Geraldo Bernardo, Canto was able to open Instituto Reação in 2003.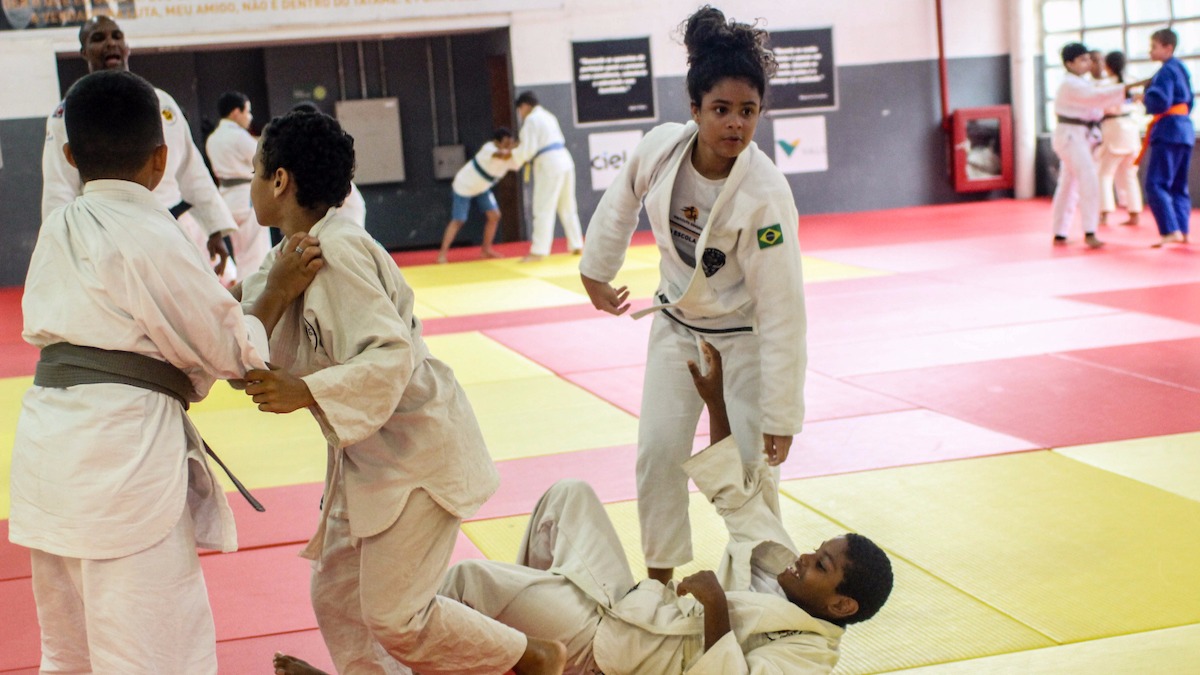 ​Photo: Nico Ball
"The truth is the prefecture looks to establish projects based on votes," instructor Aurimar Costa Mendes says. "When the elections are over, they stop making sense."
A black belt in judo and jiu-jitsu and a mentor at the program, Mendes is himself a product of the project. He started training in 2001 and soon found himself training alongside Canto in Rocinha.
Unlike many of the other projects that function in Rio (which are small-scale grassroots initiatives) Reação is a legalized nonprofit organization, and therefore it receives government funding that allows it to extend its services to over 1,000 kids in five different locations.
One of the main benefits of government support is the ability to allocate funds for educational programs. Reação has not only developed a teaching method that instills important values and skills in young judokas, but it also invests in training and educating its adult athletes.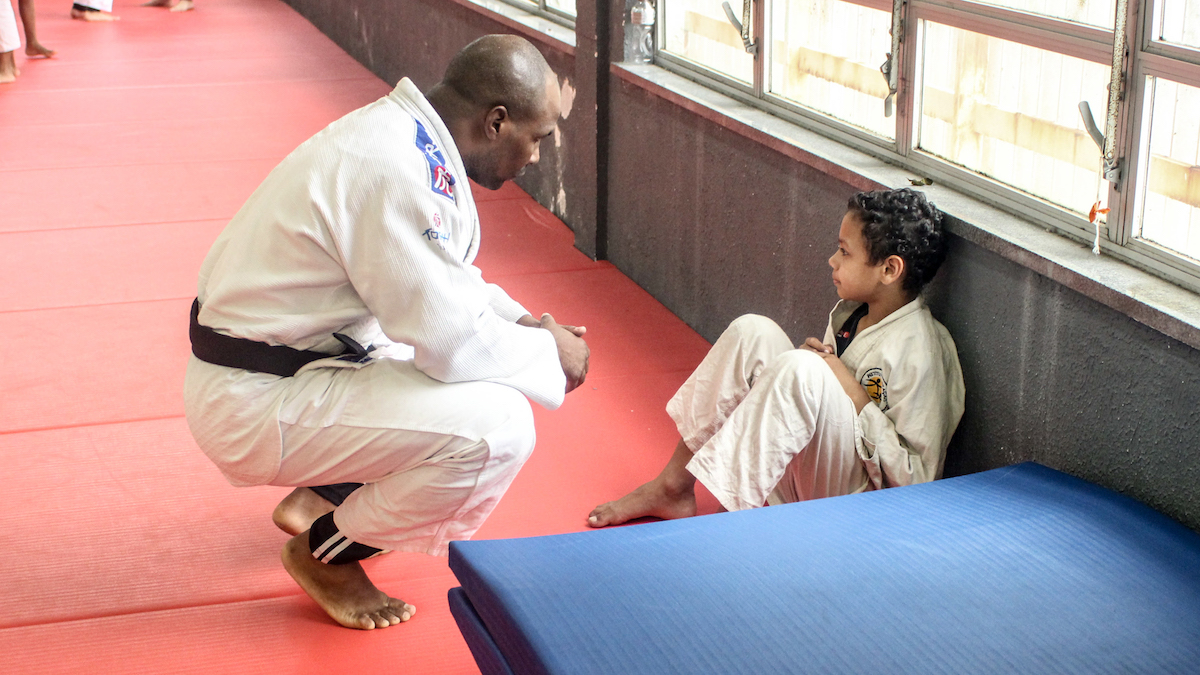 ​Photo: Nico Ball
"Our educational system does a lot to make sure that kids are in school, but then they don't worry about what they're learning," Mendes says. "So, we assume the role of the government and teach sports and culture to these kids."
The basic judo program at Reação works with kids from 4-18 years old. Once they hit 11 years of age (or sometimes younger if they show potential) they can start training with the pre-Olympic team, which grants them access to physiotherapists, strength and conditioning coaches, nutritionists, and even sports psychologists.
The social impact
Anyone who has trained in judo or jiu-jitsu knows about the benefits and therapeutic aspects of grappling. People of all ages, races, ethnic backgrounds, and social classes can partake in these martial arts. It is a great way to get in shape, relieve stress, or -- for some professional athletes -- to make a living.
From Japan to Rio to the most remote places on the planet, the growing number of grappling-based social projects have made an astounding impact.
"During training, they are also learning values that they can take to their own lives, to their homes, that they can replicate in the community," Mendes says.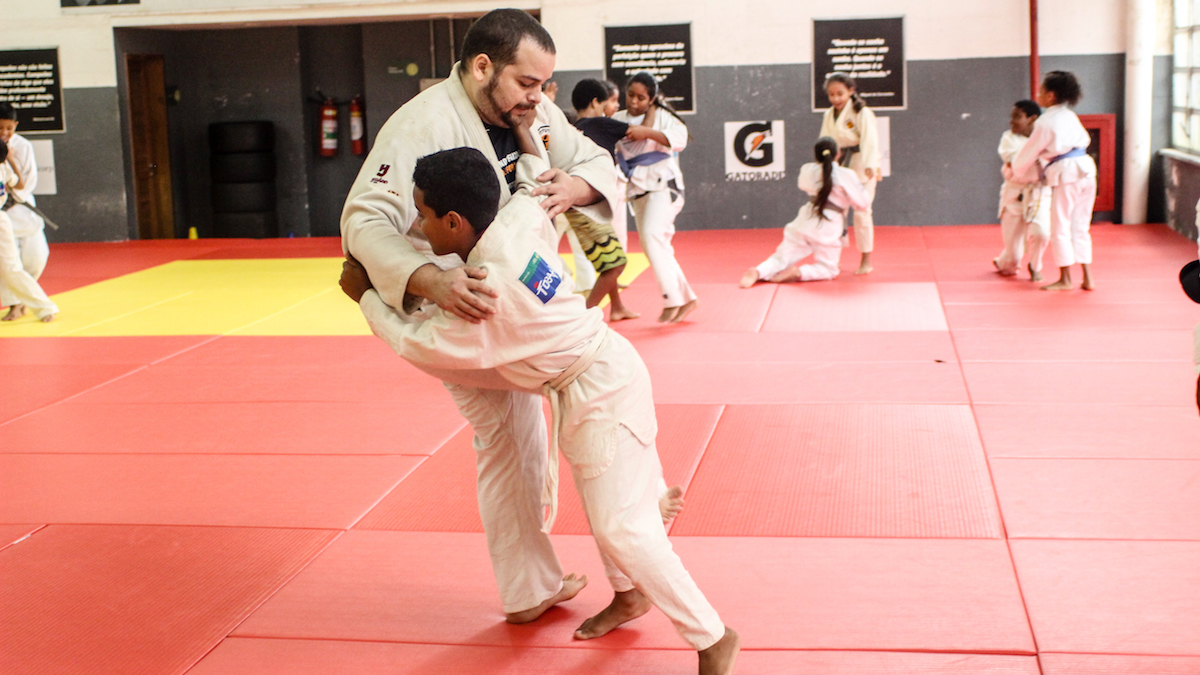 ​Photo: Nico Ball
Community communications coordinator Julia Rockenbach is adept at explaining the importance of the NGO and the role that it plays in the lives of the children. Even co-founder Geraldo Bernardo has time to brag about his students before shuffling out of a meeting and donning his gi to train alongside the 100-plus kids that are coming in for a special evening class.
Their work is tireless, unending, and oftentimes undervalued, but all of the teachers, mentors, parents, and collaborators that contribute are planting seeds so that a future generation can help make a positive impact in the world.