BAKU, Azerbaijan -- Breanna Stikkelman (Simi Valley, Calif./Street Sports), competing in her first UWW Grappling World Championships, won a silver medal at 58 kg in the women's No-Gi competition at the Grappling World Championships on Friday.
Stikkelman was defeated in the gold-medal finals by Kateryna Shakalova of Ukraine, 8-1. She was the only American in the gold-medal round on Friday night.
To reach the finals, Stikkelman powered through her half-bracket, scoring submission victories over Marino Suzuki of Japan and Roxane Cusson of France. She beat Suzuki with a front choke in 58 seconds and Cusson with an arm bar in 2:35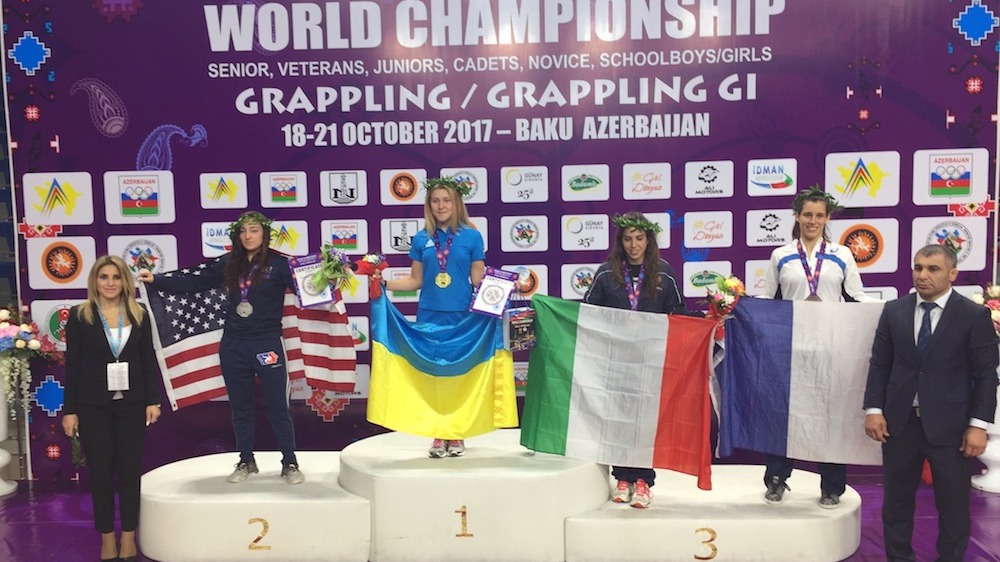 ​Photo: Rich Tado
Claiming a bronze medal in the Over 100 kg/Unlimited weight class was 2011 World champion Brandon Ruiz (Taylorsville, Utah/Edge MMA and Fitness. Ruiz scored a submission victory in the bronze medal round over Denis Sokol of Lithuania, with a kimura in 1:20.
Ruiz opened with a submission victory with a front choke over Sebastian Maciejewski of Poland in the quarterfinals. He dropped a tough 5-2 decision to Salar Defaniabbarik of Iran, 5-2.
Ruiz won his sixth career UWW World medal, and his first bronze medal. He was a 2011 UWW Grappling World champion in No-Gi, and also has won four World silver medals in No-Gi (2008, 2009, 2013, 2014). He wrestled for Brigham Young University in college.
Four U.S. athletes placed fifth, after losing in their bronze medal bouts, Steven Ramos (New City, N.Y./Essential BJJ) at 77 kg, Koffi Adzitso (Murray, Utah/Edge MMA and Fitness) at 84 kg. and Gregor Strakl (West Valley City, Utah) at 92 kg in the men's competition and Jessica Phillippus (Glenwood, Iowa/United Training Center) at 64 kg in the women's competition.
Ramos, competing in his first UWW Grappling Worlds, opened with a pair of victories, stopping Dymytro Netkachev of Ukraine, 6-5 and Kaddur Youseff of Spain, 2-2 by criteria. In the semifinals, he was beaten by submission by Eldar Uzairuev of Russia.
In the bronze-medal match, he was edged by Maciej Kaluszewski of Poland, 6-5. Ramos competed in college wrestling for NC State.
Strakl, a member of the 2017 U.S. Veterans World Team, was a late replacement for World Team member Carlos Soto, who was injured while winning a Veterans World silver medal on Wednesday. He won a Veterans World bronze medal at 77 kg. Strakl opened with a disqualification win over Haspolat Alper Sezai of Turkey, then was defeated in the semifinals by Fahimoseifkoti Vialiollah of Iran by technical fall, 18-2. He was edged in a bronze-medal bout by Asgar Eldarov of Azerbaijan, 6-5.
Phillippus, a two-time UWW World Grappling medalist, competed up two weights from her normal weight class. She was beaten in her bronze-medal bout by Rita Tana of Italy, 9-0. In her semifinal bout, she was defeated by submission by Sandra Pniak of Poland.
Competing in his first UWW Worlds, Adzitso opened with a 7-5 win over Herman Horodetskyi of Ukraine. He lost by a knee bar submission to Karol Dzienszewski of Poland in the semifinals. In the bronze bout, he fell to Dostuk Zholdoshev of Kyrgyzstan by a triangle submission.
Two U.S. Grapplers won their opening bouts but were then defeated, and were unable to compete in the repechage rounds when the athlete they lost to failed to reach the gold medal finals.
Going 1-1 in their weight classes were Luis Quinones (Los Angeles, Calif./10th Planet HQ) at 66 kg and Jayson Patino (Orlando, Fla./American Top Team) at 71 kg. Patino was a 2014 UWW Grappling World champion in No-Gi, and also won World bronze medals in 2013 in No-Gi and Gi. Quinones was competing in their first UWW Grappling Worlds.
Also competing for Team USA on Friday were Aaron Johnson (Greenwood, Ind./Edge MMA & Fitness) at 62 kg, Shaun W. Scott (Millersville, Pa./Team Palay) at 100 kg and five-time UWW World champion Lisa Ward (Olympia, Wash./United Training Center) at 53 kg.
"Not all days in competition are pretty. However, with a young internationally competitive team, the future is going to be bright. I look forward to coaching them again in the future. We have a great group of grapplers," said U.S. coach Eddy Ellis.
Russia dominated the finals among men, winning seven of the eight gold medals and getting a bronze medal in the other weight class. Russia also added a gold, a silver and two bronze medals in the women's division. Each nation could enter only one athlete per weight class.
It was one of the largest and most highly competitive UWW Grappling World Championships in history, featuring 141 athletes representing 23 nations, There were 14 different nations that won a medal in No-Gi at the Grappling Worlds.
The final day of competition is Saturday, with the Senior Gi division for men and women. The USA will enter a team of nine men and women in the Gi division. The U.S. Gi Grapplers will wear Gameness Gis, which were provided by U.S. Grappling World Team Gi sponsor Gameness.
Stikkelman wins silver medal, Ruiz claims bronze in No-Gi at Grappling Worlds in Azerbaijan https://t.co/c0DZrwoqhE pic.twitter.com/TSjUOejUAm

— USA Wrestling (@USAWrestling) October 20, 2017
GRAPPLING WORLD CHAMPIONSHIPS
Baku, Azerbaijan, October 20
​​U.S. Men's No-Gi performances
62 kg - Aaron Johnson, Greenwood, Ind. (Edge MMA & Fitness)
LOSS Argen Ashyrov (Kyrgyzstan), submission, arm bar, 2:21
66 kg -- Luis Quinones, Los Angeles, Calif. (10th Planet HQ)
WIN Apendin Maulen (Kazakhstan), 6-3
LOSS Mirza Abdullabekov (Belarus), 9-1
71 kg - Jayson Patino, Orlando, Fla. (American Top Team)
WIN Raiymbek Orynbay (Kazakhstan), submission, rear naked choke, 3:49
LOSS Shamil Iakhiaev (Belarus), 2-1
77 kg -- Steven Ramos, New City, N.Y. (Essential BJJ), 5th place
WIN Dymytro Netkachev (Ukraine), 6-5
WIN Kaddur Youseff (Spain), 2-2 criteria
LOSS Eldar Uzairuev (Russia), submission, rear naked choke, 2:33
LOSS Maciej Kaluszewski (Poland), 6-5
84 kg -- Koffi Adzitso, Murray, Utah (Edge MMA and Fitness), 5th place
WIN Herman Horodetskyi (Ukraine), 7-5
LOSS Karol Dzienszewski (Poland), submission, knee bar
LOSS Dostuk Zholdoshev (Kyrgyzstan), submission, triangle
92 kg -- Gregor Strakl, West Valley City, Utah, 5th place
WIN Haspolat Alper Sezai (Turkey), disqualification
LOSS Fahimoseifkoti Vialiollah (Iran), tech. fall 18-2
LOSS Asgar Eldarov (Azerbaijan), 6-5
100 kg -- Shawn W. Scott, Millersville, Pa. (Team Palay)
LOSS Roman Myronov (Uzbekistan), submission, ankle lock, 0:16
Over 100 kg - Brandon Ruiz, Taylorsville, Utah (Edge MMA and Fitness), bronze medal
WIN Sebastian Maciejewski (Poland), submission, front choke, 1:02
LOSS Salar Defaniabbarik (Iran), 5-2
WIN Denis Sokol (Lithuania), submission, kimura, 1:20
​​U.S. Women's No-Gi performances
53 kg -- Lisa Ward, Olympia, Wash. (United Training Center)
LOSS Svitlana Skypnyk (Ukraine), 10-3
58 kg - Breanna Stikkelman, Simi Valley, Calif. (Street Sports), silver medal
WIN Marino Suzuki (Japan), submission, front choke, 0:58
WIN Roxane Cusson (France), submission, arm bar, 2:35
LOSS Kateryna Shakalova (Ukraine), 8-1
64 kg - Jessica Phillippus, Glenwood, Iowa (United Training Center), 5th place
LOSS Sandra Pniak (Poland), submission, arm bar, 3:55
LOSS Rita Tana (Italy), 9-0
Men's No-Gi medalists
62 kg
Gold -- Magomedbak Temeev (Russia)
Silver - Antonny De Olivera (France)
Bronze -- Argen Ashyrov (Kyrgyzstan)
Bronze -- Nariman Mynbaev (Kazakhstan)
66 kg
Gold -- Gairbek Ibragimov (Russia)
Silver - Valentin Blumental (France)
Bronze -- Mirza Abdullabekov (Belarus)
Bronze -- Iurii Cherkaliuk (Ukraine)
71 kg
Gold - Rizvan Rizvanov (Russia)
Silver - Grigore Panfilii (Moldova)
Bronze -- Shamil Iakhiaev (Italy)
Bronze -- Denys Semeniuk (Ukraine)
77 kg
Gold - Eldar Uzairuev (Russia)
Silver -- Narusevisius Rokas (Lithuania)
Bronze -- Andrea Lavaggi (Italy)
Bronze -- Maciej Kaluszewski (Poland)
84 kg
Gold -- Magomed Abdulkadirov (Russia)
Silver - Karol Dzieniszewski (Poland)
Bronze -- Arturo Salas (Spain)
Bronze -- Dostuk Zholdoshev (Kyrgyzstan)
92 kg
Gold - Fahimoseifkoti Vialiollah (Iran)
Silver - Daniel Skibinski (Poland)
Bronze -- Asgar Eldarov (Azerbaijan)
Bronze -- Akhmed Efendiev (Russia)
100 kg
Gold -- Abdulla Isaev (Russia)
Silver -- Alexis Fontes (France)
Bronze -- Kamil Uminski (Poland)
Bronze -- Nurbek Ismailov (Kyrgyzstan)
Over 100 kg/Unlimited
Gold -- Ruslan Abdulaev (Russia)
Silver - Salar Defaniabbarik (Iran)
Bronze -- Brandon Ruiz (USA)
Bronze -- Zhomart Bolatkhanyly (Kazakhstan)
Women's No-Gi medalists
53 kg
Gold -- Boes Laetitia (France)
Silver - Polina Krupskaia (Russia)
Bronze -- Hikaru Aono (Japan)
Bronze -- Svitlana Skrypnyk (Ukraine)
58 kg
Gold - Kateryna Shakalova (Ukraine)
Silver -- Breanna Stikkelman (USA)
Bronze -- Roxane Cusson (France)
Bronze -- Valentina Lubrano (Italy)
64 kg
Gold --Tetiano Hrynko (Ukraine)
Silver - Sandra Pniak (France)
Bronze -- Liana Dzhodzhua (Russia)
Bronze -- Rita Tana (Italy)
71 kg
Gold -- Karolina Zawodnik (Poland)
Silver -- Claire Thevenon (France)
Bronze -- Rimma Tropina (Russia)
Bronze -- Irene Mungai (Italy)
+71 kg
Gold -- Veronika Koreniugina (Russia)
Silver - Chloe Barre (France)
Bronze -- Halyna Kovaleska (Ukraine)
Bronze -- Gozal Zutova (Azerbaijan)