Weekend Recap: 15yo Rayron Gracie Takes Double Gold In Adult Division
Weekend Recap: 15yo Rayron Gracie Takes Double Gold In Adult Division
The next generation of the Gracie family shows what he's made of, Garry Tonon cleans up (again), and a horrific leg break from Australia. All this and more in your essential weekend recap.
Oct 23, 2017
by Hywel Teague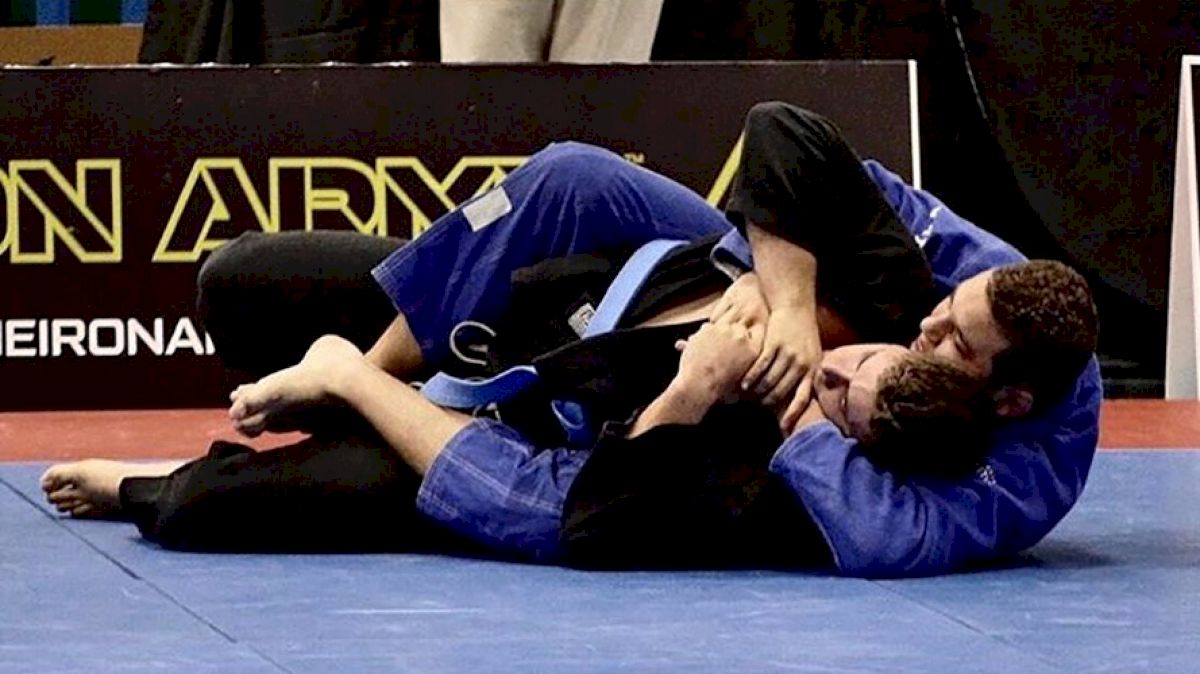 The next generation of the Gracie family shows what he's made of, Garry Tonon cleans up (again), and an Australian grappler suffers a horrific broken leg. All this and more in your essential weekend recap.
At 15 years old, this Gracie is on course for big things
Rayron Gracie is the latest young man from the famous fighting family to break through onto the competition scene. Son of the late Ryan Gracie and nephew to Renzo, Rayron is now based in New York and training daily with his cousins Rolles, Gregor, and Igor at the Renzo Gracie Academy in Manhattan along with the large amount of amazing grappling talent out of the world-famous gym.
Gracie -- who took double silver earlier this year in the juvenile divisions of the 2017 IBJJF Pans -- made his adult division debut on Saturday in New York City at Kasai Grappling, a tournament organized by Rolles.
Fighting with grown men, the 200lb-plus 15-year-old beat an opponent in his weight division, then later faced the man's father in the absolute division -- all 290lb of him!
Gracie, who has made no secret of the fact he would like to follow in his father's footsteps and fight MMA, will compete in the upcoming IBJJF World No-Gi Championships in December.
---
Garry Tonon wins record fifth EBI title
Even Garry's coach Tom DeBlass admits he has a hard time keeping track of how many EBI titles his boy has won, and we completely agree.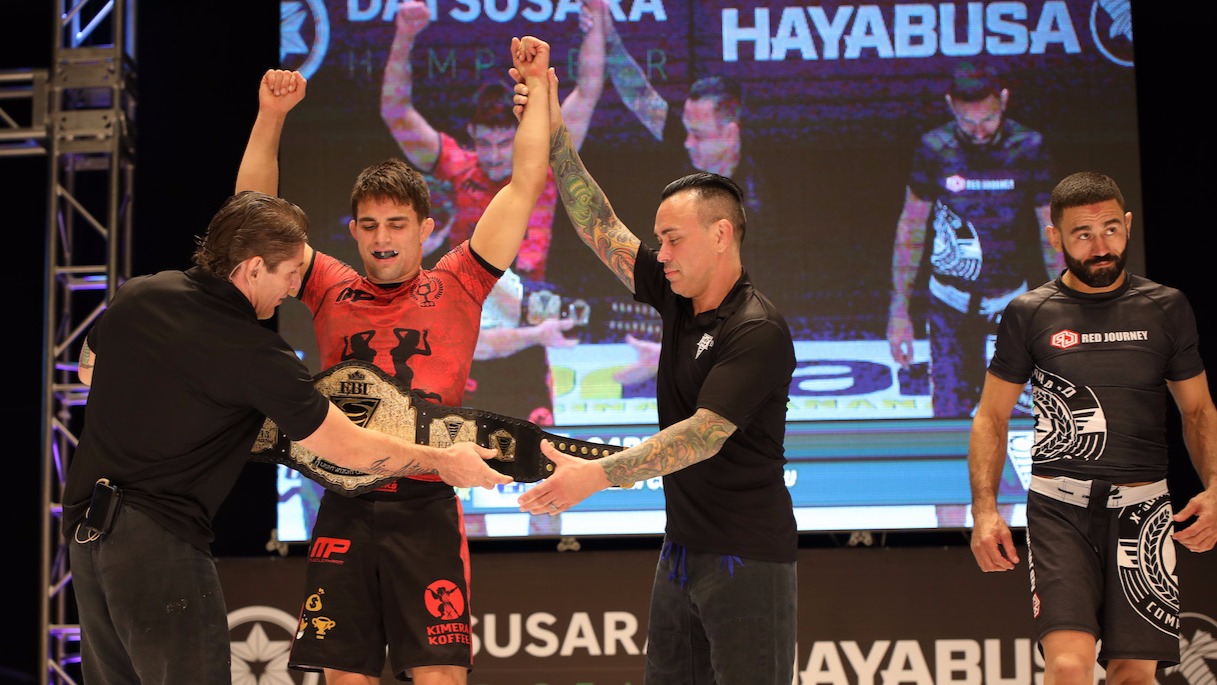 ​Photo: Blanca Marisa Garcia
On Sunday, Tonon demolished the opposition to take another title belt at EBI 13 in Los Angeles, beating Chance Braud by inside heel hook, Ross Keeping by armbar, Lucas Valente by heel hook, and Vagner Rocha by inside heel hook.
---
Gustavo Bastista gets black belt!
One of the most promising brown belts in the world has just been bumped up a level and will now compete with the black belts!
Gustavo Batista of NS Brotherhood received his well-deserved black belt from coach Leandro Lo over the weekend. Batista has been terrorizing the brown belt division, but what's more amazing is how quickly he has risen through the ranks.
January 2018 will mark Batista's sixth anniversary of starting jiu-jitsu. He stayed one year as a white belt, 2 1/2 years as a blue belt, one year at purple, and one year and three months at brown belt. That's a total of five years of nine months to get a black belt!
In that time, Batista conquered titles such as the IBJJF European Championships (double gold) as a brown belt and has consistently medaled at almost every major tournament.
"It was an incredible sensation [to receive the belt]," Batista said. "I am really happy and motivated. I always imagined this since I was a blue belt and now the time has come."
---
Adam Wardzinkis takes double gold in Germany
Busy as ever, Polish black belt Adam Wardzinski continued his climb up the UAEJJF ratings by taking another 200 points after winning double gold (weight and absolute) at the Germany National Pro on Saturday in Berlin.
Wardzinski beat GF Team's Gustavo Saraiva in the final of the 94kg division and fellow Pole Patryk Wysoki in the openweight.
---
Satoshi wins MMA fight via submission
High-flying Brazilian-Japanese black belt Roberto Satoshi Souza advanced his unbeaten record to 6-0 over the weekend.
Souza, who took silver at this year's World Championships, submitted Thiago Oliveira in three minutes with a rear-naked choke at Arzalet 2 on Saturday in Curitiba, Brazil.
Of Satoshi's six MMA wins, five have come by submission while one is via TKO due to punches.
【ARZALET.2】21.oct.2017
<14th Match>
×Thiago "Siriguela" Oliveira
VS
◯Roberto Souza"Satoshi"
(3:00 / バックチョークスリーパー) pic.twitter.com/F1NfPdb7gq

— REAL / ARZALET (@FightingGlobe) October 22, 2017
---
Renata Marinho wins grappling superfight
Also appearing on Arzalet was Alliance brown belt Renata Marinho, who took on Aline Pires in an IBJJF-rules no-gi superfight. Marinha made short work of the match, finishing Pires with an armbar at 2:33 of the first round.
【ARZALET.2】21.oct.2017
<3rd Match>Grappling-Nogi / IBJJF Rule
◯Renata Marinho Moreira
VS
×Aline Pires
(2:33 / アームロック) pic.twitter.com/I3AwK7SKxF

— REAL / ARZALET (@FightingGlobe) October 21, 2017
---
Video emerges of horrific leg break
A nasty video of a freak-accident injury from last weekend's MA1 Challenge Qualifier in Melbourne, Australia, has made its way onto the internet, and be warned, it's pretty graphic.
Competitor Ashley Wright suffered the injury during a heel-hook attempt at the in-house event at Absolute MMA, the home gym of top Aussie black belts such as Kit Dale, Craig Jones, Lachlan Giles, and Livia Gluchowska. Whereas the attack usually results in a knee injury, the submission snapped both bones in Wright's lower leg.
The video was uploaded by the event organizers with Wright's permission, and they set up a GoFundMe to help facilitate his recovery.
Click here
for more info.
[facebook url="https://www.facebook.com/ma1australia/videos/1757914260916822/"]
Click here to watch the video
-- be warned, not for the squeamish!
---
FloGrappling's hottest content, delivered to your inbox
Don't miss breaking news, feature stories, event updates, and more. Sign up for the FloGrappling mailing list today.