News emerged today that a major international sporting body overseeing grappling has ordered its member federations to prepare for Olympic accreditation.
The news was first reported by jiu-jitsu commentator Mohammed Al Housani, who is an analyst and presenter for Abu Dhabi TV.
Al Housani wrote on his Instagram page, ​​"Breaking News: The President of the Jiu-Jitsu International Federation issues instructions to prepare a file in which all conditions are met in preparation for submission to the International Olympic Committee for accreditation to participate in the 2024 Olympics."


Update: Al Housani took to social media today to confirm the news and clarify matters with this message:
"It's actually the President of the UAEJJF, HE Abdulmonem Al Hashemi, who has directed the local federation to go ahead with preparing the Olympic File in association with the JJIF.
"HE Abdulmonem Al Hashemi is also the President of the Ju-Jitsu Asian Union (JJAU) and Senior Vice President of the Ju-Jitsu International Federation (JJIF)."
More can be seen at
this link
(Arabic language press release).
What is 'Ju-Jitsu?'
Ju-jitsu has been featured at competitions such as the 2017 World Games in Wroclaw, Poland. The World Games is huge yet little-known event that takes place once every four years, just like the Olympics. Around 3,500 athletes convene to compete in 30 sports not seen in the Olympics or Commonwealth Games, such as kickboxing, roller hockey, powerlifting, sumo, and lacrosse.
What is the JJIF?
The Ju-Jitsu International Federation (JJIF) was formed in 1977 and oversees three different styles or disciplines of the martial art:
• Fighting system, a hybrid martial art that combines strikes as in karate with takedowns and throws and limited ground fighting.
• Duo system, where pairs of contestants are judged by demonstrating pre-rehearsed "self-defense" techniques.
• Newaza ju-jitsu, which the JJIF recognizes is also referred to as Brazilian jiu-jitsu.
Their "Newaza' style will be very familiar to practitioners of jiu-jitsu. It features takedowns, throws, chokes, strangles and joint locks. Points are awarded for takedowns and control positions. Matches are six minutes long.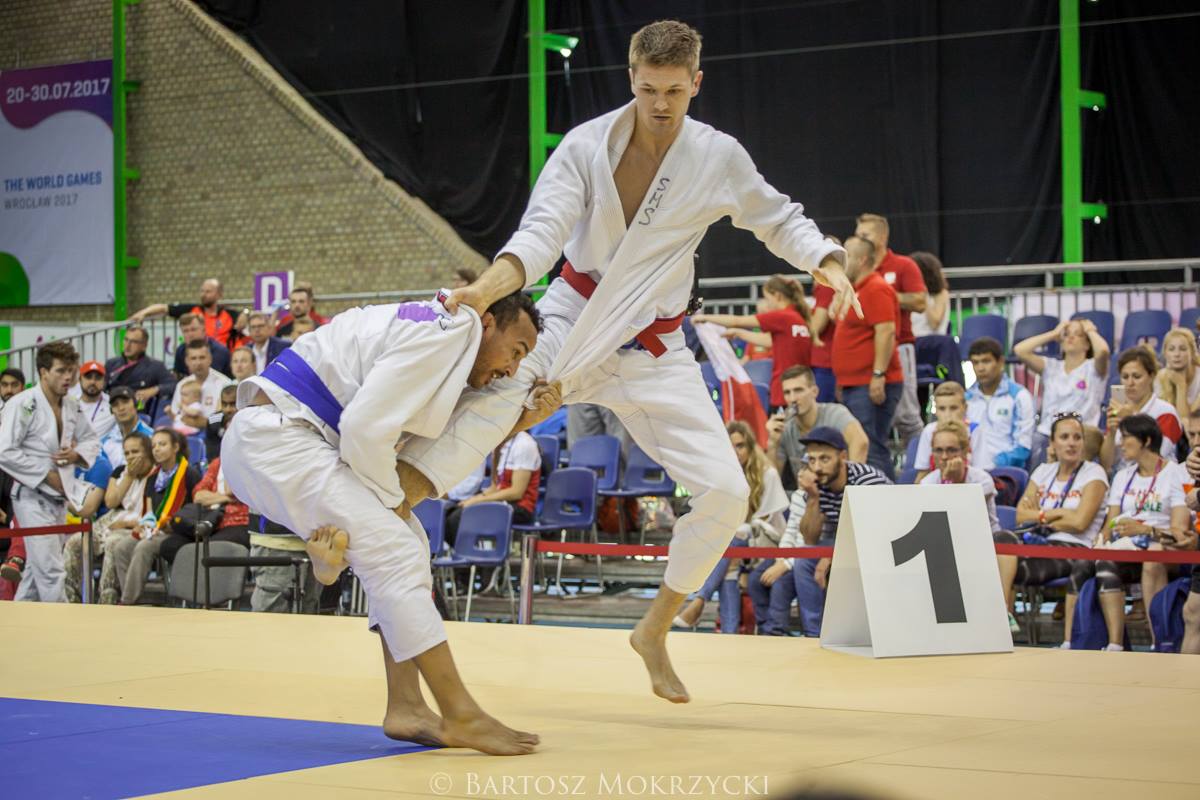 Action from Newaza competition of the ​2017 World Games. Photo: Bartosz Mokrzycki
How is it different from IBJJF or UAEJJF?
Apart from the spelling of "ju-jitsu," it's not that different. UAEJJF officials have had a lot of input in the development of the JJIF Newaza rules, and you can even see some of the well-known officials in the JJIF rulebook (
click here
-- PDF opens in new window).
One big difference is that competitors are not divided into categories by belt, only by weight class. At the 2017 World Games, the weight classes were:
Men: -62kg, -69kg, -77kg, -85kg, -94kg, +94kg, Openweight
Women: -55kg, Openweight
Athletes represent their country, and not a team.
How long before ju-jitsu gets into Olympics?
2024 would be the absolute earliest, but this is unlikely. The Olympics is the gold standard of all international sporting events, and the number of sports that feature at the Games is tightly controlled and hard-fought for.
Preparing for submission for Olympic accreditation is more of a long-term move to inspire regional and national federations to adequately prepare for important international tournaments, which could eventually mean (but does not guarantee) the Olympics.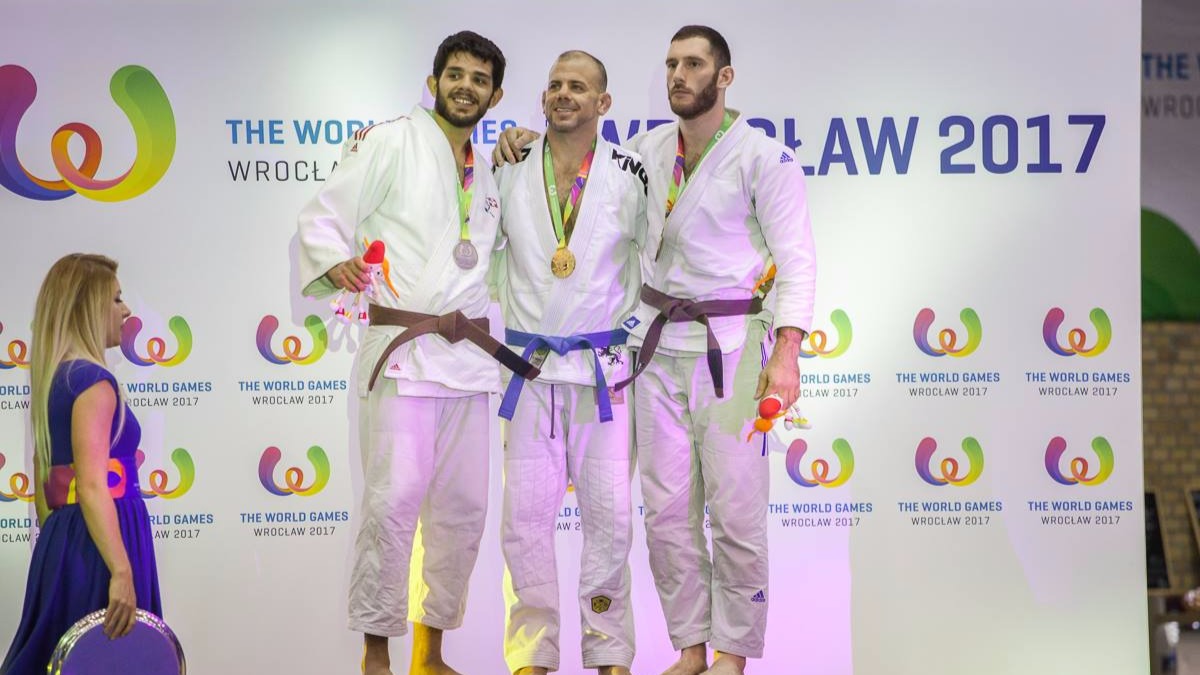 ​Winners from the 2017 World Games in Wroclaw, Poland. Photo: Bartosz Mokrzycki
What does this mean?
Organizations such as the IBJJF are private companies and not governing bodies. That excludes them from government funding or support.
The JJIF is comprised of four continental federations (Asian, African, European, and Pan American Federations). What exactly is required by them to prepare for submission for Olympic accreditation is unclear but would likely involve initiatives such as development of federations for individual countries, anti-doping measures, and so on.
Just because the JJIF are seeing Olympic accreditation will not stop other tournaments from operating. Unless there are changes in local laws (
as we've seen in Canada
) organizations like the IBJJF will be free to host competitions when and where they like.
What happens next?
The next Olympics is in Tokyo in 2020, with the 2024 Olympic Games to take place in Paris. What exactly the JJIF needs to do and how likely it is to get ju-jitsu included in the Olympics is unknown at this point. Nothing is likely to change in the immediate future, but we will be keeping a close eye on any developments that may affect the global grappling community.