UAEJJF
Brazil's Best Brown & Purples To Compete At Rio Grand Slam
Brazil's Best Brown & Purples To Compete At Rio Grand Slam
Here is a sample of just a few of the many up-and-coming purple and brown belts to keep an eye on this weekend.
Nov 9, 2017
by FloGrappling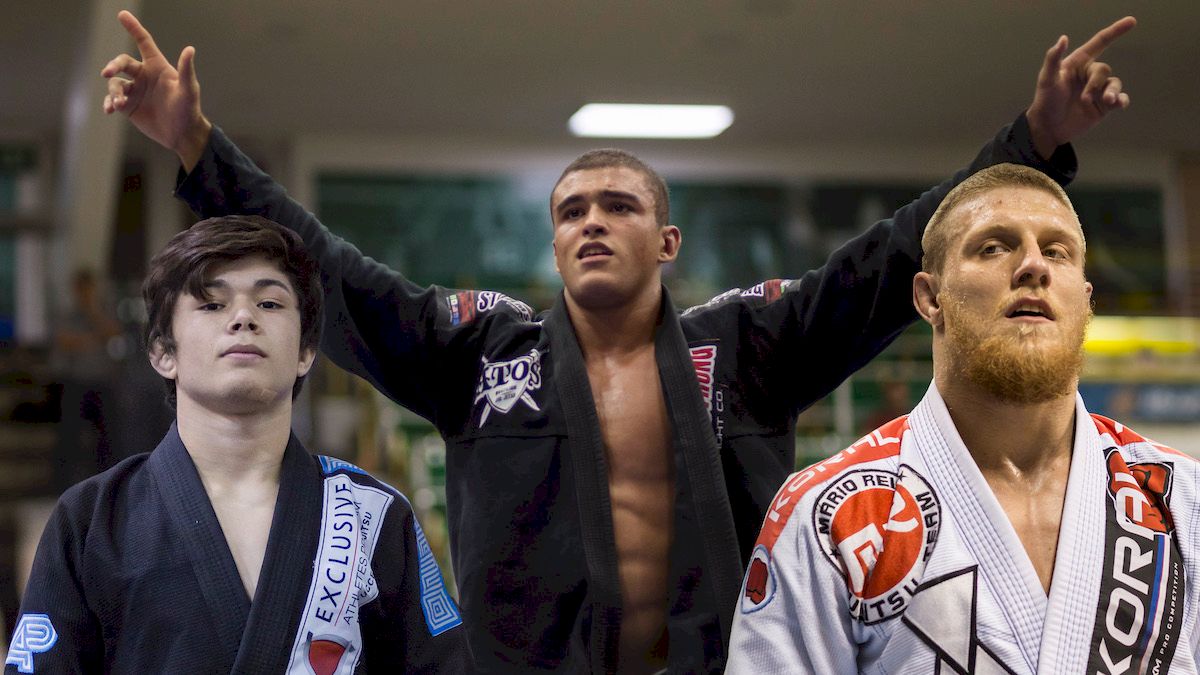 By Michael Sears | The large cash prizes at the Abu Dhabi Grand Slam in Rio de Janeiro have brought out an enormous amount of talent in the colored belts.
Here's a sample of just a few of the many up-and-coming purple and brown belts to keep an eye on this weekend.
Thalison Soares
Cicero Costha | Purple Belt | 56kg
Thalison Soares, or "Little Miyao" as he's often called, ran wild at the lighter weights in his first year of adult competition. An incredible year put together by Soares included winning both the 2017 IBJJF Worlds at roosterweight and UAEJJF World Pro at 56kg.
Soares is currently the sixth-ranked purple belt for the 2017-18 UAEJJF season after a gold medal from the Tokyo Grand Slam and a bronze from the Los Angeles Grand Slam. "Little Miyao" is part of a stacked new generation of Cicero Costha purple belts competing at this event, which includes Jonas Andrade, Italo Moura, Pedro Veras, Wilson Moreira Costa Jr., and Jeferson Guaresi.
Fabio Alano
Alliance Mario Reis | Brown | 94kg
Anyone who follows the sport jiu-jitsu scene knows that the Mario Reis academy in Porto Alegre is consistently producing talent that succeeds at the highest level. Reis' star pupil Nicholas Meregali hammered that point home with a world title in his first year at black belt.
Not far behind Meregali has always been his training partner Fabio "Kamikaze" Alano. In the last three World Championships, Alano has finished first at blue super-heavyweight in 2015, first at purple ultra-heavyweight in 2016, and second at purple super-heavyweight in 2017. Alano will have to get by former purple belt world champ and 2017 brown belt world bronze medalist Fellipe Andrew (Zenith), among many others in a deep 94kg bracket.
Kaynan Duarte
Atos | Brown | 110kg
After the 2017 Worlds many were hailing the 19-year-old Duarte as the next big thing in jiu-jitsu, and his no-gi performances have since backed up those statements. First, Duarte defeated elite black belt Patrick Gaudio (GF Team) at the Rio ADCC Trials to qualify for the event in Finland, where he submitted legend Pablo Popovitch in the first round.
The 110kg brown belt division contains the 2017 ultra-heavyweight world champs from both purple and brown belt in Victor Hugo (Ribeiro) and Matheus Xavier (Checkmat). Duarte won his 2017 purple belt world title down at medium-heavyweight and will have to get through some colossal opponents in Rio.
Guthierry Barbosa
Prime Sports | Purple | 77kg
After a dominant 2016 run at blue belt in which he won both the world and Pans title at lightweight, Guthierry Barbosa relocated to the United States and trained at the Caio Terra academy. After an up-and-down first year competing at purple belt (including finishing second at the Royal Invitational), Barbosa has returned to Brazil and his original coach, Juan Lopes, at Prime Sports.
Guthierry has been very active lately in Brazil, winning double gold at both the IBJJF Rio BJJ Pro and Sao Paulo International Open. After most of the athletes who made the Worlds podium at purple middleweight were promoted to brown belt, Barbosa is certainly considered to be one of the favorites for 2018. Making his way through the gauntlet that is the purple belt 77kg bracket in Rio will be a big statement about his chances.