UAEJJF
Grand Slam Rio: The Brown/Black Belt Women To Watch
Grand Slam Rio: The Brown/Black Belt Women To Watch
Five of the current top 10 women in the UAEJJF rankings will be competing, including four 2017 IBJJF World champions and a 2017 ADCC champ.
Nov 10, 2017
by FloGrappling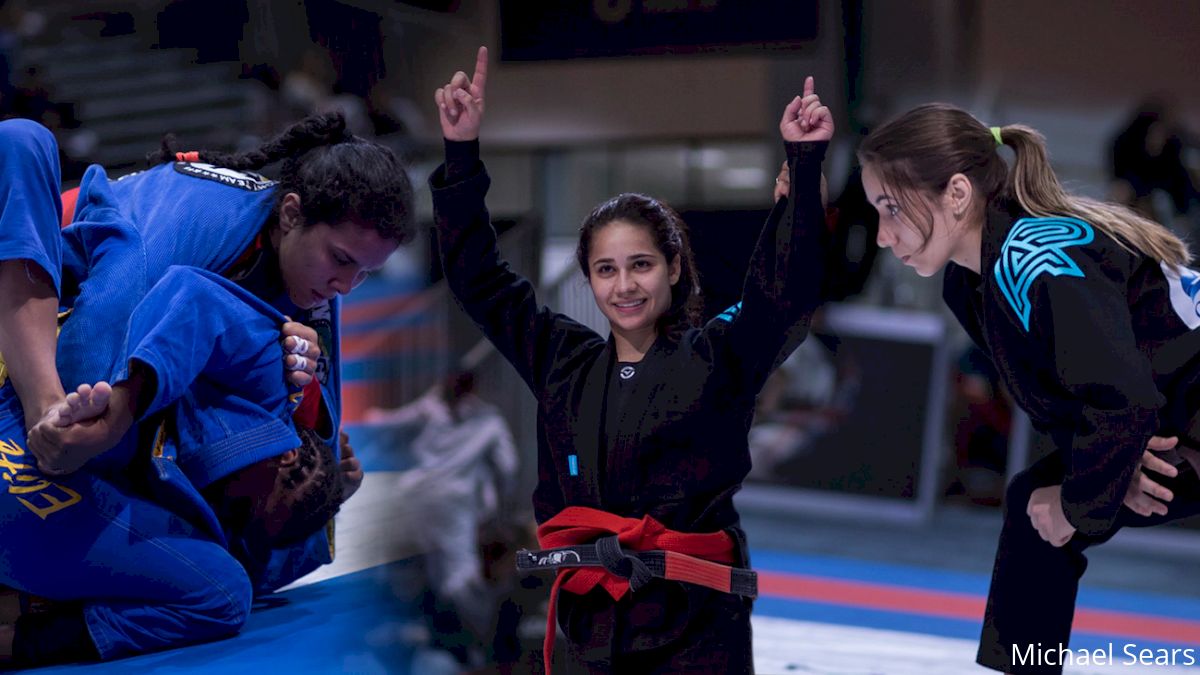 By Michael Sears | The stars have come out for the brown/black belt female divisions at the 2017 Abu Dhabi Grand Slam Rio de Janeiro this weekend.
Five of the current top 10 women in the UAEJJF rankings will be competing in Rio, including four 2017 IBJJF world champions and a 2017 ADCC champ.
This will be the third of five UAEJJF Abu Dhabi Grand Slam tournaments on the road to the 2018 World Pro. The prize money in the female brown/black mixed divisions is $1,500 for gold, $1,000 for silver, and $500 for bronze.
Two-hundred ranking points will be up for grabs in each division toward the end-of-season $10,000 prize. The three-day tournament gets underway Friday at the Arena Carioca 1, located in the Barra Olympic Park in Barra da Tijuca.
Watch the 2017 Abu Dhabi Grand Slam Rio de Janeiro LIVE on FloGrappling!

62kg features champions of all description
The 62kg bracket is loaded with big names and should make for some exciting matchups. Four-time world champion and 2017 ADCC gold medalist Beatriz Mesquita (Gracie Humaita) won this event a year ago and will be making her 2017-18 UAEJJF season debut.
To get the gold in this division Mesquita will have to avenge her loss to 2017 Los Angeles Grand Slam winner Luiza Monteiro (NS Brotherhood, ranked sixth), who won their meeting in the 2017 Worlds final by disqualification. Monteiro was the 2016-17 UAEJJF season runner-up, finishing with 1,180 points from seven gold medals and one silver.
Further complicating things at 62kg are Bianca Basilio (Almeida JJ) and UFC veteran Jessica Andrade (PRVT). Basilio recently finished second at the 2017 ADCC in Finland, losing in the final by choke to Mesquita.
GF Team on the attack
Two of GF Team's top prospects will be in action at the lighter weights of 49kg and 55kg in first-ranked Mayssa Bastos and sixth-ranked Amanda Monteiro, respectively. Both women won the Los Angeles Grand Slam in dominant fashion, with Bastos also taking home a gold medal at the Tokyo Grand Slam.
Still a brown belt, Bastos is the only one of three women tied at 400 points atop the brown/ black belt rankings competing this weekend and can leave Rio alone at the top of the rankings with any medal.
The 12-woman 70kg bracket presents the opportunity for a showdown between fourth-ranked Priscila Cerqueira (UAEJJ Team) and sixth-ranked Ana Carolina Vieira (GF Team). Both women have won a Grand Slam event already this season, with Cerqueira winning in Tokyo and Vieira winning in Los Angeles. The 2017 world champion Vieira finished just 20 points out of the prize money at fourth last season, after gold medals at the World Pro and winning the Grand Slams in Rio, Abu Dhabi, and London.
Other notable entrants
The last women's division is the nine-woman 90kg bracket, headlined by 2017 IBJJF world champion Claudia do Val (De La Riva). Do Val is sitting at 11th in the rankings after a silver medal at the Los Angeles Grand Slam, where she lost in the final to fellow 2017 world gold medalist Nathiely de Jesus (Cicero Costha). Brenda Heller, the brown belt wife of Marcio Andre — who is an equally badass competitor — is also in at 90kg.
Erin Herle (Alliance Cobrinha) just got promoted to black belt and will compete in the 70kg division. Brown belts Renata Moreira (Alliance) and Julia Boscher of Soul Fighters (a 2017 purple belt world champ) are also entered in the field.
How to Watch 2017 Abu Grand Slam Rio de Janeiro
On TV: Now available on Roku and Apple TV 4 -- download the FloSports app today.
STREAMING: Available only on FloGrappling via monthly or yearly memberships. A yearly PRO subscription provides access to ALL FloSports sites. SIGN UP HERE