Black Belt Finals Set For Sunday Grand Finale At UAEJJF 2017 Rio Grand Slam
Black Belt Finals Set For Sunday Grand Finale At UAEJJF 2017 Rio Grand Slam
It may have been a cold and rainy Saturday in Rio, but day two of the Abu Dhabi Grand Slam Jiu-Jitsu World Tour was nothing but fire.
Nov 12, 2017
by FloGrappling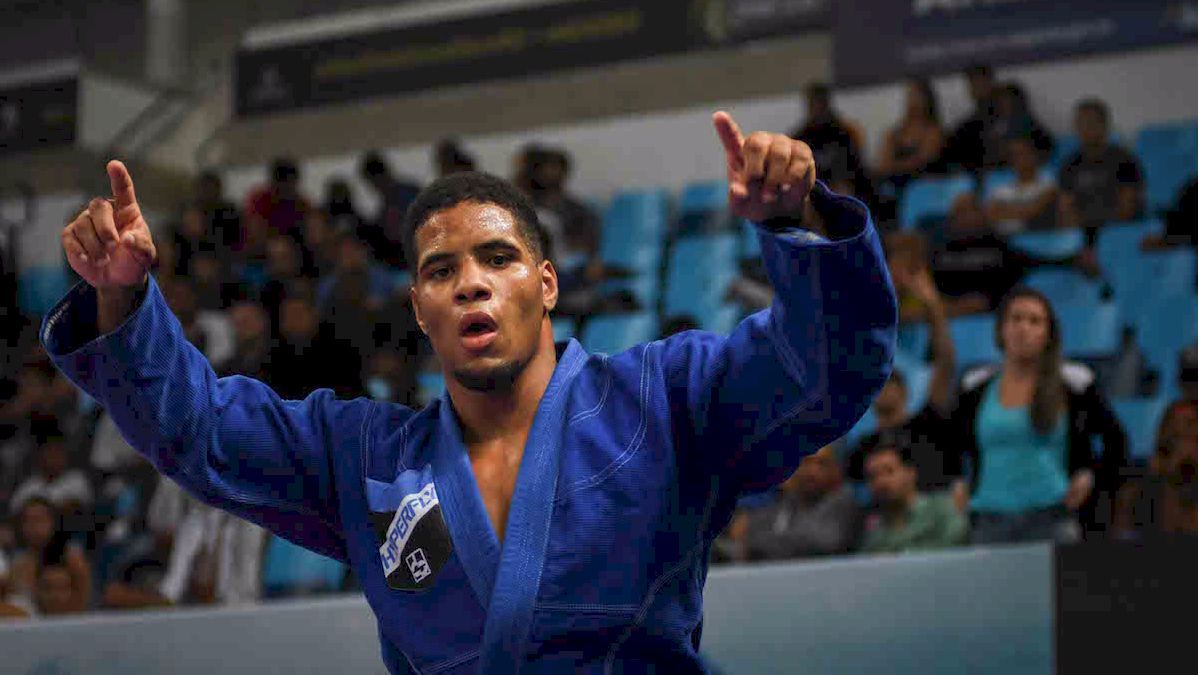 Press release via UAEJF.org | The UAEJJF 2017 Rio Grand Slam black belt finals are pure fire. Watch some of the best black belts in Brazil throw down for a chance at the Cash prizes and lucrative UAEJFJ rankings points.
Watch the UAEJJF 2017 Rio Grand Slam LIVE
Adult Male Black Belt
56kg: Jose Carlos Lima vs David Herrera
José Carlos Lima fought twice to make it to the final. He first beat Levy Ferreira by referee decision and then outscored Robson Soares 8-2 in the semifinal. David Herrera needed to fight only once to reach the gold medal match. He beat Juan Silva by DQ in the quarterfinals and had no opponent in the semifinal.
62kg: Joao Miyao vs Hiago George
Teammates João Miyao and Hiago George fought three times each to reach the final. Miyao first outscored Francisco Andrelino 13-0, then scored 2-0 on Danilo Moreira and finally finished José Tiago from the back in the semifinal.
On the other side, George outscored Alan Oliveira 2-0 and then finished Felipe Mello and Pedro Clementino with armbars.
69kg: Rafael Mansur vs Joao Conclaves
Rafael Mansur fought twice on his way to the final. He first beat Victor Moraes by referee and then beat Luiz Vieira 2-1 on advantages in the semifinal. His opponent in the gold medal match will be João Gonçalves, who in three matches beat Raphael Cadena 2-0, finished Julio Rufino and choked Pedro Neto from the back in the semifnals.
77kg: Ricardo Lima vs Hugo Marques
One of the most crowded male black belt weight classes forced Ricardo Lima to fight four times on his way to the final. He finished Lauro Segundo, beat Talles Silva 3-0 on advantages and Iago Lopes 1-0 on advantages as well.
In the semifinal, Lima beat Samuel Dias by referee decision. On the other side, Hugo Marques beat Jan Wanser 7-0, Richard Filho by DQ, outscored Caio Cipriano 2-0 on advantages and finally defeated Jaime Canuto by referees decision.
85kg: Isaque Bahiense vs Gustavo Batista
Isaque Bahiense wants to repeat the title he won at the Grand Slam Tokyo. In Rio, he fought four times to reach the final. Isaque first beat Matheus Souza 2-0, then Thiago Sá 4-3 on advantages in a close match, and finally finished Rodrigo Miguel. The last challenge was against William Martins, caught with an armbar. On the other side, Gustavo Batista also had a great performance. In four matches, he finished João Santos, Vinicius Fernandes and Danilo Ponte. In the semifinal, another finish, this time an armbar on Luiz Neves.
94kg: Guilherme Santos vs Patrick Gaudio
In a star-studded division, Guilherme Santos made his name known on his way to the final. His first match was against Adam Wardzinski, in the quarterfinals, when a 6-0 lead on advantages was the edge. In the semifinal, he choked Dimitrius Souza from the back.
On the other side, Patrick Gaudio had to walk through fire to reach the gold medal match. He first outscored Rafael Silva 7-0 and then met with no other than Xande Ribeiro in the semifinals. After a very close match and a 2-2 tie on advantages, the referees decided for Souza.
110kg: Igor Silva sv Gerard Labinski
Fighting to retain the crown he won at the Grand Slam LA, Igor Silva fought twice this Saturday to reach the final. He beat Gustavo Dias 1-0 on advantages and then finished Guilherme Cordiviola with a triangle. Poland's Gerard Labinski feared not the Brazilian crowd and in two matches made it to the final. He outscored Diego Braz 4-0 and then had a powerful performance against Americo Netto to win 13-0. The black belt finals will kick off in the afternoon.
Adult Female Brown/Black Belt
49kg: GOLD- Mayssa Bastos Caldas
Mayssa Caldas took the gold medal home without having to step on the mats. Her only two opponents, Tamiris Vieira and Thamires Aquino, did not show up for the weigh-in.
55kg: Amanda Nogueira vs Gabriela Fletcher
The final was set in only two matches. First Amanda Nogueira beat Gabriela Fletcher by referee decision and then Mayara Abraão defeated Thauany Correa also by referees decision.
62kg: Bia Basilio vs Bia Mesquita
In a round robin bracket, first Bia Basílio caught Juliana Maira with a foot lock and then Bia Mesquita choked Maira from the back. Basílio and Mesquita will square off this Sunday for the title.
70kg: Ana Carolina Vieira vs Thamara Silva
In the most crowded female division, Ana Carolina Vieira fought twice to make it to the final and be able to defend her throne.
She first caught Renata Moreira with a choke from the back and then finished Glaucia Braga with a katagatame. Carol's opponent will be Thamara Silva, who beat Andressa Cintra 4-2 and Erin Herle 2-0 on advantages.
90kg: Claudia Do Val vs Heloisa Ferreira
Claudia Do Val finished second in the division at the Grand Slam Los Angeles. In Rio she wants to go all the way, so she kept no hostages in two matches on her way to the final. She first beat Samella Shohamy by decision and then finished Brenda Heller with an armbar. Claudia will meet Heloisa Ferreira, who finished Milena Carneiro and outscored Barbara Barbosa 24-0.