IBJJF
New York BJJ Pro: Purple / Brown Belts You Must Follow
New York BJJ Pro: Purple / Brown Belts You Must Follow
The $4,000 cash prize brings out some top black belts but the lower belts also have a chance to win some money too.
Nov 15, 2017
by FloGrappling Staff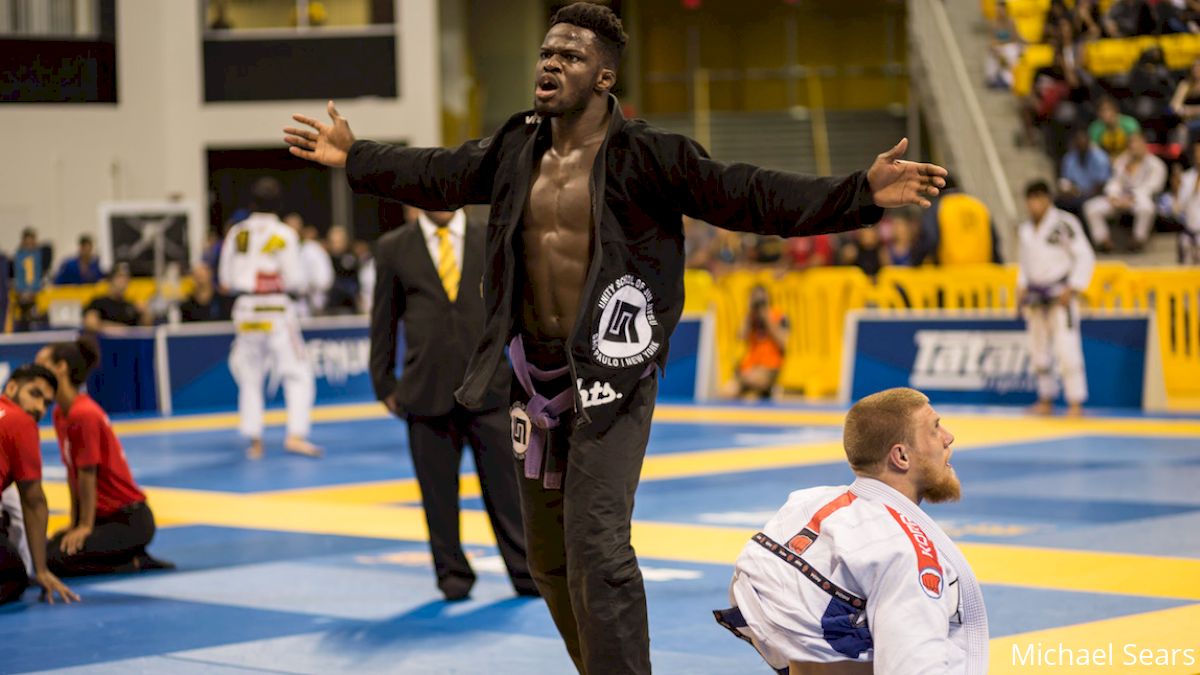 By Michael Sears | While the $4,000 cash prize for black belt divisions at the New York BJJ Pro is set to bring out some of the top names in the sport on Saturday, the lower belts also have a chance to win some money too.
Two open class divisions will run for each belt after the weight categories are finished, one from rooster to lightweight and another from middle to ultra-heavyweight.
Prizes for these open divisions are $800 for brown belt, $600 for purple belt, and $400 for blue belt. Here is a quick look at some of the athletes to keep an eye on in the brown and purple belt absolutes.
Devhonte Johnson
Unity BJJ | Brown Belt Heavy
Johnson had an outstanding run at purple belt in 2017 that ended with his instructor, Murilo Santana, promoting him to brown belt. Johnson bulked up after earning the silver medal at the 2016 Worlds in the purple belt medium-heavyweight division, and the added weight translated into a Worlds gold medal in the super-heavyweight division in 2017.
Devhonte Johnson. Photo: Michael Sears
In the 2017 world final, he won a hard-fought match against 2016 purple belt world champ Fabio Alano (Alliance). The world title and gold medals at Europeans and Pans capped off an incredible year for Johnson, and he is no doubt expected to be one of the top brown belts in 2018.
Mauricio Oliveira
GF Team | Purple Belt Heavy
Mauricio Oliveira put on one of the most brilliant displays at the lower belts during the 2017 Worlds, fighting his way through the purple middleweight division to claim the championship. His road through the bracket was about as difficult as it could have been, with Oliveira defeating Matheus Lutes (Alliance), Levi Jones (Unity), and Jake Watson (Power MMA) before submitting Alex Munis (Nova Unaio) in the final.
Mauricio Oliveira. Photo: Michael Sears
This was Oliveira's second world title in a row, as he won the 2016 Worlds at blue belt. Normally based out of the GFT HQ in Meier, Rio de Janeiro, Oliveira has spent the last few months training in Toledo, Ohio, with teammates Gutemberg Pereira and Dante Leon.
Wilson Moreira Junior
PSPLB Cicero Costha | Purple Belt Light
Part of a contingent of Cicero Costha purple belts who regularly train out of Unity BJJ in New York, Wilson Moreira is a favorite to win the purple belt light absolute. Moreira, a natural lightweight, bumped all the way up to heavyweight to compete at the 2017 Worlds.
The move paid off as he would go on to win the world championship while competing three divisions higher than his normal weight. Moreira will look to pick up where his teammates Italo Moura and Jeferson Guaresi left off at the San Diego BJJ Pro in September, when the two Cicero Costha purple belts closed out the light absolute.
Oliver Taza
Evolution BJJ | Brown Belt Light
While the Firas Zahabi brown belt is no doubt more strongly associated with no-gi competition, Taza has a history of competing in the gi as well and should be in the contention in New York.
Coming off of a training camp for the 2017 ADCC in Finland with his "Danaher Death Squad" teammates at the Renzo Gracie academy in New York, he will no doubt be ready to go this weekend. After a 2017 that saw him compete against elite black belts such as Marcelo Mafra, Mansher Khera, and AJ Agazarm, Taza will now be back grappling against his own rank at brown belt in New York.