IBJJF
Rematches & Opportunities For Revenge At NY BJJ Pro
Rematches & Opportunities For Revenge At NY BJJ Pro
Many top black belts will be competing at the New York BJJ Pro on Nov. 18. Here is a quick preview of what to expect.
Nov 16, 2017
by FloGrappling Staff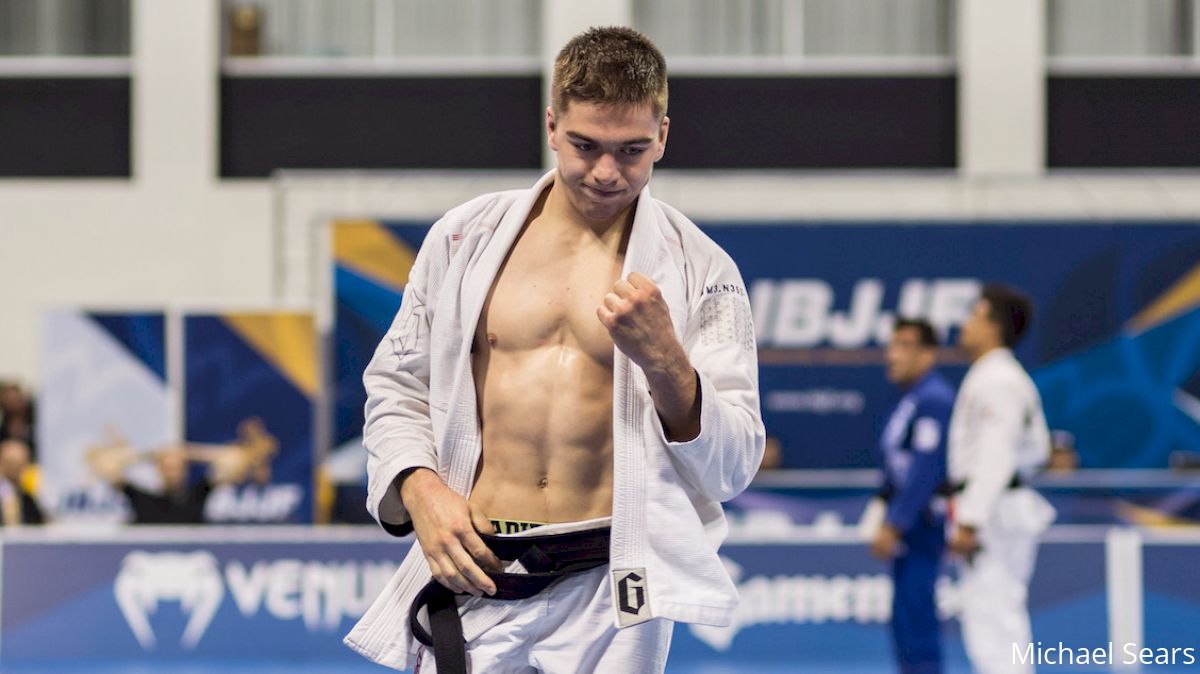 By Michael Sears | The IBJJF New York BJJ Pro on Saturday, Nov. 18, is the last BJJ Pro event of 2017 and also the final opportunity this year to earn cash prizes and double ranking points at an international open.
Here is a quick preview of what to expect from the black belts competing inside Nat Holman Gym at the City College of New York this weekend.
Jamil Hill. Photo by Michael Sears.
The black belt male featherweight division contains 10 athletes, including both 2017 world bronze medalists in Gianni Grippo (Alliance) and Jamil Hill-Taylor (Lloyd Irvin). The pair of young American black belts have met four times in competition, with Grippo currently holding a 3-1 record against Hill-Taylor.
While Jamil won their first meeting at the 2017 Pans, Grippo has went on to win the last three matches. All four fights between the two men have been extremely close, and should they meet in the finals here it will most likely go down to the wire.
Sousa misses first NY BJJ Pro in three years
The middleweight division seemingly opened up when six-time BJJ Pro champion Otavio Sousa (Gracie Barra) pulled out of the competition with an injury. At the San Diego BJJ Pro, Sousa closed out the semifinal with teammate Victor Silverio, who is registered for New York. Silverio also recently came out on top of a stacked bracket at the UAEJJF Los Angeles Grand Slam.
Reigning middleweight world silver medalist Marcos Tinoco (Alliance) will be a roadblock in Silverio's way to the top of the podium. Tinoco is currently 1-0 against Silverio, with the win coming from a referee decision. DJ Jackson (Lloyd Irvin), Felipe Silva (Barbosa), Dante Leon (GF Team), and Manuel Ribamar (NS Brotherhood) should all be in contention for the gold medal in this deep middleweight bracket.
Keenan Cornelius. Photo by Kenphotology
Keenan's chance to settle some scores
It's no surprise that sixth-ranked black belt Keenan Cornelius (Atos) is registered in the heavyweight division. Cornelius has been on a tear since returning from a knee injury, going 47-2 with 36 submissions this year. The ranking points awarded for a first-place finish in New York would move Cornelius past Joao Miyao into fifth place.
In order to get the gold medal and prize money in New York, Cornelius will possibly have to avenge losses to 2010 world champion Tarsis Humphreys (Alliance) and 2015 world bronze medalist Tim Spriggs (Lloyd Irvin). Humphreys got the victory over Cornelius in the 2016 Los Angeles BJJ Pro finals by a controversial DQ call, and although Cornelius is 2-1 against Spriggs, the last victory went to Spriggs at the 2015 Worlds.
Ultra-heavyweight small but stacked
The fourth and final division for black belt men is ultra-heavyweight. This bracket contains four Worlds medalists including 2015 world champion Gabriel Lucas (Checkmat). Joining Lucas in this bracket include two-time world silver medalist Joao Gabriel Rocha (Soul Fighters), 2016 world runner-up James Puopolo (Ribeiro), and 2017 world bronze medalist Otavio Nalati (Lloyd Irvin).
Nathiely de Jesus. Photo by Michael Sears.
World champs to meet in women's absolute
The last money division at black belt in New York will be the women's open class. Both of the 2017 world open class finalists are registered for this event and should be heavy favorites to meet in the final. Tayane Porfirio (Alliance) and Nathiely de Jesus (Cicero Costha) both won their weight divisions at Worlds before meeting up in the open final, which Porfirio won by Americana from mount. Porfirio is currently nearly 500 points above the second-place woman in the IBJJF rankings, with de Jesus sitting at fifth.