When Craig Jones tapped out Leandro Lo with a rear-naked choke at the 2017 ADCC World Championships in Finland on Sept. 23, he was just another up-and-comer out of Australia.
A few minutes later, and with a flying triangle submission win over Murilo Santana, Jones had made his name as one of the breakout stars of the tournament.
Santana vs. Jones first time around, ADCC 2017. Photo: Hywel Teague / FloGrappling
The laid-back Australian grappler, who trained out of Melbourne with the likes of Kit Dale and Lachlan Giles, only got his black belt in December 2016. A prolific competitor who has been traveling worldwide since he was a purple belt, Jones took it up a level this year. He blew through three matches at the recent EBI 14 in less than 90 seconds combined, finishing everyone via inside heel hook before losing in OT to eventual winner Gordon Ryan.
With Jones and Santana set to square off once again — this time in a superfight at KASAI Pro in New York on Saturday, Dec. 9 — we'll get the answer as to whether the Aussie's recent success is a sign of bigger things to come or whether the veteran Santana will be able to redeem himself in front of his students in what is, in effect, a hometown match for him.
Watch KASAI Pro live or on demand only on FloGrappling
At 26 years old, Jones isn't the product of some huge team or well-known coach. Training with Giles and Dale, traveling nonstop ,and competing as often as he could was half the equation. The rest came down to a lot of hard and "studying a lot of tape," with Jones reverse engineering techniques he had seen applied in competition.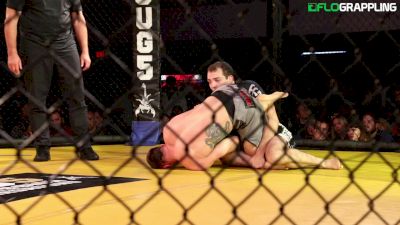 Create a free account to unlock this video!
Get Started
Already a subscriber? Log In
---
"When a technique is applied in a high-level match you know it's legit," he wrote in an AMA on Reddit. "Sometimes watching instructionals you see a lot of bullshit techniques that have no place being drilled. You can work back from there though, you see a technique in competition then work back to find a quality instructional that teaches the move."
Jones has emerged as one of the most recent exponents of the leg lock game, successfully using lower-body attacks to win eight of his 15 matches this year. Watch out for his creative entries into the "inside sankaku" position to attack for the inside heel hook.
A key component to Jones' rise in the sport is of course traveling and being exposed to as much high-level jiu-jitsu as he could find.
"Nothing brings you back down to earth like a visiting a high-level gym and working out what parts of your game need work," he said.
---
Facing Lo and Santana back to back was about as tough a test as Jones could have asked for, and he passed with flying colors. Santana is not as well known as Lo (thanks mostly due to his shyness and avoidance of media coverage), but he is one of the toughest, perennially underrated black belts in the game.
Hailing from Sao Paulo and a product of the highly respected Barbosa Jiu-Jitsu, Santana is also the head coach at Unity Jiu-Jitsu in Manhattan, New York. He's well known as the man leading the hardcore practices in which you'll find the Miyao brothers, Felipe Silva, Dillon Danis, Mansher Khera, Devhonte Johnson, and many more on the mats.
Santana in action. Photo: Jeff Chu / Fighterplus
Santana is far more than just a coach. He's a three-time champion at Brazilian Nationals, which is one of the toughest tournaments in the world to win. He's infamous for his ridiculously heavy and absolutely miserable pressure passing, a game which demoralizes his opponents and crushes their spirits.
With the knowledge of what Jones is capable of, and the fact that the Aussie was the first person to submit him in competition since 2011, Santana will undoubtedly approach this match against Jones with a gameplay in mind. Will Santana elect to smash Jones from top, or will he play his excellent butterfly guard game? Whatever he chooses, you can be sure he'll be hyper aware of Jones' ability to finish from any position.