A lapse in concentration cost Craig Jones victory in his superfight versus Murilo Santana on KASAI Pro.
Ahead on points 4-2 with less than 30 seconds left in the match, Jones was given a penalty for stalling that awarded Santana two points.
As Jones had been penalized earlier for talking to the referee, the final score as the clock ran down was 4-4 with 0-2 penalties.
The match until that point had been close, with Jones collecting points for two sweeps and Santana earning points for one of his own. Jones played heavily from the Z-guard and hunted for the entry to the inside sankaku attacking position but was unable to isolate the leg for the heelhook.
The catastrophic error on Jones's part gave Santana small revenge for their most recent encounter at ADCC 2017 in September. Founder of the Unity Jiu-Jitsu gym in New York, Santana described the match as "very strategic".
WATCH: Craig Jones vs Murilo Santana KASAI Pro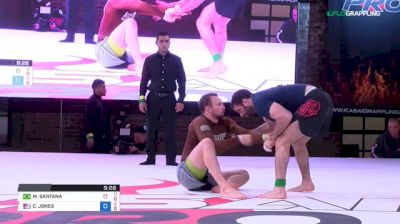 Unlock this video, live events, and more with a subscription!
Get Started
Already a subscriber? Log In