Keenan Cornelius looked simply untouchable at the IBJJF 2018 European Championships in Lisbon, Portugal, this past weekend.
The Atos wizard submitted all of his opponents on his run to heavyweight gold and the absolute final, which he closed out with teammate Lucas "Hulk" Barbosa. Cornelius made extensive use of new lapel strategies and employed a completely menacing guard that shut down any offense offered by his opponents.
His most impressive match of the weekend was arguably against Qatar BJJ monster Victor Honorio in the absolute division. Cornelius tied up Honorio with the far-side lapel that made his omoplata attack impossible to defend and submitted the significantly larger man with surgical precision. It was a perfect demonstration of technique neutralizing strength.
Cornelius also made shockingly quick work of Adam Wadzinski — an incredible jiu-jitsu player — during their semifinal match, which has been unlocked for all to see.
Hit the links below to watch Cornelius' entire run.
---
Heavyweight
1st Round: Bye
Semifinal: Keenan Cornelius vs. Adam Wardzinski
UNLOCKED: Cornelius Knocks Off Wardzinski In Semis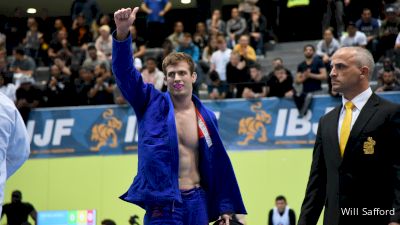 Create a free account to unlock this video!
Get Started
Already a subscriber? Log In
Final: Keenan Cornelius vs. Helton Silva Junior
Absolute
1st Round: Bye
2nd Round: Keenan Cornelius vs. Rodrigo Martins
Quarterfinal: Keenan Cornelius vs. Riccardo Evangelista
Semifinal: Keenan Cornelius vs. Victor Honorio
Final: Close-Out With Lucas "Hulk" Barbosa