Two-time black belt world champion Luiza Monteiro and standout heavyweight Gustavo Batista have left Leandro Lo's NS Brotherhood team to join Andre Galvao at Atos.
The world-class black belt duo made the announcement Monday that they will now represent Galvao's powerhouse squad, which is based in San Diego.
"I chose to train with Andre for the great leader that he is, who does excellent work that is shown in the results, and that's without saying what an amazing athlete and great inspiration he is to many — and for the great competition team that Atos has," Batista told FloGrappling in an exclusive interview. "There are many tough athletes in search of the same objectives, this is a great motivation."
Galvao said: "It's a great addition to our team Atos HQ. We will give them all the support on and off the mats, just like we do for our whole team. We want them to grow even more. We are all happy to have them with us!"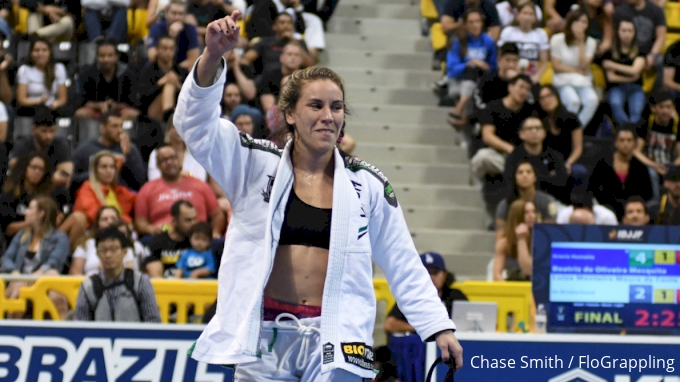 Photo: Chase Smith / FloGrappling
Monteiro is a two-time black belt world champion, a three-time no-gi world champion, four-time Pan champion, and five-time Brazilian champion. She adds much-needed fresh blood to the Atos roster, which currently counts only two female black belts among its ranks (Bianca Basilio and Heather Raftery).
Following the announcement, Monteiro wrote on Instagram: "Today a new stage of our lives begins as another comes to an end. I'm very grateful to NS Brotherhood for the time that we were together, and for everything that I learned!"
Batista echoed Monteiro's comments, explaining that he left the team on good terms and maintains a good relationship with his former mentor Lo.
Photo: Chase Smith / FloGrappling
Batista's position in the team is less determined than Monteiro's. As a medium-heavyweight, he enters the same division as a number of key members of the squad. Keenan Cornelius, Lucas "Hulk" Barbosa, and even Galvao himself are all known to compete in the division.
In terms of training opportunities there exist few better options, but it remains to be seen how this will play out in tournaments. Atos is positioned to load the brackets in its favor, but as a new addition Batista will be lower on the list of those able to claim a medal if it came to a closeout.
Watch:
• Luiza Monteiro vs. Beatriz Mesquita: 2017 IBJJF World Championships
• Gustavo Batista vs. Tommy Langaker: 2017 IBJJF European Championships