Though only five weeks into the New Year, the 2017-18 UAEJJF season is nearly coming to a close, culminating in the prestigious Abu Dhabi World Pro in April.
With Igor Silva and Adam Wardzinski well ahead of the pack in their private war for the coveted first-place position, the final standings have been all but decided for adult male black belts, but there are still many opportunities to compete (14 in total) for colored belts trying to earn a paid trip to World Pro. Here's the rundown of the major events before season's end.
British National Pro – Feb. 10
North American Continental Pro – Feb. 18
South American Continental Pro – Feb. 24-25
Canada National Pro – Feb. 24
Oceania Continental Pro – Feb. 25
London Grand Slam – March 10-11
Abu Dhabi World Pro – April 24-28
For a full list of global UAEJJF opportunities visit here.
The UAEJJF offers paid trips to World Pro to the best fighters in the continental ranking (Maximum of two fighters per country for each awarded division according to the continent quota) through the UAEJJF Championships and its UAEJJF ranking points. See below.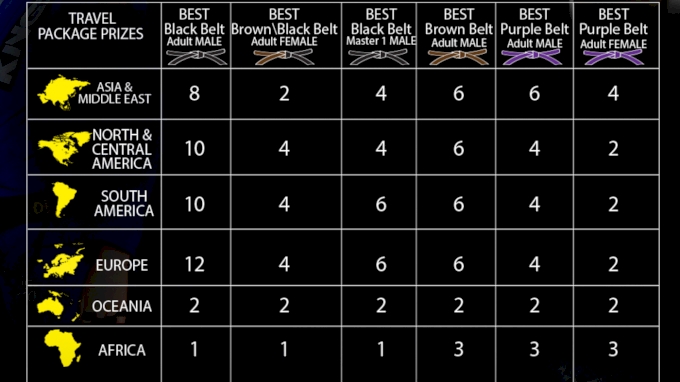 What does this mean? With 14 events, there are still plenty of opportunities to win your way to Abu Dhabi, ESPECIALLY in the North American adult colored belt rankings. Ex: North American Brown Belts.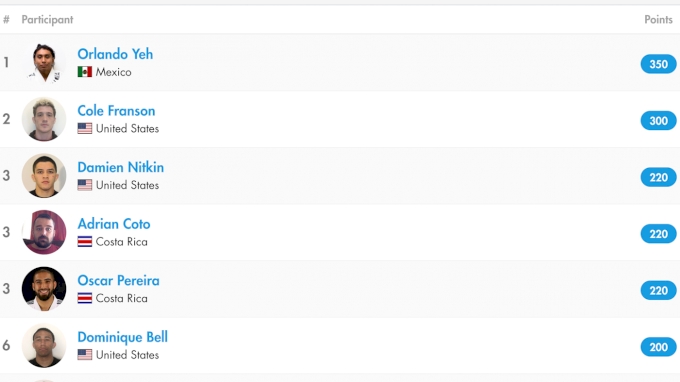 A hypothetical: Currently in sixth place, Dominque Bell is just two first-place finishes (assuming National Pro level i.e. 80 points per gold) from overtaking Damien Nitkin and Cole Franson, should they choose not to compete further in the season.
This would make Bell the top-ranked U.S. brown belt athlete in the continental rankings and earn him the trip to Abu Dhabi. Similarly, placing first at London Grand Slam would give Bell 200 points and be enough to place him in first for the U.S.
This ranking scenario holds true for practically every division except male adult black belts, and thus participation in UAEJJF events over the next month will be the deciding factor for who gets the trip to World Pro in April.
The UAEJJF London Grand Slam goes down March 10-12: Watch it LIVE on FloGrappling.com