The Spyder Invitational BJJ Championship is picking up some serious momentum, and its next qualifying event in Seoul, South Korea, this Sunday is showcasing some of the brightest and best up-and-coming stars from the Brazilian circuit.
The event includes a mixture of purple, brown, and black belt grapplers — all competing in the same pro bracket for a chance to meet those already qualified for the Spyder BJJ Championships quarterfinals on July 21.
The -76kg division features black belts Hugo Marques (Soul Fighters) and Edson Oliveira (Alliance), brown belt Jonnatas Gracie (Atos), and purple belts Andy Murasaki (Caio Terra) and Jonathan Alves (Atos).
The +76kg bracket contains black belt Fernando Reis (Alliance), brown belts Victor Hugo (Ribeiro) and Kaynan Duarte (Atos), and purple belt Erich Munis (Nova Uniao).
They will go up against top Korean talent, including black belts Sanghyun Lee, Donghwa Choi, Guynwoo Kim, and Du Yunlai and brown belt Insung Jang.
Full lineup
-76kg
Sanghyun Lee vs. Hugo Marques
Junyong Cho vs. Jonnatas Gracie
Insung Jang vs. Edson Oliveira
Andy Murasaki vs. Victor Nithael
+76kg
Donghwa Choi vs. Victor Hugo
Gunwoo Kim vs. Vinicius Ferreira
Kaynan Duarte vs. Erich Munis
Sanghyun Lee vs. Du Yunlai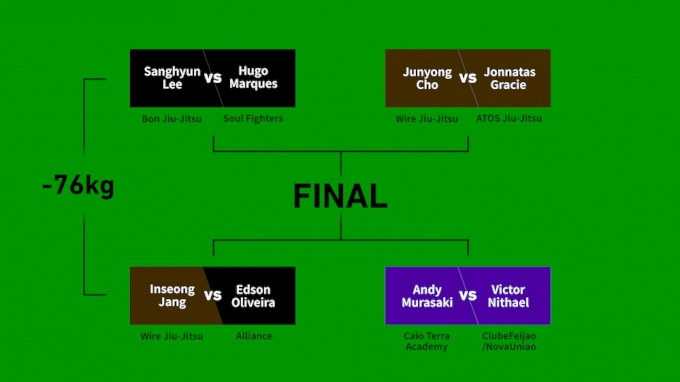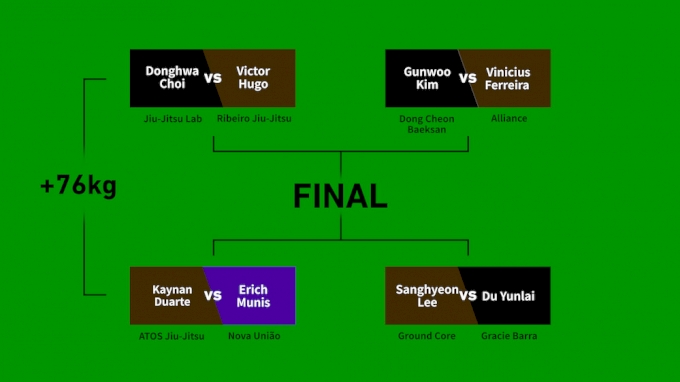 Date: Sunday, Feb. 11
Venue: Olympic Hall, Olympic Park, Seoul, South Korea
FloGrappling will be on the ground in South Korea to bring you coverage of the event and all matches will be uploaded to the site shortly after!