2018 Pan Jiu-Jitsu IBJJF Championship
Gutemberg Pereira: The Breakout GF Team Star Of 2018 Pans
Gutemberg Pereira: The Breakout GF Team Star Of 2018 Pans
A new star GF Team athlete is on the rise, 2018 Pan absolute division silver medalist Gutemberg Pereira.
Mar 14, 2018
by FloGrappling Staff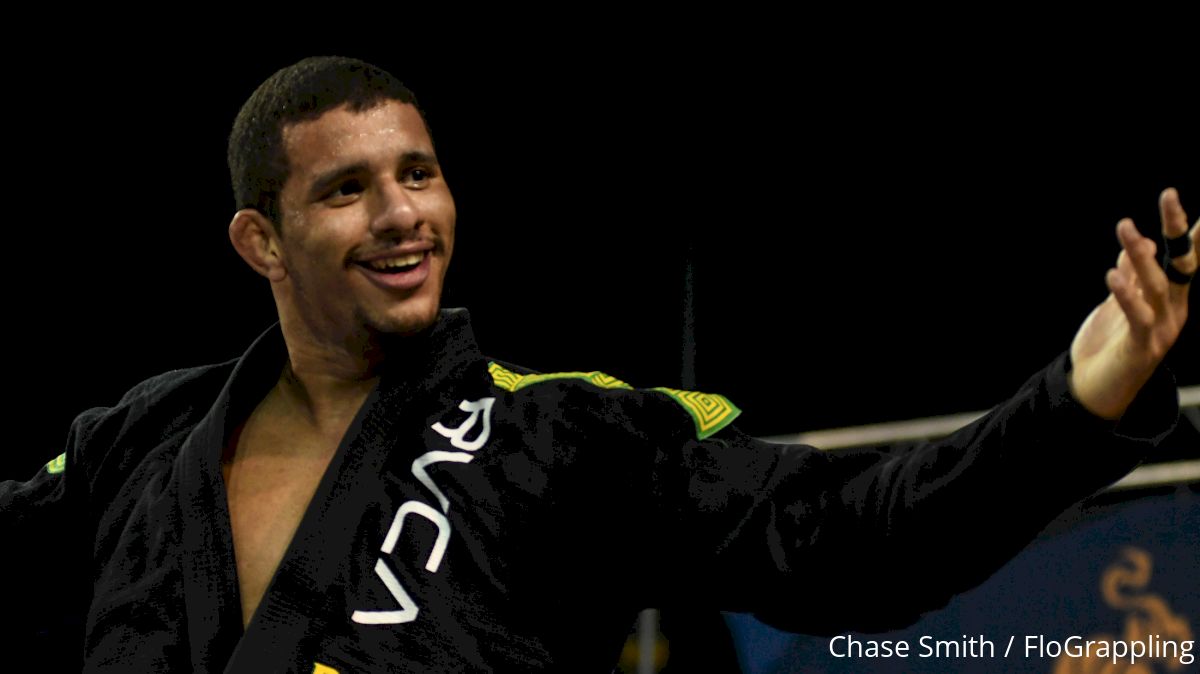 By Michael Sears
---
The Grappling Fight Team, or GF Team, based out of Meier, Rio de Janeiro, has always been associated with a particular style of jiu-jitsu: solid takedown skills on the feet followed up by aggressive passing when the fight hits the ground. Five-time world champion Rodolfo Vieira epitomized the GF Team brand of fighting.
Several years later a new star GF Team athlete is on the rise, 2018 Pan absolute division silver medalist Gutemberg Pereira, a 23-year-old who fought his way into the final against the legend Leandro Lo this past Sunday in Irvine, California.
Losing 2-0 on a late sweep to Lo—who conquered his eighth Pan gold medal—was a statement that Pereira is ready to go with the sport's biggest names.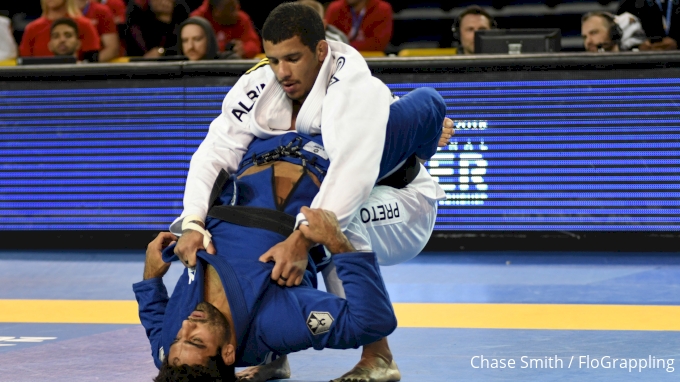 Photo: Chase Smith / FloGrappling
The 6-foot-4, 220-pound Pereira fits the mold of a GF Team athlete, following in the footsteps of fellow big men to come from the team such as Rodolfo, Ricardo Evangelista, Igor Silva, and Victor Honorio. His punishing passing style was on display at the 2017 Worlds, where he submitted all his opponents in the super-heavyweight bracket at brown belt without getting scored on. This kind of performance made Pereira an IBJJF world champ at both purple and brown belt in gi and no-gi.
Pereira was born and raised in Salvador, Bahia, a city of around 3 million people in the northeast of Brazil. Starting jiu-jitsu at age 16, Pereira was hooked from the start and his skills accelerated quickly.
Two years later, he would make a big leap that would shape his life and jiu-jitsu career.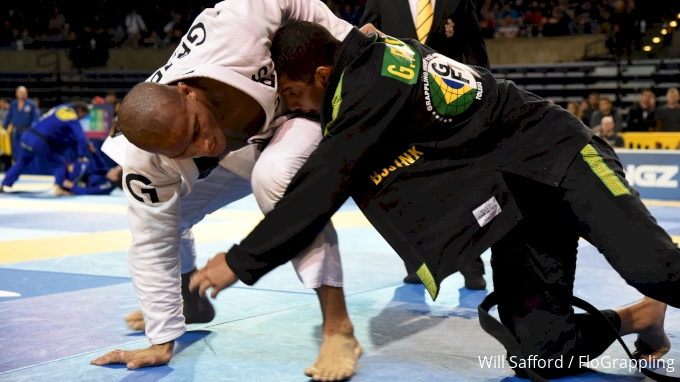 Wrestling with Mahamed Aly. Photo: Will Safford / FloGrappling
While still a blue belt, Pereira reached out to GF Team founder Julio Cesar for an opportunity to train with the legendary team in Meier, Rio de Janeiro.
"I was a big fan of Rodolfo Vieira, and I knew GF Team had some of the best training in the country," Pereira recalls. "So when I turned 18 I decided to move to Rio de Janeiro and be a full-time athlete. I asked Julio for an opportunity to train and live in the gym. Since then I've been a part of the team."
Pereira recognized that he would have to make sacrifices to get where he wanted in jiu-jitsu. He left behind the life he knew in Salvador—his family and friends—to sleep on the mats in a faraway city so he could train with the best.
"To be honest with you, living in the gym is a choice I made to be better, so I didn't have a lot of difficulty with that!" Pereira says. "But sometimes it's hard because you have to live with 10 other guys in the same place and everybody thinks different. Sometimes it was difficult, but I grew up a lot living there as an athlete and as a human being."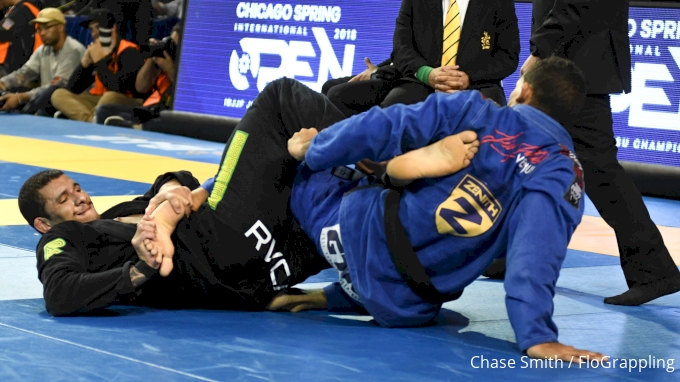 Pereira attacks for the toehold against Fellipe Andrew. Photo: Chase Smith / FloGrappling
At first, Pereira slept on the mats. After saving a little money he bought a mattress that he kept in a back room. For years, he slept in a room above the gym with a ceiling too low for him to even stand up straight. On many hot nights in the North Zone of Rio the room would be unbearable, and he would return to the mats to sleep.
He credits the mentorship of Julio Cesar with his improvement while at Meier, along with training with the already established black belts in the room such as his idol Rodolfo.
"With Rodolfo, I learned a lot about being a champion," Pereira says. "I learned about how he thinks, and that has helped me a lot in my career."
Shortly after Pereira's dominant display at the 2017 IBJJF Worlds, Julio Cesar awarded his pupil with his black belt. The long-awaited moment brought big changes in Pereira's career.
"It's like turning professional when you start competing there," he says. "If you don't take the training serious you're out. For me nothing is different, I'm training a lot, sacrificing a lot too. The only change for me is that my mindset has matured and I'm really focused on my goals and future."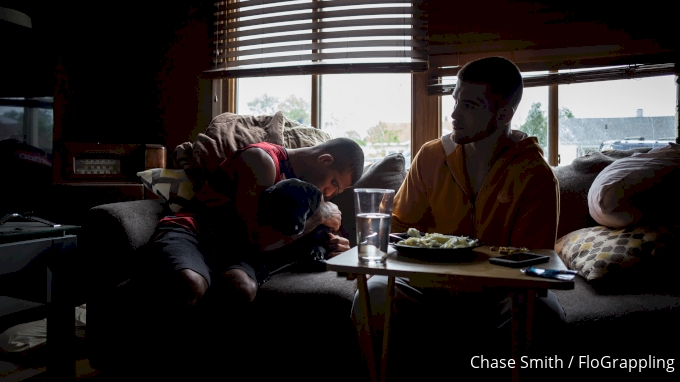 Pereira and Dante Leon at home in Ohio. Photo: Michael Sears
Pereira continues to make sacrifices on his quest for a black belt world title. He has moved even further away from home, residing in Toledo, Ohio, since 2015, where he trains alongside fellow GF Team up-and-comers Dante Leon, Mauricio Oliveira, and Max Gimenis.
All of the sacrifices, hard work, and dedication are starting to pay off at the highest level for Pereira. At Pans, he defeated standout black belts Fellipe Andrew, Mahamed Aly, and Tommy Langaker to face off with Lo.
"When we start jiu-jitsu we just dream of being in the finals of the open class in a big tournament, and in my tournament, as a black belt I get the spot," Pereira says. "And I got to fight a guy who I watched as a blue belt."
WATCH:
Gutemberg Pereira vs. Mahamed Aly
Gutemberg Pereira vs. Fellipe Andrew
Gutemberg Pereira vs. Tommy Langaker