2018 Pan Jiu-Jitsu IBJJF Championship
Q&A: Karen Atunes Discusses Journey From 1st-Time Mom To 2018 Pans Champ
Q&A: Karen Atunes Discusses Journey From 1st-Time Mom To 2018 Pans Champ
Karen Atunes shocked the world two weeks ago when she won the 2018 Pans black belt featherweight title just 8 months after giving birth to her first child.
Mar 21, 2018
by Chase Smith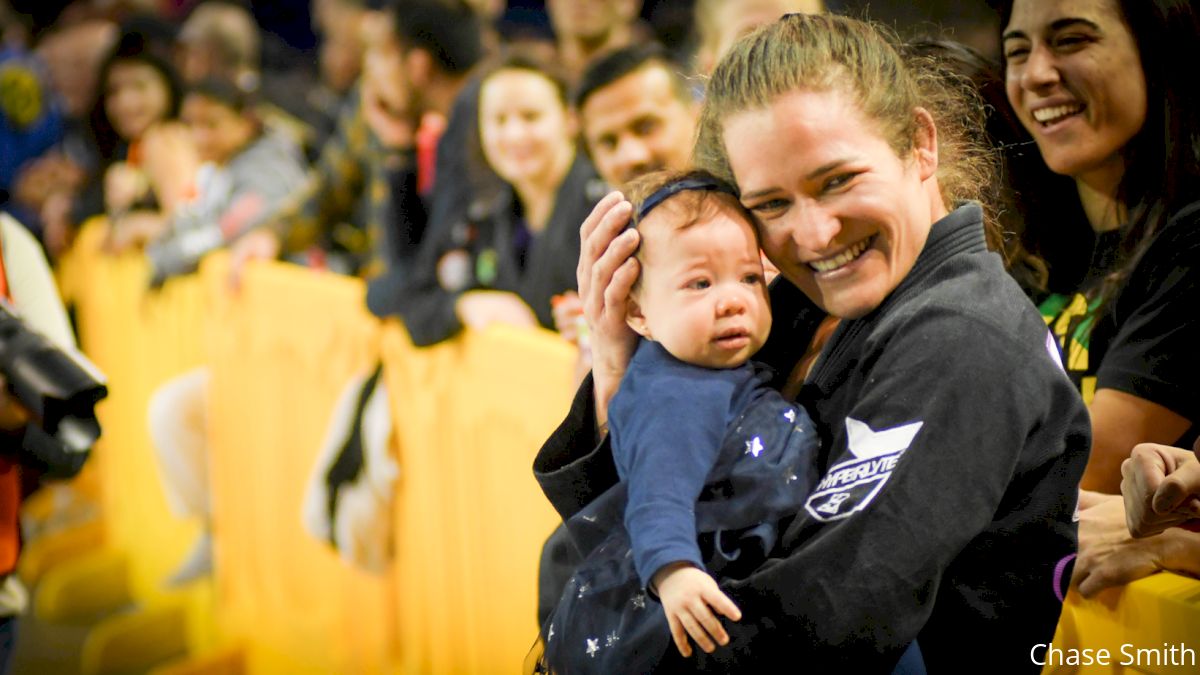 Karen Atunes shocked the world two weeks ago when she punched her ticket to the 2018 Pans black belt featherweight final by submitting defending champion Bianca Basilio with an armbar just three minutes into their match in Irvine, California.
Atunes went on to best Jaquelin Moares 4-0 to win the title—all this, just 8 months after giving birth to her first child!
We caught up with the Checkmat black belt and happy mom to find out what life has been like since giving birth her little one and how her jiu-jitsu career has and hasn't changed.
FloGrappling: You trained well into your pregnancy: what was that like? Were there any memorable moments or experiences?
Atunes: I trained jiu-jitsu until I was three months pregnant (12 weeks). The doctor recommended that I stop sparring at this point to avoid any risk to the baby. I did, however, keep working drills, techniques, and even taught seminars until I was eight months pregnant.
My whole pregnancy was awesome: I felt good, but some days I was freaking out about missing rolling. I kept my sanity with by working out as much as I could.
What was the return to training like after having your baby?
I knew it would be difficult, but it was much worse than I imagined. I returned to training after the baby was one month old and my whole body hurt. I could train only during the morning session, after a long night and little sleep.
But that was my only option and it was better than nothing.
The days were passing by and my body was getting less sore, only the sleeplessness didn't get better. I cried many, many times, doubting that it would be possible to return to the level of training and competitive success that I had before the pregnancy. But my husband/coach was always by my side, pushing me and trying to make me believe in myself. I'm very grateful to have a person like him to give me support.
My first tournament after having my baby was No-Gi Worlds in December 2017. I trained so hard, but my mentality wasn't quite right: for the first time, I froze in a match. I felt terrible—not because I lost but because I felt that I couldn't fight properly. I responded to the result by returning to training harder and working through my fears; I was not going to let that happen again.
Pans was your first major gi tournament since the birth of your child. Was the goal to always win gold?
Before my match with Bia Basilio, my head coach, Leo Vieira, told me that if I need to lose, lose—but leave everything there on the mat. So I faced my fears and got the result I wanted. I was happy to be there again challenging myself.
2018 Pan Championships | Karen Atunes vs. Bianca Basilio: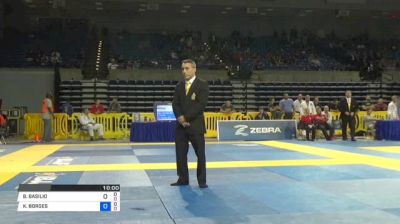 Unlock this video, live events, and more with a subscription!
Get Started
Already a subscriber? Log In
I do not compete to prove anything, I compete because it makes me complete. I was thrilled to be able to fight at the same level I was before pregnancy; to be honest that was my biggest goal was never to win but to return to the same level I was before.
How has your overall approach to training changed? What are your plans for the rest of the year?
My competition goals didn't change. What changed is my routine: I can't train two, three times a day because my baby is my priority now. So when I have the opportunity to train I give a 100 percent because I know I don't have another session later that day—there is no time to waste.
My plan for the rest of the year is to compete at more IBJJF Opens, Worlds, and Worlds Masters.
I just want to tell all the women, jiu-jitsu moms, and the future "BJJ moms" I wouldn't change anything in my life. Having a baby makes me the happiest person in the world and I believe I can do everything I want. It's not easy, but if it wasn't challenging, it wouldn't be fun.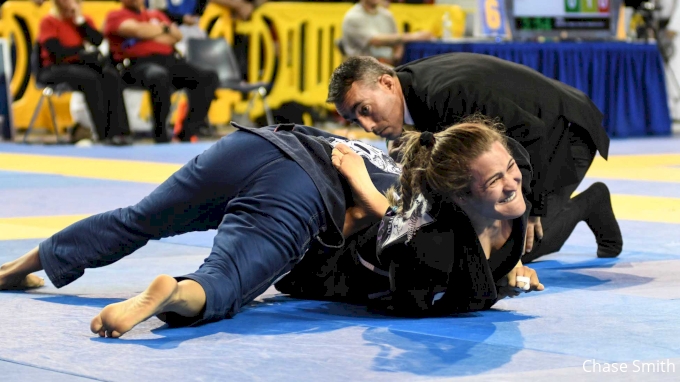 Karen Atunes armbars Bianca Basilio at Pans. Photo: Chae Smith