Create a free account to unlock this article!
Get Started
Already a subscriber? Log In
Possibly the busiest man in grappling is back at it, and in characteristic style, AJ Agazarm has a loaded schedule ahead of him.
One month, three events. It's business as usual for the Gracie Barra black belt who had 46 matches in 2017.
First, it's a superfight in the gi at Fight To Win Pro 68 in Miami this Friday, then a trip up to New York City for a no-gi bout at KASAI Pro 2 on April 14. Ten days later, he'll be in Abu Dhabi to compete in the 10th edition of the massive Abu Dhabi World Pro.
For some grapplers this breakneck pace would be impossible to keep up. The stress of the constant traveling, the lack of consistent training, and the effect on an athlete's physical condition can mount up. Agazarm is a veteran; he knows exactly how to cope with it and has created strategies for staying competitive.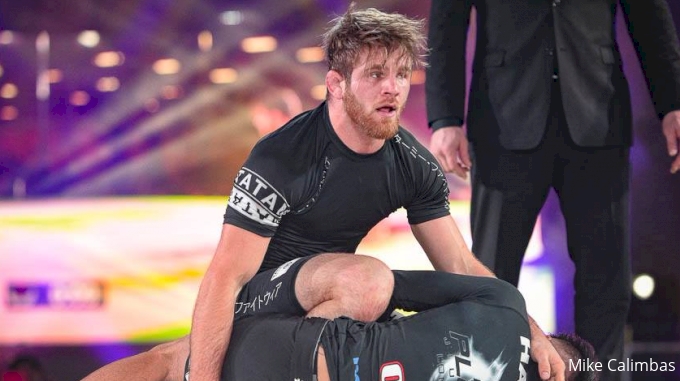 Agazarm competing at Fight To Win Pro 61. Photo by Mike Calimbas
Up until a year ago he lived on the road and did not have a single home base.
"I was sleeping in hotel rooms, on friend's couches," says Agazarm, who has been renting an apartment in Los Angeles for about a year now.
Being based in the City of Angels has its benefits, not least of which includes training at Gracie Barra Northridge with Romulo Barral and the high-level members of the team such as Edwin Najmi, Gabriel Arges, Victor Silverio, and more.
Agazarm's schedule for the next few weeks begins in his home state of Florida, where he faces Alexandre Pimental, a veteran grappler and 15-2 MMA fighter who has been a black belt for 18 years, at F2W Pro 68. Pimental is known for his tricky omoplata, a technique Agazarm admits is a weakness of his.
"It's not that they'll ever be able to submit me with it, but it's annoying to get out of," he says. "It'll be an interesting match. It'll be a clash of styles, it's an opportunity to see a tall lanky guy versus a stocky guy game."
"The Florida Boy" has fond memories of competing in Miami. Even though he's from the west coast of Florida, he would drive over to Miami to compete in small circuit tournaments in the early days of his jiu-jitsu journey.
"I was just competing in the beginner division and getting bumped up to intermediate after only three months training," he says. "I have good memories of that."
After Fight To Win Pro 68, Agazarm will take on another Brazilian veteran in Marcos Galvao at KASAI. A Nova Uniao black belt and former Bellator MMA champion, Galvao is a puzzle Agazarm will need to figure out on the night during their 10-minute submission-only match.
"A lot of these old school guys have a lot of grappling experience, but you can't find it, it's been and gone. I'd like to find some quality content of this guy, but I can't because he was from before the FloGrappling era," Agazarm says.
Not knowing what techniques Galvao has in his arsenal doesn't phase Agazarm, who has a tip for fellow competitors.
"I think a lot of practitioners can start to gravitate to this mindset: I have my go-to techniques, my go-to game—what makes me, me," he says. "That's what I focus on. The only thing I look for on tape is this guy has a good seoi nage or has a good half guard. And it reduces the time it would take me in a match to figure that out."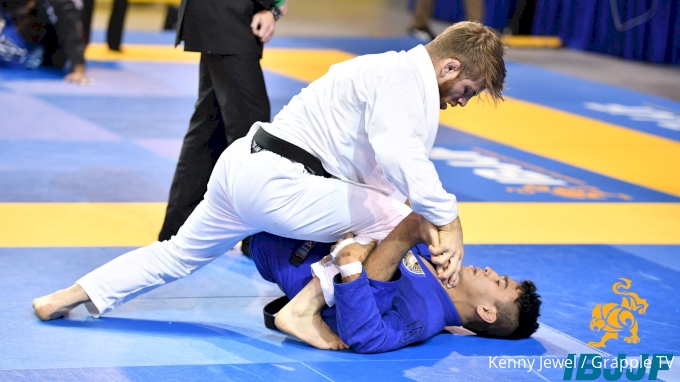 AJ Agazarm in action at the 2018 IBJJF Pans. Photo: Kenny Jewel
From there Agazarm is "90 percent" certain he will travel to Abu Dhabi to compete in the 10th-anniversary edition of the World Pro, which promises to be an extravaganza. He plans to compete as a lightweight (-69kg). Agazarm's been happy to pick and choose his weight classes, and his weight-cutting experience from wrestling allows him to switch it up as much as he likes.
He dropped to feather at Worlds last year, won a silver medal at the 2017 ADCC at 66kg, and recently returned to featherweight (154.5 lbs in the gi) at the IBJJF 2018 Pans, although he had to cut a huge amount of weight to do so.
"I cut 24lb in a week to make weight for Pans," he says. "I only did it because I knew I was going to make weight the day before. I looked at the bracket, I knew because of the seeding I would get a bye and only fight on the Sunday.
"I went to Florida to help my brother, Austin, prepare for state wrestling. I did a cross-country trip the week before, then went to Florida, then went to California for Pans all water-loaded—but I made weight."
Watch AJ Agazarm in action at Fight To Win Pro 68, KASAI Pro 2, and the 2018 Abu Dhabi World Pro, all LIVE or On Demand on FloGrappling.
Shapin' up to be a wild few weeks
Mar 30th - Miami, FL - F2W 68
Mar 31st - Kendall, FL - Gracie Barra Kendall
April 14th - Brooklyn, NY - KASAI 2
April 24-28th - Abu Dhabi, UAE - World Pro pic.twitter.com/chWvcpQUAN

— AJ Agazarm (@TheFloridaBoy) March 25, 2018