Abu Dhabi 2018 King of Mats
King of Mats Mega-Event in Abu Dhabi: What You Need To Know
King of Mats Mega-Event in Abu Dhabi: What You Need To Know
26 former World Pro or Grand Slam champions have been invited to compete in three different weight categories for $200,000.
Apr 21, 2018
by FloGrappling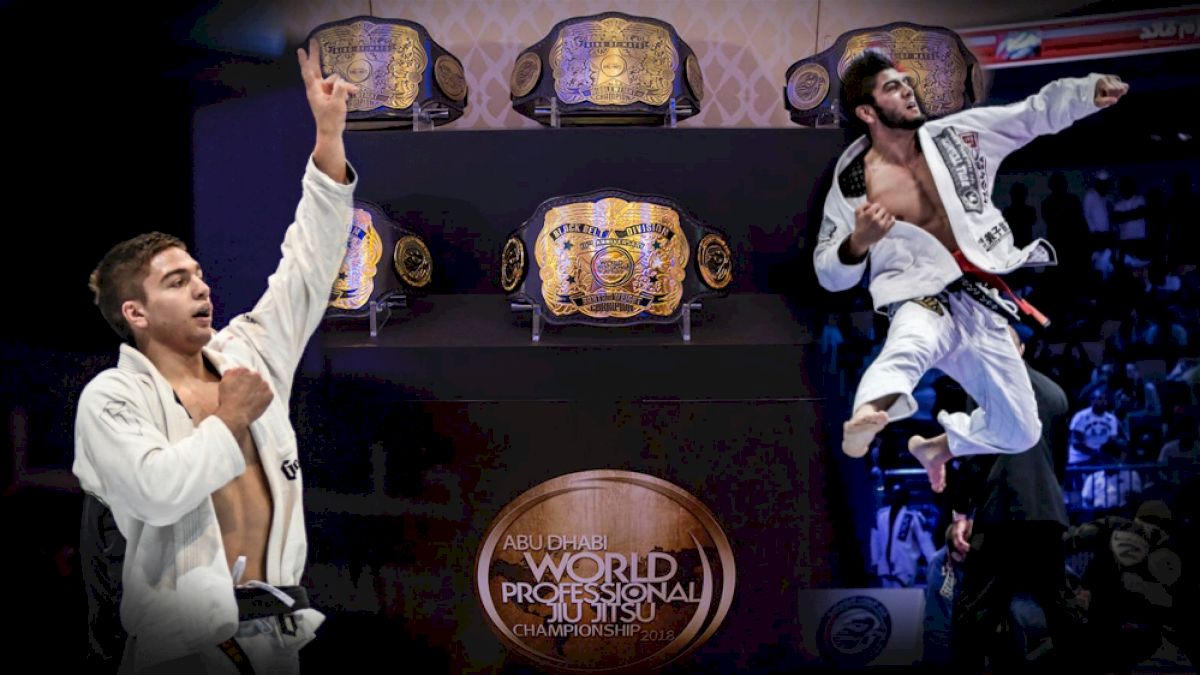 By Michael Sears
---
The 2018 UAEJJF World Professional Jiu-Jitsu Championship will host a special invitational event, the first Abu Dhabi King of Mats on Tuesday April 24 and there is a total of $200,000 in cash prizes on the line.
26 former World Pro or Grand Slam champions have been invited to compete in three different weight categories, but this is no-knockout, single-elimination tournament.
The divisions will be split up into two different round-robin groups, with the top two finishers from each group advancing to the single elimination semi-finals.
Lightweight (-69kg)
Group A: Samuel Canquerino (UAEJJ Team), Jose Lima (GFTeam), Isaque Paiva (Saikoo), Hiago George (Cicero Costha), Leonardo Saggioro (BTT)
Group B: Celso Vinicius (X Coach), Gianni Grippo (Alliance), Tiago Bravo (UAEJJ Team), Thiago Marques (Commando Group), Wanki Chae (John Frankl)
Five former World Pro and three Grand Slam champions make up the eight competitor bracket at 69kg. The furthest back any of the athletes won their event was 2012 when Samuel Canquerino won the World Pro. Grippo won the World Pro a year ago and busy as ever, he's in the 69kg World Pro bracket this year as well.
Celso Venicius typically competes heavier than this and is registered at 77kg for the World Pro later in the week, so with the day-before weigh-ins he should be the biggest athlete in the bracket.
Jose Lima is currently the third overall ranked black belt in this UAEJJF season, but as a 56kg competitor will be giving up a lot of weight. Hiago George was the 2016 World Pro champion and has won four Grand Slams. Leonardo Saggioro is coming off a second place finish at the 2017 Worlds.
Middleweight (-85kg)
Group A: Andre Galvao (Atos), Jaime Canuto (GFTeam), Charles Negromonte (Roger Gracie)
Group B: Roberto Satoshi (Bonsai), Renato Canuto (Zenith), Tarsis Humphreys (Alliance), Clark Gracie (Clark Gracie Jiu Jitsu)
Jiu-jitsu legend and three-time World Pro champion Andre Galvao should be the favorite to win the 85kg bracket, but the 6-minute matches and quicker stalling calls have always led to more upsets than usual at the World Pro. Galvao will be matched up with three former Grand Slam champions in Group A.
Tarsis Humphreys won the World Pro all the way back in 2008, but is still a very active competitor and should be the largest competitor in Group B.
Renato Canuto and Roberto Satoshi both did Worlds at 76kg, where Satoshi advanced to the final before having to forfeit with an injury. Omoplata master Clark Gracie hasn't been as active as he used to be, but is registered for both King of Mats and his weight for the World Pro.
Heavyweight (-110kg)
Group A: Tanner Rice (Soul Fighters), Alexander Trans (GF Team), Helton Jose Junior (Cicero Costha)
Group B: Lucio Rodrigues (Gracie Barra), Alexandre Souza (AS Team), Roberto Abreu (Fight Sports), Andre Campos (UAEJJ Team)
All eyes will be on legendary Roberto "Cyborg" Abreu in the 110kg bracket, and he should be a heavy favorite to win Group B and potentially the entire division. Cyborg's brawls at the 2017 gi and No-Gi Worlds were some of the most exciting matches of the year and he always puts on a show.
Four former World Pro champions are in the 110kg field, with Lucio "Lagarto" Rodrigues being the only multiple time champ with wins in 2010 and 2011. Danish black belt Alexander Trans was the 2015 World Pro runner-up and is one of the top European grapplers of all time.
Up-and-comer Helton Jose (Grand Slam winner) has been very active on the 2017-18 UAEJJF circuit and should certainly contend for this title.
Update: Tanner Rice has moved up to replace the vacant spot left by the missing Antonio Braga Neto