TV presenter, chef, food lover, and Brazilian jiu-jitsu practitioner Anthony Bourdain has passed away at the age of 61.
Noted as one of the most visible and passionate ambassadors for jiu-jitsu, Bourdain was found dead in a French hotel room as an apparent suicide.
A best-selling food, fiction and nonfiction author, Bourdain came to the jiu-jitsu game late in life but jumped onto the mat with a gusto and enthusiasm that outstripped men half his age.
Known as a heavy drug user in his younger years, Bourdain joked that jiu-jitsu became his new addiction. He would search out places to train across the world while traveling to film his TV series Parts Unknown, which aired for 11 seasons on CNN, an experience he eloquently wrote about.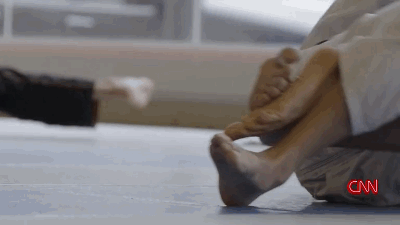 Bourdain loved jiu-jitsu so much that he dedicated half of an episode of his hit CNN series Parts Unknown, which reached up to half a million viewers per episode, to showcasing the grappling art.
A blue belt out of the Renzo Gracie Academy in Manhattan, he received the rank from his coach Igor Gracie. He reportedly trained seven days a week when not traveling.
During a visit to the San Francisco Bay Area to record the fourth episode of season six of the show, Bourdain visited the Ralph Gracie academy and trained with colorful personality Kurt Osiander, known for his ongoing 'Move of the Week' series on YouTube. Bourdain joined Osiander in demonstrating a technique.
Bourdain even tested the competition waters, competing at IBJJF events in New York.
Twice married, Bourdain leaves behind a daughter born in 2007.
RIP Anthony Bourdain 1956-2018.
Create a free account to unlock this video!
Get Started
Already a subscriber? Log In