Create a free account to unlock this article!
Get Started
Already a subscriber? Log In
10th Planet black belt and renowned no-gi grappling Geo Martinez has had to pull out of his upcoming match with AJ Agazarm.
The match was scheduled to go down on August 18 at the upcoming KASAI Pro 3.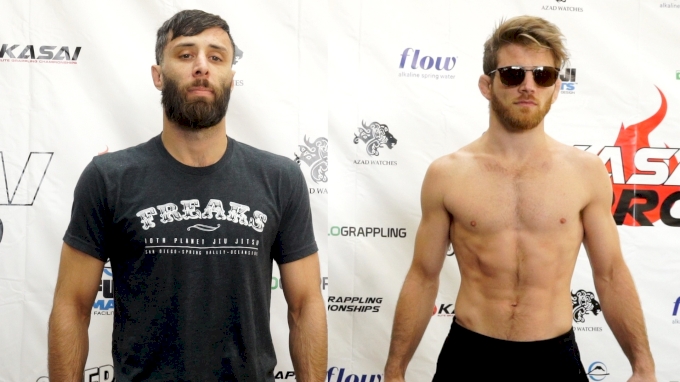 Due to an injury suffered in a no-gi event in Japan, Martinez has told KASAI organizers that he needs to postpone the match until further notice.
"I regret to announce that I won't be able to compete at KASAI Pro 3 against AJ due to a recent injury I acquired competing in Japan. Luckily my injury is not too bad, just a small fracture near my elbow, so I can heal quickly and be back 100% to bring everyone the fight you're looking for. At this moment, however, I need some time off the mats to fully recover.

"My coaches and I have made the decision to move the match to a future date, because as a regular competitor, I wouldn't want to go into any match with this kind of injury and misrepresent myself, as well as risk making the injury worse. I apologize to KASAI and to all the fans and haters that were anticipating this match, but I promise it's going down and we won't disappoint.

"Trust me, I want to smash AJ more than you guys want to watch me do it. This will just give AJ more time to run his mouth, so let him do it because his time is running out. None of his shit talking will matter once we step on the mats. Freaks don't sleep."

– Geo 'Freakahzoid' Martinez.
With KASAI Pro 3 only four weeks away this now leaves Agazarm without an opponent. Along with Craig Jones vs Rousimar Palhares and Gianni Grippo vs Jon Calestine, the match between Geo and AJ was one of the main card superfights.
Who do you think Agazarm should meet while Geo heals up from his elbow injury? Here are a few possible names that could go toe-to-toe with the infamous American and ensure an entertaining match for the fans.
[polldaddy]=10061962
'KASAI Pro 3' will also showcase a superfight between leg-lock savants Craig Jones and Rousimar Palhares, as well as an eight-man no-gi tournament at 170lbs (77.1kg) to crown the first-ever KASAI World Welterweight Champion. Among those already confirmed for title contention are KASAI World Lightweight Champion Renato Canuto, Marcin Held, Vagner Rocha, PJ Barch and KASAI Pro Qualifier winner, Matheus Lutes.
Tickets for 'KASAI Pro 3' are on sale via Ticketmaster. The event will also air live on FloGrappling. For all the latest information, visit www.kasaigrappling.com.