Create a free account to unlock this article!
Get Started
Already a subscriber? Log In
Fans were stunned when brown belt Johnatha Alves took out black belt World Champion Jamil Hill in July, but the level is far closer than most people realize.
The quarterfinals of the Spyder Invitational BJJ Championship in July saw Insung Jang outpointing ADCC silver medalist AJ Agazarm... Vinicius Ferreria defeating 2018 King of Mats champion Charles Negromonte... Victor Hugo submitting IBJJF 2018 World silver medalist Tommy Langaker with a triangle... and most shocking of all, Johnatha Alves edging out Jamil Hill, reigning 2018 featherweight black belt World champion.
Four incredibly talented and successful grapplers. All of them beaten by brown belts.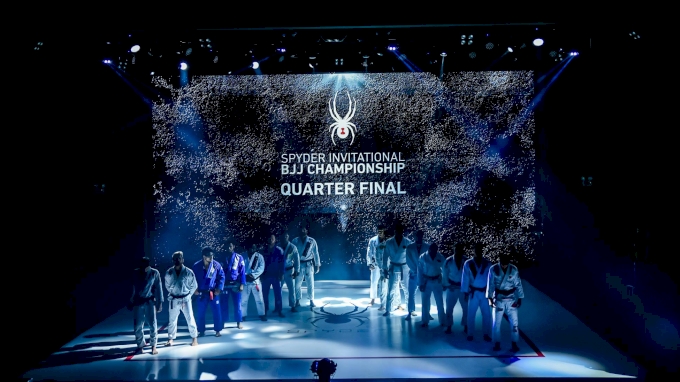 Held in Seoul, South Korea, Spyder does things a little differently. A pro show featuring talent from all over the planet, they invite purple, brown and black belts to compete on the same card over a series of events that acts as a year-long tournament.
Belts are symbolic of ability in jiu-jitsu, with black belts the ultimate goal for jiu-jitsu practitioners. A black belt is expected to be more skillful and experienced than any other colored belt, which is why in tournaments competitors are separated into divisions based on their belt color – it would be unfair to expect a purple belt to face off with a black belt, right?
Well, it's actually a lot more complicated than that.
As we saw at Spyder, a brown belt can beat a black belt– even a World champion. Outside of those who live and breathe jiu-jitsu at the highest levels of competition, few people truly understand what it takes to operate at the top of the game, even as a purple belt.
For full-time competitors, the jump between belts is a small one. The difference between a world class purple belt and a world class brown belt is small, and even smaller still between a world class brown and black belt.
And here's the kicker: a high-level competitor of any belt color– even a blue belt– will beat most hobbyists of any belt color, even a black belt.
Before you start getting apoplectic about this, I know what I'm talking about because I've seen it again and again. When I first went to film Leandro Lo train, I was blown away how he was going head to head with a purple belt and had his hands full like he was in a World Championship final. When I published that video on BJJ Hacks the one thing everybody would comment on was how this purple belt could give somebody like Lo such difficulty.
---
But I wasn't entirely surprised, because I've seen juvenile blue belt World champions of 16 years of age absolutely wreck average "club" black belts twice their age.
At Terere's gym in Rio, an admittedly small team, the best guy in the gym was always a teenage Jhonathan Marques. Even as a 14-year-old orange belt he was beating up grown men, so it was no surprised when he got offered to join the Art of Jiu-Jitsu "Believe and Achieve" program for talented youngsters.
AoJ's kids have gotten a huge amount of attention over the last year or so, and rightly so. The Mendes brothers' efforts in shaping teenagers into world-class competitors is evidently paying off, as their brown belt student Johnatha Alves was just able to beat 2018 featherweight World champ Jamil Hill.
Before people start the cries of "sand bagging" (we've been over this before: it's not a thing) remember this: Alves was promoted to brown belt less than two months ago, and took silver at Worlds as a purple belt in June. As good as he is– and he's really, really good– he wasn't even the best purple belt in the world this year. But he was still able to beat a black belt World champion. The level is that high.
It shouldn't be a surprise Alves could not only survive but actually go after and score against Hill-Taylor. Alves trains daily with Rafael and Gui Mendes, two of the best competitors of modern times, so a single match of seven minutes against a world-class black belt isn't such a tall order.
Not every brown belt could hang with a world champ which makes Alves' feat all the more incredible, but his achievement wasn't the only stunning result that night.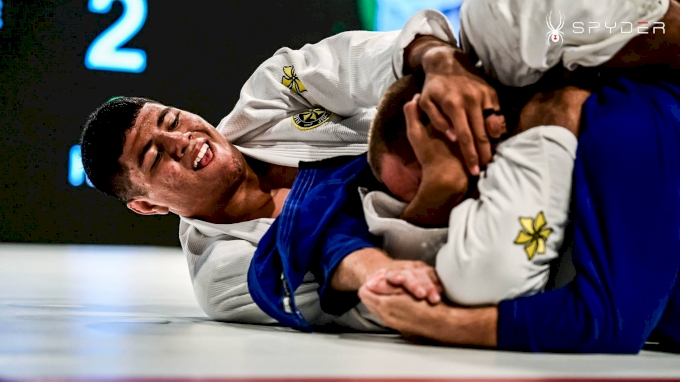 Victor Hugo locking on the match-ending triangle against Tommy Langaker
Victor Hugo, brown belt ultra-heavyweight champion, submitted Tommy Langaker with a triangle in a pretty one-sided match. Now it's important to state that Hugo outweighs Langaker, a middleweight, by about 30kg (+65lb), but still. Hugo went on the attack the whole time and managed to score a submission win over one of the sport's most talented and exciting young black belt stars. Weight difference aside, that's a big deal. A year ago Hugo was a purple belt.
Vinicius Ferreira, a brown belt heavyweight bronze medalist at the 2018 Worlds, beat the super-durable Charles Negromonte via decision. Ferreira's nickname is "Tractor", and with good reason; he's stocky, heavy on top and hard to score against. Negromonte won the Abu Dhabi King of Mats earlier this year by beating the likes of Andre Galvao and Jaime Canuto, but he shot himself in the foot by pulling closed guard and barely attacking for 90% of the match, practically giving Ferreira the decision.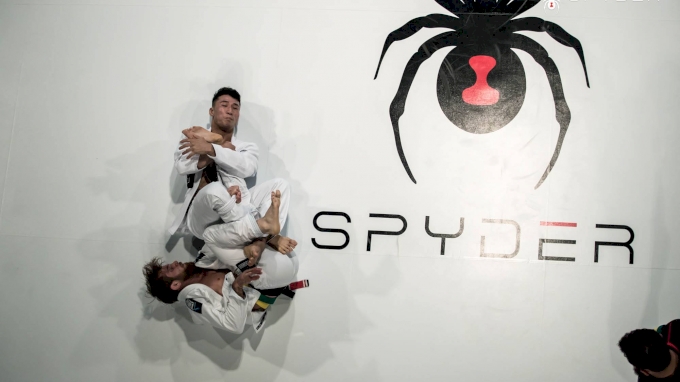 Insung Jang attacks AJ Agazarm
Finally Korean brown belt Insung Jang beat AJ Agazarm via advantage in a match where he effectively shut down the American's offense. Fighting in front of a vocal hometown crowd, Jang showed poise and patience in beating Agazarm, a decorated grappler with a resume that reads like a who's who of grappling. it should be noted that Jang made it to the finals of the 2017 Spyder Invitational and lost only to Jamil Hill on points, and a promotion should be in his near future.
Reyson Gracie, a 76-year-old red belt of jiu-jitsu and the third son of Gracie jiu-jitsu co-founder Carlos Gracie, once told me that jiu-jitsu has evolved so much that purple belts of today would easily beat the black belts of yesterday.
I agree with him: the advancements in training methodologies, access to information, development of new techniques and refinement of competition strategies has forged a generation of highly-capable athletes who operate at a level where the margins are smaller than ever.
Watch every match from the 2018 Spyder Invitational BJJ Championship Quarter Final