KASAI Pro 3
KASAI Pro 3 Recap & Results: Canuto on Fire, Palhares Stalls Against Jones
KASAI Pro 3 Recap & Results: Canuto on Fire, Palhares Stalls Against Jones
Rousimar Palhares spoiled the fun against Craig Jones at KASAI Pro 3. Thankfully, Renato Canuto and Vagner Rocha put on a show.
Aug 19, 2018
by Hywel Teague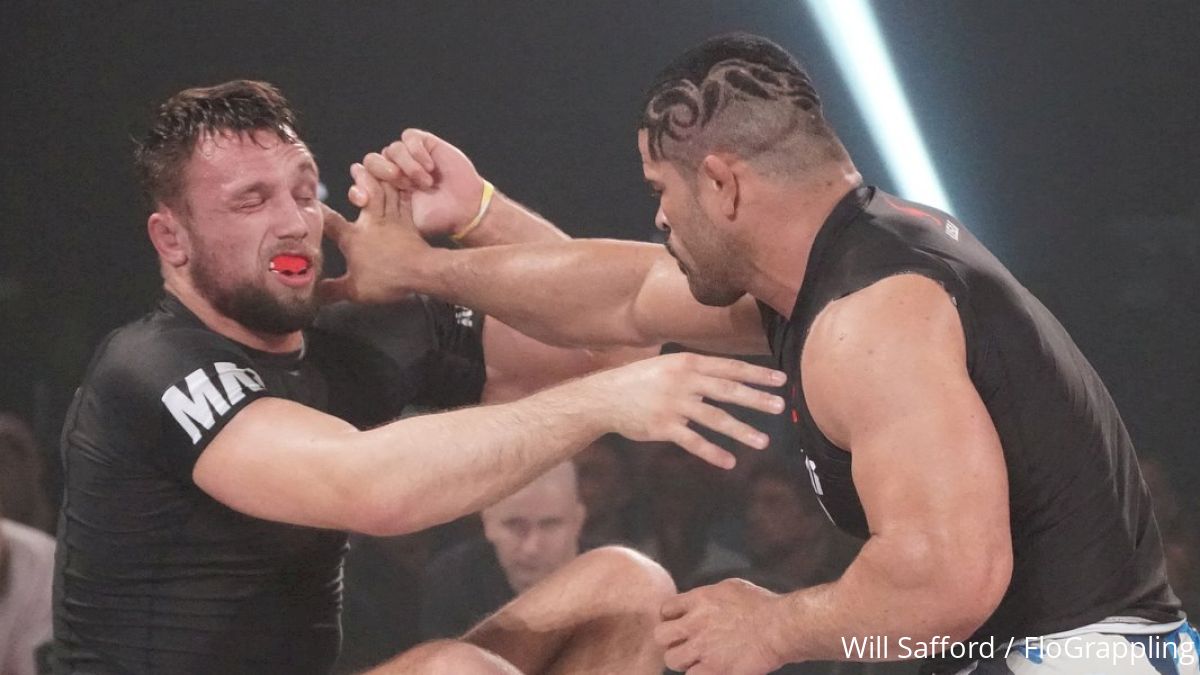 Rousimar Palhares spoiled one of the most anticipated matches of the year by doing almost nothing in an anticlimactic superfight against Craig Jones at KASAI Pro 3.
Thankfully the combined cast of 170lb Championship finalists Renato Canuto and Vagner Rocha, superfight contestants Gilbert Burns, AJ Agazarm, Jon Calestine, Gianni Grippo and the rest of the assembled talent stepped up to delivery a show full of action living up to KASAI's fire-themed name.
Palhares inactivity leaves fans unfulfilled
Back to the aforementioned superfight: Palhares was the boogeyman in this bout, a 218lb, 5'8" monster with a bad reputation of tearing limbs and injuring opponents. Maybe this infamy has finally had an effect, maybe it was Jones's own reputation as a limb destroyer, but this was the most subdued Palhares we've ever seen.
The Brazilian refused to get off his knees and sat in front of Jones for the full 15 minutes, playing a defensive posture that offered zero opportunity for the Aussie submission specialist to attack. The problem was, Palhares did nothing to advance position and offered nothing of note throughout the match. At one point, a voice in the crowd urged Palhares to get off his knees such was the level of inactivity during the match.
Jones took the win via penalty points accumulated against Palhares. It was the most undesired outcome possible. "I was focused on not dying," says Jones in his post-match interview. "It looked like the Brendan Schaub approach."
He's not wrong. Schaub became infamous in the grappling world for his awful stallfest vs Roberto Cyborg in 2013, so much so that "Schaubing" entered the grappling lexicon for somebody who runs away from a match. Maybe Palhares will no longer be associated with brutal leglocks, but instead with kneeling unmoving in front of an opponent.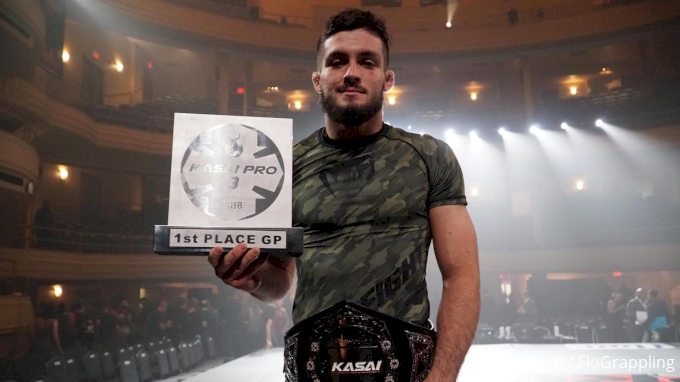 KASAI Pro 3 winner Renato Canuto
Canuto's star shines bright
Renato Canuto cemented his position as one of grappling's most entertaining competitors by becoming a two division champ at KASAI Pro. In December 2016 he won the 155lb strap, tonight he claimed the 170lb belt with a run that included wins over Vagner Rocha, Jason Rau, PJ Barch and a draw vs Victor Silverio.
Canuto's acrobatic style of grappling saw him use high amplitude takedowns, jumping submission attacks and even a guard pass attempt that came from a back flip. The 22-year-old Brazilian was somewhat fortunate in the final with Rocha, as it looked as if the Florida-based veteran would win on points. In the end the match was tied 1-1 and decided by a single penalty.
Canuto's star has always shone brightly and his results are matched by a crowd-pleasing style of jiu-jitsu that places him among the elite no-gi grapplers in the world.
Superfight results: Agazarm-Durinho, Calestine-Grippo
Of course there would be drama in the match between AJ Agazarm vs Gilbert Burns. That's what people tune in for right? However we maybe got a little bit more than we expected, and it began the day before the match at the weigh-ins.
Agazarm stepped on the scale in a suit at dead on 170lb. Burns weighed over 10lb heavier, which placed him far above the contracted weight of 170lb. Agazarm still took the match, and the size difference was visible. The bout saw plenty of wrestling exchanges and Burns won via decision, but the real action happened after the match was over.
Durinho used his post-match interview to urge Agazarm to take on Nicky Ryan in a grappling match, claiming the black belt is ducking the talented youngster. Agazarm responded with a blistering speech that targeted 10th Planet's Geo Martinez, Agazarm's original opponent who had withdrawn some weeks back with an injury.
Martinez jumped the stage as did Jon Calestine, who had used his earlier post-match interview to state, "I think AJ is a little bitch. I think I'd definitely submit him." Martinez was equally straight-forward with his words, and now everybody wants to see him tangle with Agazarm. Let's hope it happens on KASAI Pro 4.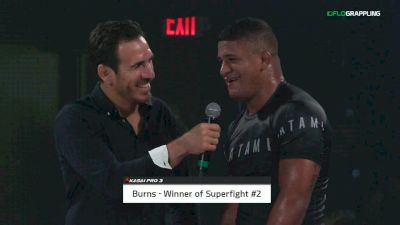 ---
Jon Calestine proved once again he's right up at the the top of the food chain when it comes to no-gi submission grappling, winning a unanimous decision over cross-town rival Gianni Grippo.
Calestine and Grippo went at it in a 15-minute non-stop scramble of leg attacks, with Calestine coming closest to finishing via a number of deep heel hook attempts. Grippo's passing flurries and near-back take attempts were equally impressive, but he lacked any opportunity to finish the match. Still, an impressive match from both men that showcased the skill of the up-and-coming Calestine in the face of a seasoned competitor in Grippo.
KASAI Pro 3 Quick Facts
Fastest submission: Vagner Rocha vs Marcin Held, wristlock in 20 seconds
Most points scored in a match: Renato Canuto vs Jason Rau, 11-0.
3 total submissions: 2 heel hooks, 1 wrist lock
Least successful performance: Marcin Held, lost three matches (2 via points, 1 via submission)
Click here for full results and match videos from KASAI Pro 3