America's new number one submission grappling event put on another great show for the New York crowd and the global grappling community, but it wasn't without incident.
From bodies flying off the mat to dodgy officiating to THAT lackluster superfight, here are some thoughts on what went down last night in Manhattan.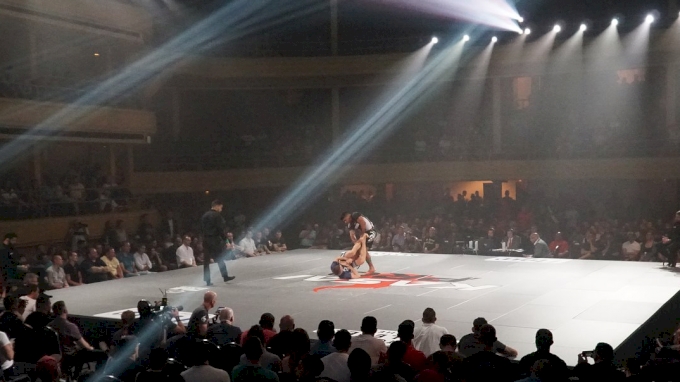 GOOD: World-Class Talent
First off, everybody talks about how KASAI Pro is an amazing event to go and see live. The energy of the surprisingly educated crowd is a factor, and many of them are there to see their favorite local competitors in action. New York and the entire North East is such a hotbed of grappling and combat sports its no challenge at all to bring together high caliber talent.
KASAI Pro went even further by inviting and showcasing local, regional, national and even international athletes on the show: American, Brazilian, Japanese, Australian and European competitors stacked the main card. Even the undercard featured more talent than many other wannabe "pro" events.
The mix of talent included jiu-jitsu black belt world champions, MMA fighters, high level brown belts, no-gi specialists and so on. From established names to up and comers, from local heroes to the biggest names in the game– KASAI Pro had something for everyone.
---
BAD: Bodies Everywhere
You'd think a 36 by 36-foot mat would be enough to contain even the most vigorous of action, but that wasn't the case. Tangled bodies fell off the stage and onto the floor (or sometimes, even on top of the spectators) more times than I could count.
The giant mat wasn't the problem. It definitely would have benefited from a clearly marked boundary area so referees could call a halt to the action before the competitors found themselves free falling through space. The referees should never have let them get so close to the edge in the first place, which leads into another criticism I'll touch on later.
---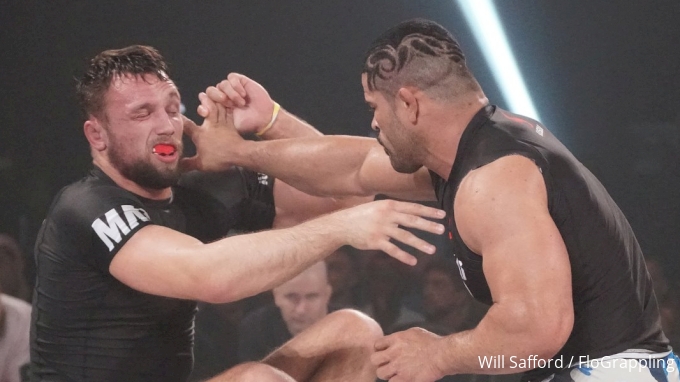 UGLY: Rousimar Palhares
Followers of the fight game stopped wondering what goes through the head of Palhares a long time ago, given his history of questionable actions throughout his career. That didn't stop people from asking what the hell was going on during what unfortunately became the most disappointing superfight of the year.
Over 15 minutes Palhares simply refused to engage with Jones, stubbornly sitting on his knees and shutting down any grips or entries that might have allowed Jones to attack. "OK, so he was being defensive," you might say. But this went beyond that. Blame could indeed be placed on the shoulders of Jones too, as he was unable to offer any solutions to the anti-grappling strategy of Palhares. But the Brazilian did nothing except make frames and push away Jones any time the Aussie came near.
It was massively disappointing and put a dampener on what was one of the most anticipated matches of the year. Jones did his best, but the Brazilian has a lot to answer for in ruining fans' hopes for an exciting match.
---
GOOD: Round Robin
I've said this before, but more events should use the round robin format. Round robin is when competitors are placed into groups and they all fight each other. This means we get to see competitors come back out and get a shot at redemption following earlier losses, which always makes for extra entertainment as they fight extra hard to prove themselves. Wins or losses don't mean as much as in a round robin as points are awarded based on methods of victory, meaning there is an extra motivation to go after the submission.
The ongoing story that unfolds during an event of who might make it into the final keeps viewers engaged and allows the athletes a chance to showcase their skills against a variety of opponents. More, please.
---
BAD: The Officiating
KASAI Pro uses straightforward set of rules that shouldn't really leave the referees in too much doubt, but unfortunately there were a number of times on Saturday night where dubious officiating left a stain on the otherwise entertaining action. A case in point would be the mystery penalty given to Vagner Rocha in the final which put Renato Canuto ahead, even though neither man was doing a great deal and both deserved harsher warnings against stalling.
** Update ** – we've been informed by the KASAI team that Rocha was penalized not for stalling but for an open palm strike to the face during the bout, as you can see here below.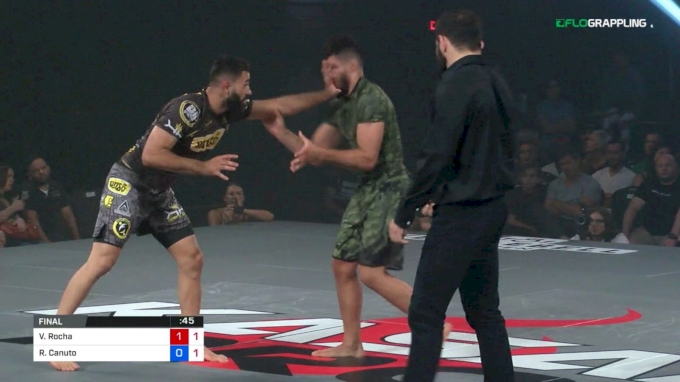 Earlier in the evening the match between PJ Barch and Renato Canuto drew loud disapproval from the crowd– and particularly Eddie Bravo in the corner of Barch– due to Canuto getting awarded points for a takedown that finished out of bounds, but Barch not being awarded points in a similar situation. Inconsistencies in their decision making meant Canuto could have been awarded another point in the last 20 seconds but was not. In the end the scoreboard read 1-0 Canuto, but could (and should, in this observer's opinion) have been 2-1.
It seems @eddiebravo didn't agree with this result at @KASAIGrappling pic.twitter.com/eZzNfLZw0U

— FloGrappling (@FloGrappling) August 20, 2018
Refereeing is a tough gig and every single sport has it's own controversies when it comes to the officials, but this is the third event in a row where there have been strange calls. The rules are pretty simple, is it just time for a new crew of refs?
---
UGLY: Durinho-Agazarm Post-Match Speeches
Actually this was pretty funny, but it seems a lot of people didn't appreciate what they called the "WWE antics" of Agazarm, Martinez and co in the minutes after Durinho and AJ went head to head. Durinho called for AJ's next match to be against Nicky Ryan, AJ called out Geo Martinez for running from him, Geo called AJ "fake as fuck" – it was heated, it was real– it definitely wasn't PG-language– and it sets up any number of matches at KASAI Pro 4.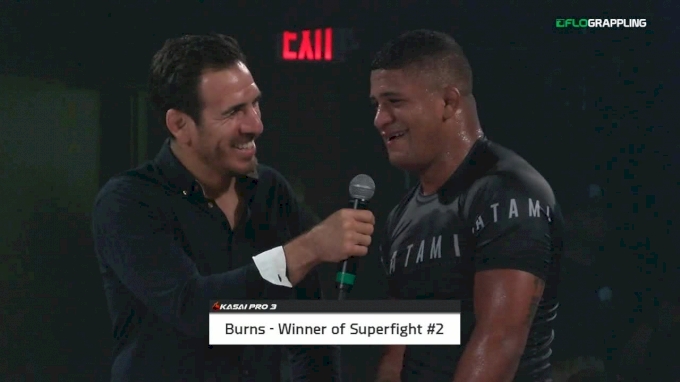 Let's not let the words spoken on the mic overshadow the fact it was a fun match. Agazarm was outweighed by over 10lb but still brought it to Burns, who is a black belt World champion and a UFC fighter and as tough as they come. The speeches may have been too much for some, but the grappling was just what fans hoped for.
Click here to watch all matches from KASAI Pro 3