King of Mats Los Angeles
King of Mats Los Angeles: Every Performance, Ranked
King of Mats Los Angeles: Every Performance, Ranked
Some were on fire, others looked like they belonged at home. Here I rank every performance from the recent Abu Dhabi King of Mats in Los Angeles.
Sep 24, 2018
by Hywel Teague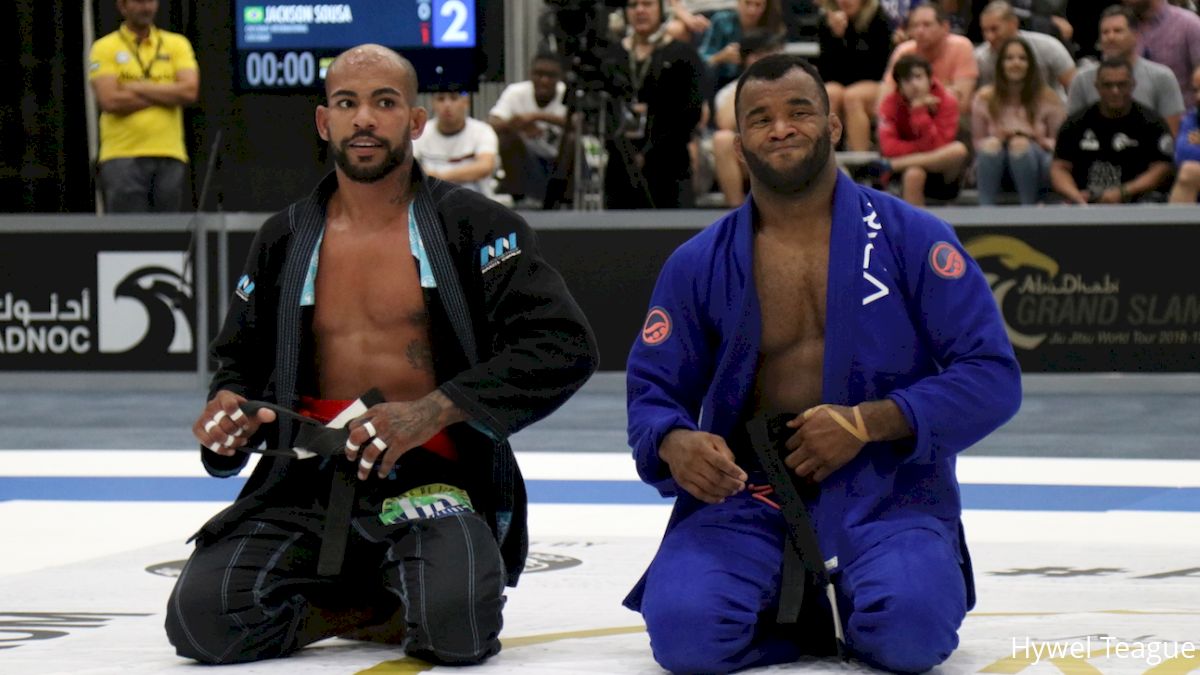 Some were on fire, others looked like they belonged at home. Here I rank every performance from the recent Abu Dhabi King of Mats in Los Angeles, an event which promised a lot but fell short of expectations.
First off, a word on the event. The idea was to bring together 10 world-class heavyweight black belts to see who would earn the right to challenge Alexander Trans for the title of champion. The event would run in the same fashion as what we saw in Abu Dhabi earlier this year, where lightweight, middleweight and heavyweight champs were crowned in a spectacular show that took place during the annual World Pro.
Hosted the following day in the same venue as the Abu Dhabi Grand Slam Los Angeles, King of Mats was promoted as a high-level pro tournament and it certainly lived up to that. The assembled competitors were all past World Pro champions, Grand Slam champions or nationally-ranked athletes.
The matches were held under standard UAEJJF rules: 6-minute matches, a 10-second stalling clock, three referees for all bouts and even TV replays for controversial calls.
Here's how the competitors ranked after the King of Mats Los Angeles.
10. Alexandro Ceconi
4 matches | 0 wins | 4 losses | 2 via submission
Four matches, four losses. In last place is Alexandro Ceconi, who was submitted in two of his four matches. World Pro champ in 2010, it seems his time has passed him by and he was unable to keep up with the young generation. Tapped by Rudson Mateus and Erberth Santos, Ceconi just looked out of his depth.
9. Tanner Rice
4 matches | 0 wins | 4 losses | 1 via submission
Rice was also unable to score a win in his four matches, being submitted by Ricardo Evangelista but losing his other matches in closer points battles. Rice dropped matches to smaller competitors Adam Wardzinski and Gabriel Arges by 2-0 and 4-0 respectively, but went to the wire with Gutemberg Pereira in a 2-2 match that was won via Pereira's two advantages.
8. Gerard Labinski
3 matches | 1 win | 2 losses | 1 withdrawal
Polish black belt Labinski finished last but one in his group, earning a sole win in his four matches (a points victory over Ceconi). We expected more from the young black belt out of Leandro Lo's NS Brotherhood. Maybe he's not quite ready for the high level competition of this kind of event just yet.
7. Gabriel Arges
4 matches | 1 win | 3 losses
In was a valiant effort from the undersized Gracie Barra black belt, who was by far the smallest competitor of the day. The middleweight found himself up against mountainous opponents such as Ricardo Evangelista and Gutemberg Pereira. Arges fought to the end in every match losing only via points, and proved technique can conquer size by beating 220lb Tanner Rice 4-0.
6. Rudson Mateus
3 matches | 1 win via submission | 1 loss via submission
It was a rough start for Rudson, who had his foot wrenched by Erberth Santos in his opening match and had to enter every following contest with his ankles heavily strapped up. He rebounded with an interesting armlock over Ceconi and a points win over Labinski but lost to silver medalist Jackson Sousa 2-0. Not bad considering how swollen his foot was throughout.
5. Adam Wardzinski
4 matches | 1 loss via points
Checkmat's Adam Wardzinksi won three of his four matches and came close to making into the semifinals. He had a win over Gutemberg Pereira, who managed to take second place in Group A ahead of him due to the scoring criteria. He had a tough run but showed good composure throughout, losing only to Evangelista in a narrow 0-0, 2-0 adv match.
4. Gutemberg Pereira
4 matches | 1 loss via points
GF Team sent two reps into the 10-man tournament, and two made it into the final four athletes. Pereira should have gone through into the semifinal, but he suffered an injury to his hip that left him unable to continue. Pereira's only loss in the group stage came to Wardzinski via a single sweep, one of the moments that contributed to the Brazilian's injured hip.
3. Ricardo Evangelista
5 matches | 1 win via submission | 2 losses via points
The biggest man in the field, veteran Evangelista methodically worked his way through Group A by Gabriel Arges and Adam Wardzinski by points and submitting Tanner Rice with a toe hold. A 2-0 loss to Jackson Sousa in the semifinal meant he took third overall, both in our ranking and on the podium.
2. Jackson Sousa
6 matches | 2 losses via points
Born in Brazil but based in Britain for the last few years, Jackson Sousa had the best performance against Erberth in the opening rounds, losing only by advantage whereas every other person was decisively beaten by the champion. Sousa stood toe-to-toe with Santos and went otherwise unbeaten. A strong showing from the Checkmat black belt.
1. Erberth Santos
5 matches | 2 wins via submission
We often ask if Erberth is "back", and his performance at this event certainly gives us hope that's the case. The statistics alone paint an interesting picture: five matches in total, zero losses, two matches won by submission and only two points conceded. It was a solid performance from the big Brazilian who walked away King in Los Angeles and will challenge Alexander Trans for the heavyweight title in 2019.
Watch all the match videos from King of Mats Los Angeles here.