Create a free account to unlock this article!
Get Started
Already a subscriber? Log In
Jiu-jitsu ace and aspiring MMA fighter Dillon Danis was seen tussling with UFC Khabib Nurmagomedov in a post-fight melee at UFC 229.
Shortly after submitting Conor McGregor via rear naked choke in the fourth round, Khabib was seen gesturing to people outside the Octagon. The Russian threw his mouthpiece at the unseen antagonists before jumping over the fence and brawling with a number of people.
Seen grappling and throwing punches at the UFC lightweight champion was Dillon Danis, the New York-based jiu-jitsu black belt brought in to work with Conor McGregor since 2016.
Dillon Danis escorted out by police after a wild post-fight brawl. #UFC229 pic.twitter.com/1tNamWaJ6q

— Shaheen Al-Shatti (@shaunalshatti) October 7, 2018
Speaking to Dana White, post-fight. pic.twitter.com/Vv2wrrtfn9

— Brett Okamoto (@bokamotoESPN) October 7, 2018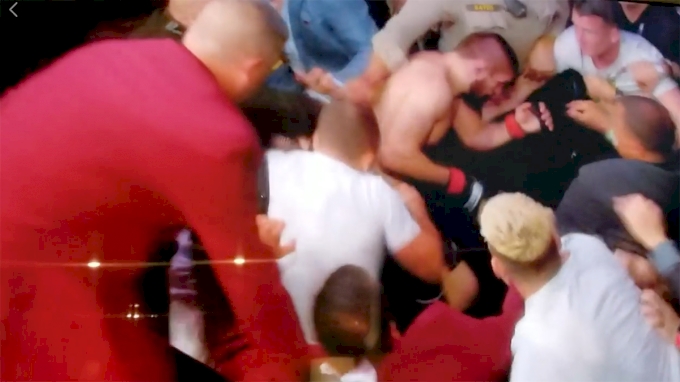 Dillon Dannis's Fight with Khabib was significantly closer than Mcgregors

— DJ JAckson (@Kimura_Kid) October 7, 2018
Correction Khabib is now 27-1 Congrats to Dillon on his UFC Debut

— DJ JAckson (@Kimura_Kid) October 7, 2018
Conor needs to fire his bjj coach, that was embarrassing

— AJ Agazarm (@TheFloridaBoy) October 7, 2018