The inimitable Tom DeBlass returns to the Fight 2 Win stage for the fourth time this weekend to face the very game opponent and recent No-Gi Pan champion Aaron "Tex" Johnson.
DeBlass has to juggle many hats between being a full-time coach, mentor, father, athlete, and so on – and it's amazing to see how he maintains an elite level of performance. Find out how he does it and what's coming next over the next six questions.
You've been traveling quite a bit recently teaching seminars – what motivates you to keep such a rigorous schedule in the face of such a high-profile event?
It's great when I travel to seminars because I train with people that I know nothing about. And they all try to kill me (laughs), so I'm forced to adapt to games that I'm not used to. It's easy for me to find time for training because I'm always teaching jiu-jitsu. I'm always sharpening my skills.
Let's talk Tex Johnson. Is it true that you actually requested this match? What stands out about the Unity athlete?
Tex is great. We both wanted this match for some time and it finally worked out. I love the way he hunts for the submission; he has strong leglocks and I don't see too many weaknesses. I'm excited to compete against someone who is constantly improving – he's a great example of someone constantly pushing themselves to get better. Everyone has told me that he's exceptionally strong, but I've never felt anyone in competition in before that has felt "strong" to me, so I'm excited to see what people are talking about.
It's your fourth event at Fight 2 Win. What is it about this promotion that keeps you coming back?
F2W is awesome. I love the people: Seth, Missy, and the whole production squad are just amazing. It's just like they say, "The biggest party in grappling," and it's a great way to give grapplers a place to showcase their jiu-jitsu. It's an amazing event to watch, even for people who don't understand jiu-jitsu; it's entertaining for all.
Watch Tom DeBlass vs Lou Armenzanni - F2W 72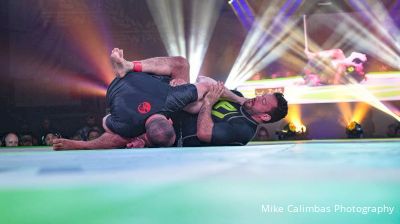 Create a free account to unlock this video!
Get Started
Already a subscriber? Log In
---
You've become a leading figure for the "intermittent fasting" diet — and this match is at 220lbs, which I believe is a fairly slim size for you? Without giving too much away, what changes in your diet have you made to assist with the cut?
Not only do I stop eating at 10 PM and start eating at 12 PM, but I also eliminate a lot of starchy carbs. I don't eat bread; I don't eat pasta. I do eat some carbs, but they are typically limited to high-fiber carbohydrates like berries and bananas; also, I always eat foods high in fat content with carbs, like nuts with berries, because the high-fat content slows down the insulin spike and the digestion.
The East Coast ADCC trials on our doorstep, an event you're organizing for the fourth time. We're pumped to see the next evolution in submission grappling —Do you have any predictions for the event? Will we see you compete in an attempt to win your fourth ADCC trials title?
There are some studs signed up already – Tim Spriggs, Jon Calestine, some of my own guys – there's a lot of athletes I'm excited to see. I think this is going to be the biggest trials yet; there are well over 100 athletes signed up already and the level is really high. The ADCC trials are the toughest no-gi event in North America, and we're going to see new stars born and veterans cementing their reputation. I won't be competing at trials this time around, but you will likely find me at future ADCC events.
Sign up for the EAST Coast ADCC Trials here
What's your plan for the rest of the year? Any big upcoming news?
I plan to beat Tex, run ADDC trials, travel to Singapore with Garry [Tonon] for ONE Championship, then I'm going to Norway, Costa Rica, Boston for seminars, and in early 2019 I'm very excited to announce that I'll be in Miami with Cyborg for a three-day supercamp.
Author's note: Reid and I attended a similar seminar with Cyborg, Tom DeBlass, and Renzo Gracie . . . you don't want to miss this. See the vlog below.