2018 ADCC North American Trials
ADCC East Coast Trials Sees Plenty of Upsets, And Where Was Nicky Ryan?
ADCC East Coast Trials Sees Plenty of Upsets, And Where Was Nicky Ryan?
The 1st ADCC North American Trials (East Coast) were what ADCC officials called "the best Trials we have seen yet".
Nov 4, 2018
by Hywel Teague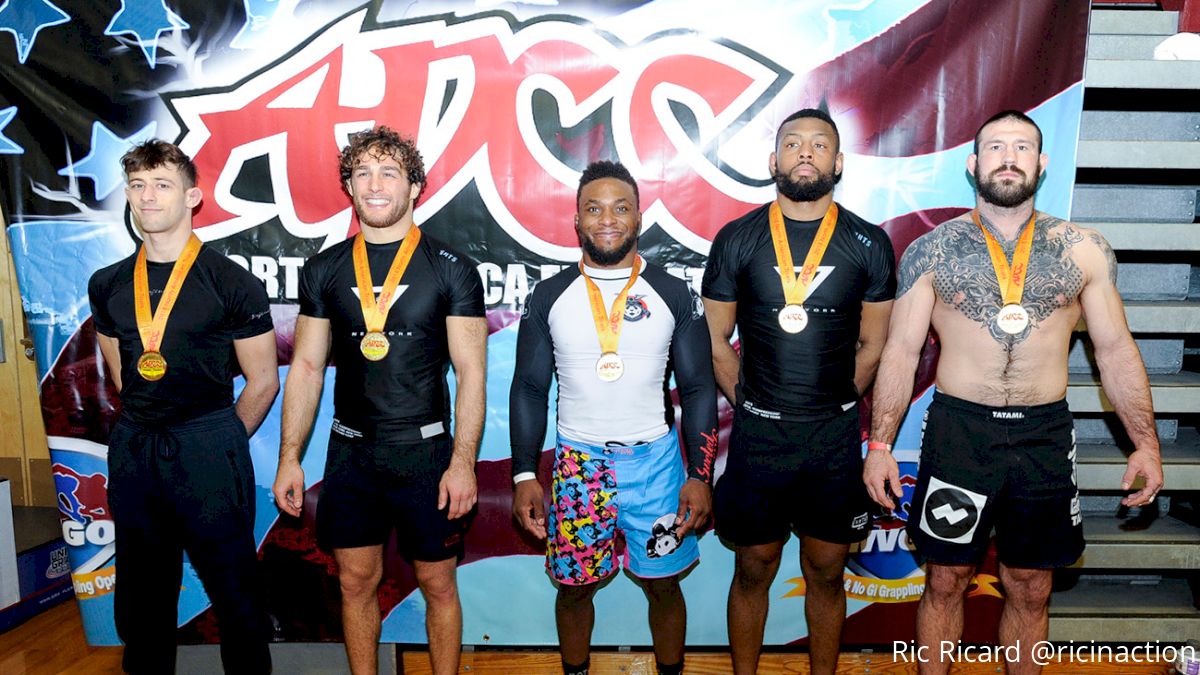 The 1st ADCC North American Trials (East Coast) drew some serious talent to New Jersey, with hundreds of competitors at what ADCC officials called "the best Trials we have seen yet".
Reid and I gave our predictions earlier this week, highlighting the favorites, the dark horses and the wild cards in each division. When it came down to it our picks mostly came through, and when they didn't it was one of our indicated "disruptors" who took them out.
Not only did Trials confirm who would travel to the 2019 ADCC World Championships in Los Angeles next September, but they also allowed us a good look at some of the lesser-seen no-gi talents, and even a glimpse of the future as up-and-comers got to show their skills in a ruleset we only see come around every couple of years.
Let's take a look at how the divisions played out.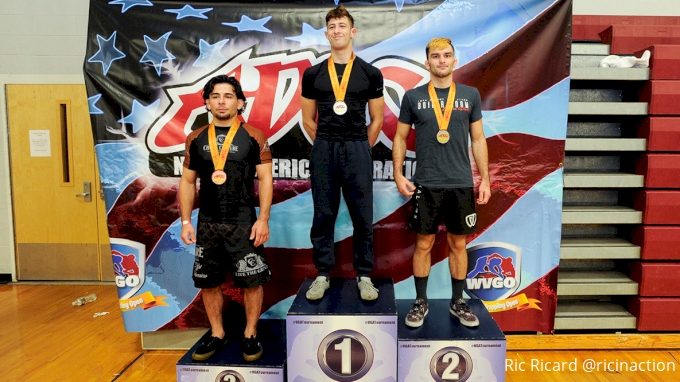 66kg
Champion: Ethan Crelinsten
Runner-up: Keith Krikorian
Third place: Sal Guerreiro
Standout competitor: Tye Ruotolo
Best submission: Marvin Castelle's Dead Orchard
There were a handful of frontrunners for the super stacked 66kg division, and Ethan Crelinsten was among the top three contenders for the top spot. The Tri-Star / Renzo Gracie team member tore through the division with four submissions and one points win (over 10th Planet's Krikorian in the final).
Jon Calestine, one of the division's favorites, came up short against the wrestler Sal Guerreiro of American Top Team in the quarterfinal. Calestine was unable to consolidate position on any of his leglock entries and it was Guerreiro's workrate in overtime that most likely got him the decision. Once again ADCC rules change the status quo and offer strong wrestlers a chance at victory.
Among the standouts in the super-stacked 66kg division was Tye Ruotolo, the 15-year-old from Atos who fought his way through to the semifinal against overall winner Crelinsten. Ruotolo won three matches before succumbing to a nasty heel hook (*correction, kneebar*) that appeared to injure his knee. Ruotolo was helped off the mat by Crelinsten's teammate Gordon Ryan, unable to bear weight on the injured leg.
So, the answer to "What happened to Nicky Ryan?" appears to be a little more complicated than we first thought. He was signed up but his name didn't make it into the brackets and we were told that he had staph. at the venue however, there were conflicting stories about what prevented him from competing; an inured knee, an injured ankle– we're still not sure. He was sat at mat side though to watch and coach his teammates. Let's see if he comes back for West Coast Trials in February.
Watch final: Ethan Crelinsten vs Keith Krikorian
---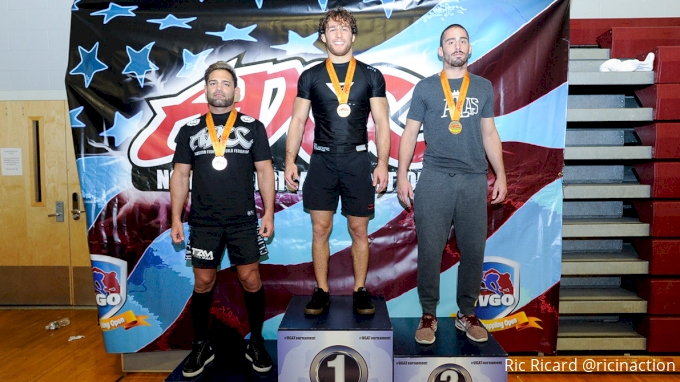 77kg
Champion: Jon Satava
Runner-up: Jason Rau
Third place: Dustin Akbari
Best submission: Dustin Akbari's "Persian prybar"
It was a battle of New York in the 77kg final with two grapplers who train just four blocks from each other in Manhattan. Jon Satava of Marcelo Garcia edged Jason Rau of Renzo Gracie by two points to win gold after four matches (it should have been five but Satava's opponent William Thackett forfeited the semifinal match). Rau had submitted all of his opponents in the run-up to the final but ran into the brick wall that is Satava, the only competitor to take Rau past four minutes.
Dustin Akbari fought his way through to the semifinals and showed some nice submissions in the process. Akbari put Caleb McAllister to sleep with a reverse triangle and then tapped Jason Olcott with an unnamed submission I hereby christen the Persian Prybar. Check it out.
Some notes: PJ Barch won against Thackett and was on track to the semifinals but injured his knee in the quarterfinal and so could not continue. Word is the injury may well be serious enough to take him out of KASAI Pro 4 on Nov 10. More news on this as we get it.
Watch final: Jonathan Satava vs Jason Rau
---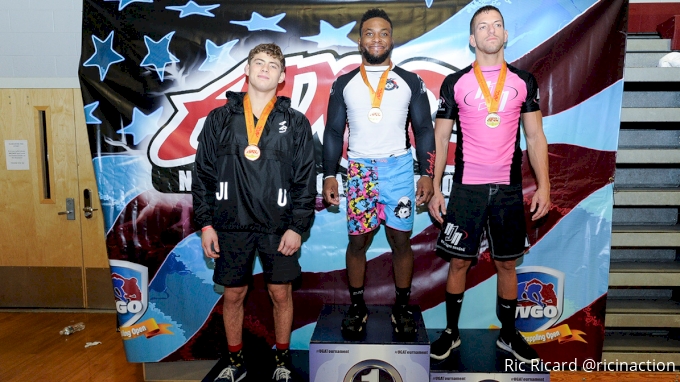 88kg
Champion: Alec Baulding
Runner-up: Dan Martinez
Third place: Roberto Jimenez
Best submission: Hunter Colvin's armbar
Alec Baulding is one of those criminally-underrated athletes who flies under the radar. A humble black belt from Alliance in Georgia, Baulding has performed well in local-level IBJJF tournaments but this is the first time we've seen him under these rules. The stocky grappler had two wins via points, one submission and one ref's decision, taking out Kyle Boehm of 10th Planet, Ryan Quinn of Renzo Gracie and Roberto Jimenez before out-scoring Martinez in the final.
The aforementioned Roberto Jimenez fought into third place, proving he's capable of competing under pretty much any ruleset. From IBJJF gi and no-gi to ADCC and even submission-only, the brown belt is only 18 years old and his potential seems limitless.
Watch final: Alec Baulding vs Dan Martinez
---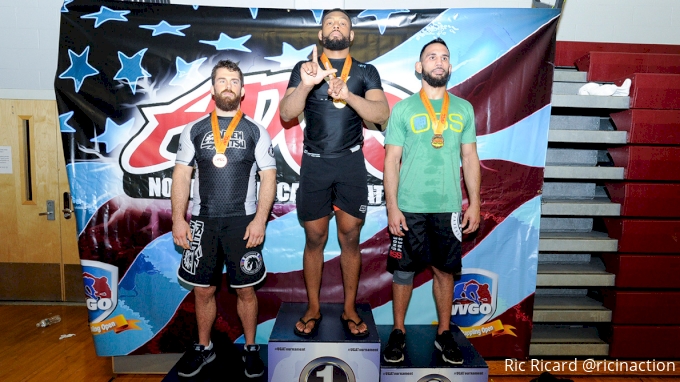 99kg
Champion: Tim Spriggs
Runner-up: Mario Gonzalez
Third place: Nicholas Albin
Best submission: Calvin Tacey's triangle armbar from the back
Tim Spriggs made it no secret he was eyeing gold at the ADCC Trials and he went into this event looking, as he once described, "supremely confident". There were less big names in the -99kg, but none the less capable. Mario Gonzalez, who Spriggs faced in the final, is a former wrestler at the University of Illinois and now training under Comprido. Last time we checked though, he was "just" a blue belt! Spriggs won by points in all but one of his matches, putting a minimum of three points on every opponent and only getting scored on once the entire run a 2 point reversal in his second match).
Nicholas Albin may have gotten caught by Spriggs in a quick guillotine, but the Kentuckian impressed us with his versatile game. He score three subs in five matches for third place, with all three subs in just over four minutes combined.
Watch final: Tim Spriggs vs Mario Gonzalez
---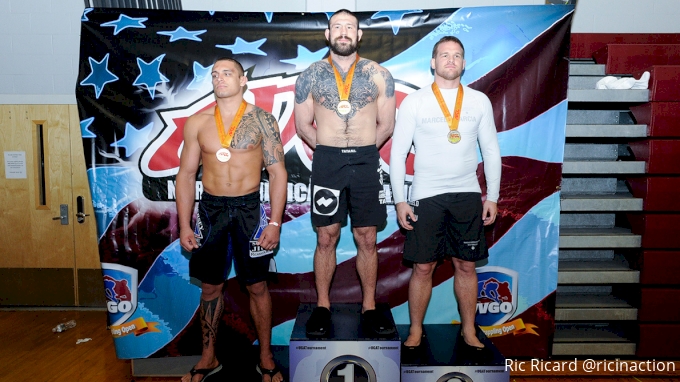 +99kg
Champion: Aaron "Tex" Johnson
Runner-up: Hudson Taylor
Third place: Nick Rodriguez
Best submission: Tex Johnson's kneebar
Johnson's win has to be one of the quickest ADCC Trials victories in history. In four total matches, the Unity bruiser spent only 2 minutes and 48 seconds on the mat. Incredible. Two of Tex's subs came via leglock, and two via triangle. Like a buzzsaw through the division, Johnson continues to impress us with his developing game.
Word is that third place finisher Nick Rodriguez has only been training for 6 months! If so, the model-cum-grappler shows excellent promise. Look out for this guy.
Watch final: Aaron Tex Johnson vs Hudson Taylor
Click here to see all matches from the 2018 ADCC 1st North American Trials. Interactive brackets with links to match videos can be found here.