Fight 2 Win 95
Lovato Jr vs Hinger Lives Up To The Hype!
Lovato Jr vs Hinger Lives Up To The Hype!
If there was any question as to what American city is leading the charge in jiu-jitsu competition, San Diego answered them all on Saturday night.
Dec 2, 2018
by Reid Connell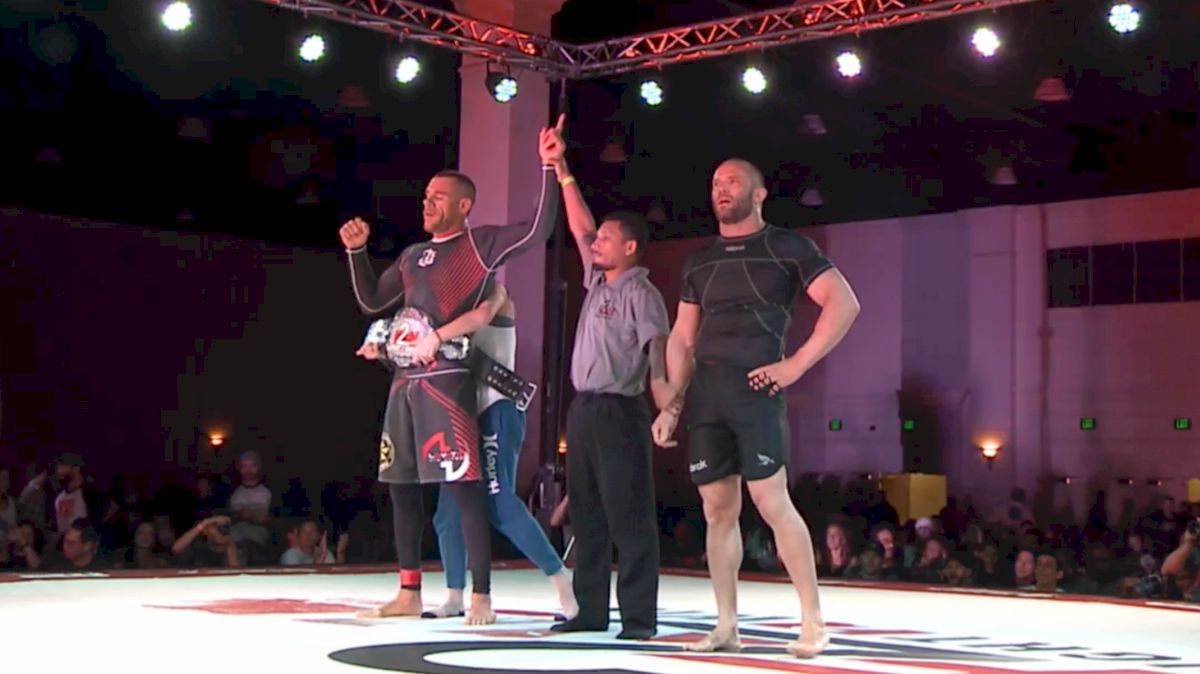 If there was any question as to what American city is leading the charge in jiu-jitsu competition, San Diego answered them all on Saturday night.
Fight 2 Win 95 delivered one of the most exciting cards of the year with a killer main event featuring two of the best in the world, highlight reel finishes and a collection of the World's top colored belts.
The main event of the evening was billed as a battle between two of the best American grapplers to ever do it. San Diego's own Josh Hinger took on MMA's newest star Rafael Lovato Jr in a battle for the ages.
When the bell rung both guys came out very aggressive and looked to wrestle but it was Hinger who struck first with a duck under that lead to a takedown.
Once on the mat Lovato worked his signature closed guard with repeated kimura attempts until he was able to sweep Josh and start implementing his passing.
Hinger threatened a gogoplata early but eventually the knee cut of Rafael Lovato Jr was too sharp and repeatedly cut through the guard of Hinger. The matched ended with Lovato Jr in mount capping off a dominant performance.
Although Lovato Jr is focused on MMA, his Bellator title fight goes down January 26th, he proved that he is still among the very elite when it comes to grappling competition. He took home a unanimous decision victory and retained his Fight 2 Win Light Heavyweight belt.
Fight of the night has to go to the lone female black belt title fight on the card, Jena Bishop and Amanda Alequin traded submissions back and forth right until the final bell.
The match could have gone either way as both girls racked up double digit submission attempts. Jena had a few nasty estima and straight ankle locks but it was the heel hook attacks and a close calf slicer that edged the judges in Amanda's favor.
With the win Amanda Alequin becomes the no-gi bantamweight champion.
Baret Yoshida becomes Fight 2 Win's most winningest black belt. A veteran of ten Fight 2 Win events and racking up seven wins to his name, Baret continues to put on a show all over the country and tonight was no different. Baret tied up his opponent and inch by inch was able to secure a fight ending knee bar. Much to the delight of the hometown crowd.
Alliance black belt Tarsis Humphreys also gave a particularly exciting match late in the night against Kuhio Tabancura. The two battled on the feet but Tarsis stayed persistent in working for the pass and eventually the choke from the back.
On the undercard portion of the night two San Diego up and comers continued to shine bright.
10th Planet's Keith Krikorian who has a stellar year notched another win on his nearly perfect record, improving to 74-1 in front of his home crowd.
Although Krikorian didn't get the submission he did take out a 2018 purple belt world champion in Matias Luna who is one of CheckMat's most promising colored belts. Krikorian mainly played from his seated guard position attacking Luna as he wadded into his guard.
Ultimately Keith snatch on a leg more than once and threatened Luna with enough heel hooks to earn him the win. A solid victory for 10th Planet's fastest rising star.
Atos' Adam Bradley turned in another dominant performance on the Fight 2 Win stage. After taking a tough loss to Roberto Jimenez at the ADCC East Coast trials Bradley bounced back with a submission victory.
Bradley is known more to the jiu-jitsu community as an IBJJF medal chaser, having placed at many of the major tournaments including Worlds and Pans. Bradley showed off perhaps a new fold in his game and won the match via a particularly brutal looking heelhook.