Create a free account to unlock this article!
Get Started
Already a subscriber? Log In
The 1st ADCC Asia & Oceania Trials were cancelled because of a lack of competitors, even though athletes had flown in from Japan and Australia. There is a happy ending to the story though, as one man earned himself a trip to the ADCC World Championships thanks to a standout performance of six submissions in six matches.
The Trials were held in Almaty, Kazakhstan, and not for the first time. While it may seem like a far flung-location, Kazakhstan is a relatively prosperous nation in Central Asia and has a burgeoning iiu-jitsu scene. The ADCC Trials were held there in 2016, and it's where breakout star Craig Jones earned his spot at the 2017 ADCC World Championships.
But the turnout for the Trials– compounded by factors such as the timing of the event, the remoteness of the location and high travel costs to get there– was far lower than expected, causing organizers to cancel the event with just a week's notice,
For Ben Hodgkinson and his Absolute MMA teammates Lachlan Giles, Mikael Yahya, James Walters and Jeremy Skinner from Melbourne, Australia, one week's notice was still too late. They learned of the cancellation as they were at the airport to start the 24-hour journey.
The message was posted on the ADCC website and was clear: "ADCC Trials format must have a minimum of at least 16 fighters per bracket in order the Qualifier to go as planned." The numbers were nowhere near what was required. There were only 15 signed up at -66kg and -88kg, 11 at -77kg, eight at -99kg and only six at +99kg.
A total of 55 competitors across all weight classes. Compare that with the 255 who signed up for the North American (East Coast) Trials in November, or the 193 who registered for the European Trials in Romania in October.
Lachlan Giles is a two-time ADCC veteran who had earned his spot via past trials events, and had competed in Almaty before. He was no stranger to having to travel long distances to compete, but the news that the Trials would not go ahead was a crushing blow.
"To me ADCC is the best tournament in jiu-jitsu. We have year-round dedicated training specifically for this event," said Giles."It's expensive to get anywhere from Australia and we have all taken time off work, and agreed to sit on a plane for over 24 hours to have a chance to compete in this event." To complicate matters, they couldn't just cancel their trip as they planned to travel on to California for the IBJJF World No-Gi Jiu-Jitsu Championships the following weekend.
"We were disappointed, this is the biggest event we train for, ADCC is such a big event," says Hodgkinson. "We had guys that were poised in every division to get that ticket. We were all preparing really hard for it. We felt kind of robbed. When they took away the tickets, they robbed Australia the chance of having five guys at ADCC, potentially. We were all really upset to not have that opportunity."
The Absolute MMA crew weren't the only ones flying in for the tournament. There were a further five guys from Australia. Masahiro Iwasaki of Japan made the trip, as did two other Japanese competitors. The list of entrants shows athletes from countries including Iran, Jordan, and Kyrgyzstan.
Internally, the international team of ADCC Trials organizers were disappointed with the turnout and sought a solution. They urged the local promoters to continue with the event. Upon arrival in Almaty, Hodgkinson and co tried to find out what was happening. "It still hadn't been communicated what was happening with the ticket. We were told there may be three tickets, then we were told weren't any tickets, but there may be an invitation."
The resolution was not that you'd expect from a standard ADCC Trials event, but offered some consolation. They would offer one standout grappler an invite to the 2019 ADCC World Championships, along with a cash prize of $1,000. That was all the motivation Hodgkinson needed. "We were all under the impression that the invite was given out based on performance, so I was really trying to impress."
With six submissions in six matches, Ben Hodgkinson tore through both the -88kg and the absolute division to take gold, receive the invite and pocket a grand in cash. Not a bad haul for what had appeared to be a wasted trip to Kazakhstan.
"It may even be the best I've felt in a competition. A big part of that was that I wasn't just trying to win, I was trying to absolutely smoke everyone."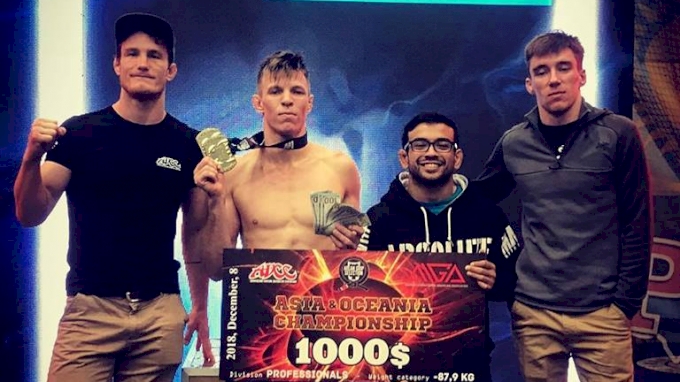 "I'm so happy about this," said Giles. "Ben is easily one of the best grapplers in Australia, and up until now he hadn't had his major breakthrough."
From what looked like a washout to winning $1,000 and a ticket to the biggest no-gi grappling event on the planet, Hodgkinson turned his fortune around.
"It was a good day for me," says Ben. "It was a frustrating confusing and emotional event. In retrospect I'm really glad for all of the things that made it harder because I feel like I earned it, I really deserve that spot in ADCC, and I know I'm going to really represent my country well."
Check out more ADCC coverage:
The List Of Every Grappler Qualified For ADCC 2019 World Championship
Recent ADCC events on FloGrappling: