Here are six new faces in the black belt divisions who impressed us by claiming their first World No-Gi gold medals.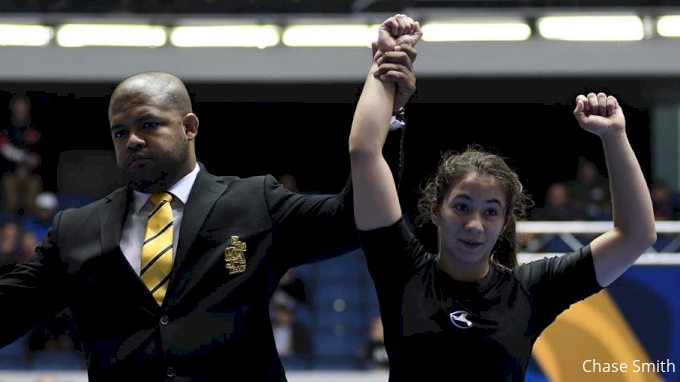 Mayssa Bastos
GF Team berimbolo machine Mayssa Bastos has been a hot prospect since her colored belt days, and in the short time since she got her black belt (June 2018) she's already proved that she belongs at the top.
A gold medal at the IBJJF Pan No-Gi in September, winning the EBI women's strawweight tournament, and now a gold medal at No-Gi Worlds... Bastos looks unstoppable. Pati Fontes was hoping for a fourth World No-Gi gold medal, but Bastos stopped those plans by taking her back and submitting her with a rear naked choke after going 9-0.
Adult / Female / Black / Light-Feather
1 - Mayssa Caldas Pereira Bastos - GF Team
2 - Patrícia Maria N. Fontes dos Santos - CheckMat
3 - Miriam Cardoso Cerqueira - Elite Brazilian Jiu Jitsu Redmond
3 - Sofia Rosa Amarante - Fight Sports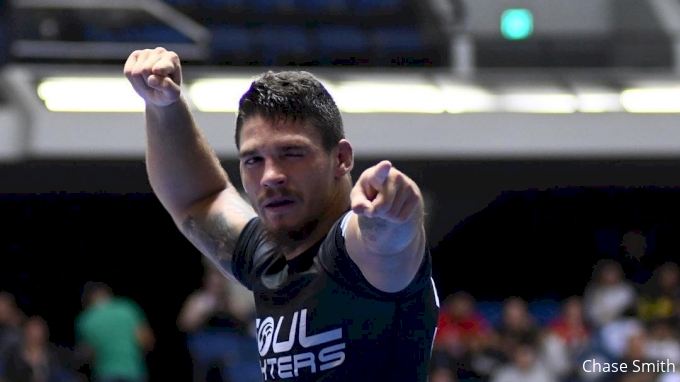 Hugo Marques
Marques is the "oldest" black belt on this list, having been promoted on June 3, 2017. Marques has been competing in the black belt ranks since and is a veteran of the big tournaments such as Euros, Pans and Worlds. He conquered his first major No-Gi medal at the Brazilian No-Gi Nationals in September, taking double gold (middleweight and absolute).
The World No-Gi gold medal did not come easy for Marques. He had to beat the always-dangerous Victor Silverio, an incredibly sharp Dante Leon in the semifinal and the crafty Jaime Canuto in the final.
Adult / Male / Black / Middle
1 - Hugo Doerzapff Marques - Soul Fighters BJJ
2 - Jaime Soares Canuto - GF Team
3 - Dante Leon - GF Team
3 - Manuel Ribamar V. de Oliveira Filho - Unity Jiu-jitsu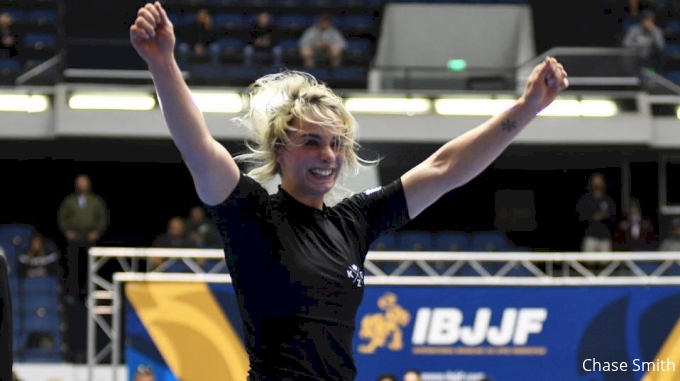 Ffion Davies
The first British grappler to win a medal in the black belt divisions of No-Gi Worlds, Ffion Davies made history here in California.
A brown belt World champion and purple belt World No-Gi champion, Davies only received her black belt just over two weeks ago! In at the deep end in her first major black belt tournament, Davies passed the guard of the 2018 World and European champion and out-scored her by a huge 7-0.
Adult / Female / Black / Feather
1 - Ffion Eira Davies - ECJJA
2 - Amanda Monteiro Nogueira - GF Team
3 - Heather H. Raftery - Atos Jiu-Jitsu
3 - Jessica Cristina C. A. dos Santos - Elite Brazilian Jiu Jitsu Redmond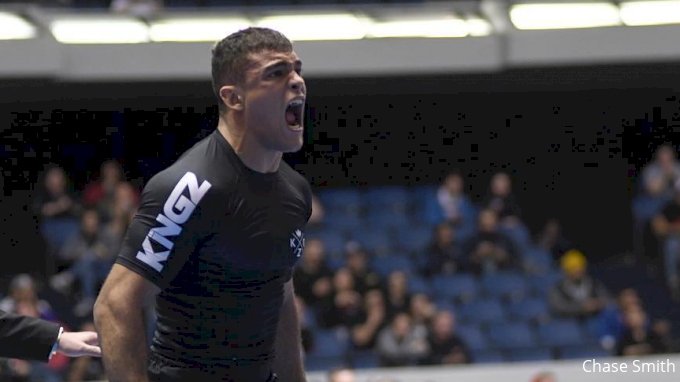 Kaynan Duarte
Anybody who follows jiu-jitsu will have already heard that Kaynan Darte is the next big thing out of Atos– literally and figuratively. Competing here at super-heavyweight, the powerhouse cruised to gold in his first World No-Gi Championships.
We've known all about Duarte's no-gi prowess since early 2017 when he qualified for ADCC as a purple belt. This is the first time he'd had chance to show his skills as a black belt, having only been promoted in June of this year following a gold medal at Worlds in the brown belt division.
Kaynan's preferred no-gi submission is the guillotine, and that's exactly what he used to tap the veteran James Puopolo for gold.
Adult / Male / Black / Super-Heavy
1 - Kaynan Casemiro Duarte - Atos Jiu-Jitsu
2 - James Richard Puopolo - Ribeiro Jiu-Jitsu
3 - Eliot Andrew Kelly - Yemaso Brazilian Jiu-Jitsu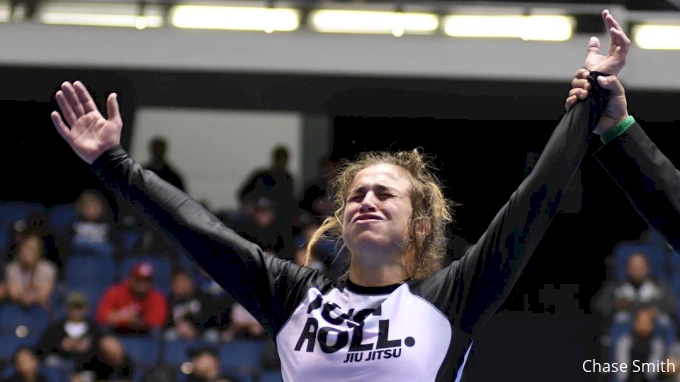 Catherine Perret
Like Marques, Perret earned her black belt in June of 2017 after winning Worlds as a brown belt. She always performs well in no-gi, as she showed in September by winning No-Gi Pans.
Perret's performance at No-Gi Worlds included wins over two former champions: 2017 champ Jena Bishop in the semi, and then three-time champ Tammi Musumeci in the final, a match Perret won via two advantages. A physical and dynamic athlete, Perret thrives in no-gi and this is likely her first of many important titles.
Adult / Female / Black / Light
1 - Catherine Fuhro Perret - CheckMat
2 - Tammi Alana Musumeci - Brasa CTA
3 - Jena Rae Bishop - Gracie Humaita San Diego Competition Team
3 - Michelle Zonato Nicolini - CheckMat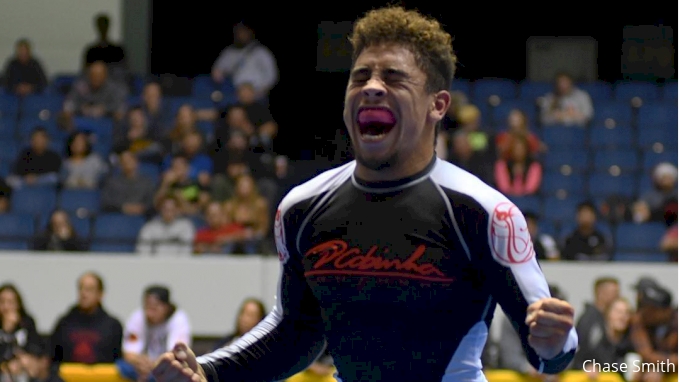 Kennedy Maciel
If the 2018 World No-Gi Championships was a test, Maciel passed it with flying colors. With only six month's experience as a black belt, there were many questions over how Maciel would handle competing in a division as loaded with talent as featherweight.
The young man proved that he is sharp with his submissions, intelligent in his approach and mature with his decisions– everything a black belt needs to become a champion. Five matches saw wins over fellow rookie Matheus Gabriel, veterans Sergio Calderon and Gabriel Marangoni, ADCC vet Pablo Mantovani and finally Gilson Nunes in the final... all making Maciel a world champ at only 21 years of age.
Adult / Male / Black / Feather
1 - Kennedy Leonardo Maciel - Alliance
2 - Gilson Nunes De Oliveira Neto - CheckMat
3 - Ian Phyllip Sanders - Rodrigo Freitas Brazilian Jiu-Jitsu
3 - Pablo Mantovani Dutra - Atos Jiu-Jitsu