Unlock this article, live events, and more with a subscription!
Get Started
Already a subscriber? Log In
If you haven't been paying attention to the King of Mats (KOM) Invitational presented by the UAEJJF, than you've been missing out on one of the most competitive and intriguing series of modern professional jiu-jitsu.
The inaugural KOM ran during the 2018 Abu Dhabi World Pro and crowned three Champions – Leonardo Saggioro lightweight, Charles Negromonte for Middleweight, and Alexander Trans in the Heavyweight division
With a maximum weight limit of 85kg, the middleweight King of Mats is open only to the most qualified of athletes: in this case, all competitors are champions from the Abu Dhabi World Pro and Abu Dhabi Grand Slam events. The winner of this weekend's affair will bag $10,000 and will get the chance to challenge remaining middleweight King of the Mat, Charles Negromonte.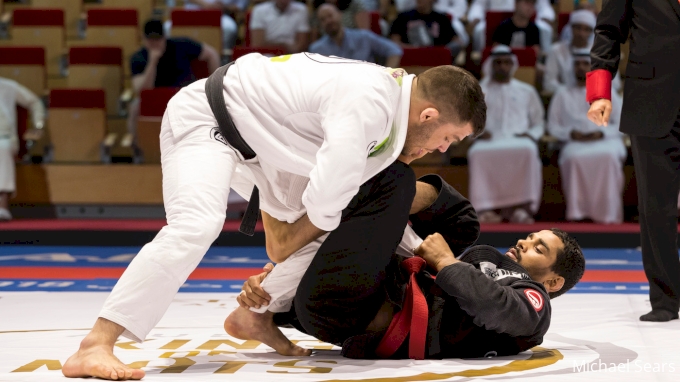 Charles Negromonte working the pass against Jaime canuto.
King of Mats is not merely a test of skills, but preserving and heart – it's around Robin event, Meaning you don't just have to win A LOT of matches, but the manner you win them is also key. Submissions count for more than a win by points, a decision even less, and a loss counts for nothing.
There are two groups, A & B, and the winners of each will advance to the final, third place is determined by the two second-place finishers from each group.
The breakdown is below.
Group A
Gabriel Arges
Espen Mathiesen
Lucas 'Hulk' Barbosa
Rudson Mateus
Alan do Nascimento
Group B
Roberto Satoshi
Isaque Bahiense
Manuel Ribamar
Diego Ramalho
DJ Jackson
Analysis
Group A:
Favorites: Gabriel Arges & Lucas Hulk In a group as stacked as this, it's difficult to say any one single member has a strong shot at earning gold, but we do see two men whose attributes (both physical and skills) give them a strong chance of succeeding at KOM: Lucsa 'Hulk' Barbosa and Gabriel Arges.
Hulk's strengths: literally, strength. He'll be one of the heaviest and strongest competitors throwing down at the king of mats, but he also has the conditioning to match. He's a nightmare matchup for someone like Espen Mathiesen and Finfou, both of whom will be significantly lighter and if paired with Hulk in the latter end of the match order, could have some real problems handling the explosive nature of Hulk's game.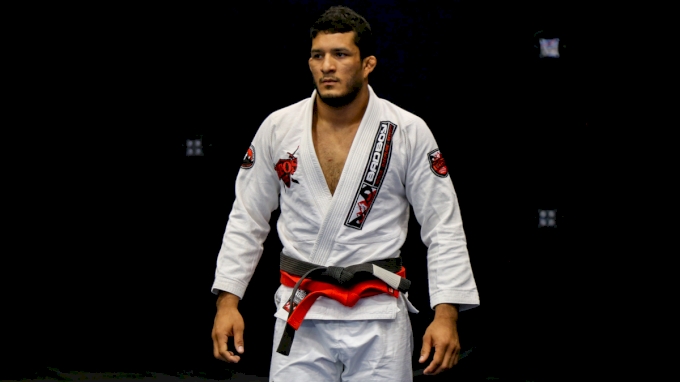 Gabriel Arges makes up the second member our favorites from Group a – he's secured a spot here mainly on the fact that he's experienced a King of Mats event before (he competed up a weight class in September in the heavyweight KOM) and his overall strategy is one that is built for longevity. Arges game is very calculated, and he baits his opponents into his craft 50/50 guard where he can either efficiently control the game and sweep or change things up and go for submission attacks.
We predict Arges toughest matches to be against Hulk and Rudson Matheus, but you really can't count out anyone in this incredible group.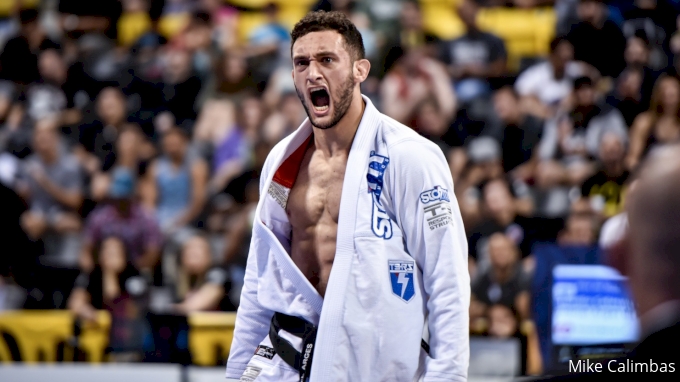 Proving Grounds: Espen Mathiesen and Rudson Matheus. There's no doubt that both of these athletes are among the very elite in the game, but in this competition, they are the youngest, and most recently promoted black belts. Espen Mathiesen bested Edwin Najmi at World Pro in 2018 and looked phenomenal at Worlds later that year, losing narrowing to Lucas Lepri in the semi-finals.
Likely the lightest competitor in the entire event, Matheisen's guard is already the stuff of legend – he held Lucas Lepri to a lone advantage at the 2018 World Championships and his berimboblo sequences are some of the most finely tuned in the game.
Matches we want to see: all of them. Espen is a unique stylist in jiu-jitsu, and it will be a pleasure to watch him attempt to implement his game against a diverse and well-rounded group as this.
Espen Mathiesen vs Edwin Najmi – 2018 World Pro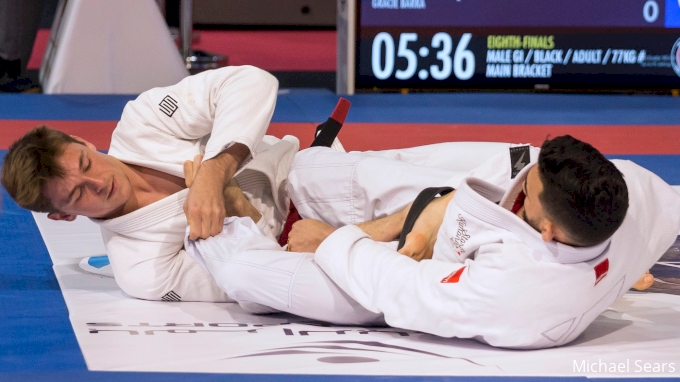 Unlock this video, live events, and more with a subscription!
Get Started
Already a subscriber? Log In
Meanwhile, Rudson Mateus has made a reputation for himself as one of the most skilled submission artists at black belt right now. His closed guard is already the stuff of nightmares, and he is also known to hit armbars from just about anywhere.
We're interested to see how Rudson deals with the pressure of Lucas 'hulk' Barbosa, and experience of World Champ Gabriel Arges.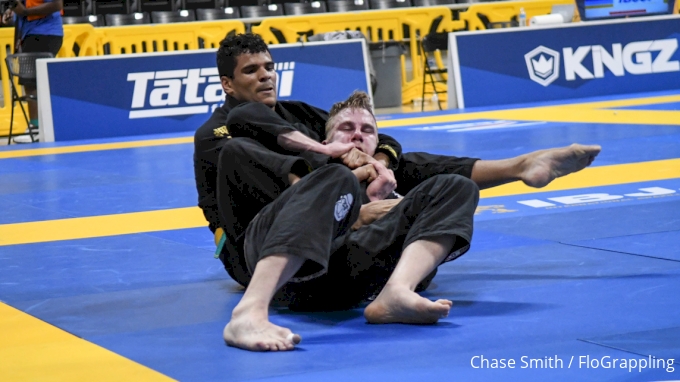 Rudson Mateus sinks in the choke.
The Dark Horse – Alan 'Finfou' do Nascimento. Finfou'has one of the most inspiring stories in jiu-jitsu, a black belt under Ricardo Veirie and early student of Terere, Finfou was able to get out of the favelas of Brazil and expand Checkmat's reach into Europe.
Surging European Black belt Adam Wardzinski and Heavyweights King Of Mats Alumni received his black belt from Finfou.
It should be noted that Finfou holds wins over Charles Negromonte(decision, 2016) and Gabriel Arges (by DQ).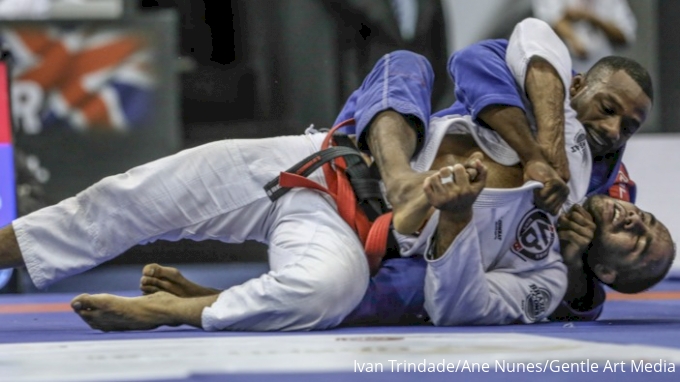 Finfou at Work.
Group B
The Golden Boy– Isaque Bahiense. The Alliance firestarter had one of the most impressive runs in 2018, and his only loss in a major competition came at the hands at the current middleweight KOM, Charles Negromonte.
Bahiense's strength lies in his dogged approach to the gentle art where he wears down his opponents through a war of attrition and speedy attacks. An excellent wrestler in the gi, Bahiesne is unafraid to attack the match on the feet and grab a quick single leg takedown. He's also an expert at ring craft and knows how to avoid getting scored upon by using the boundaries of the mat and footwork.
Matches we want to see: DJ Jackson. Another brawler, we can't think of a time where DJ Jackson has crossed paths with Bahiense before. The two have similar styles, and a clash betweem them is sure to bring fireworks.
3 Grinders: DJ Jackson, Diego Ramalho, and Manuel Ribarmar are some of the very best conditioned athletes on the planet.
While it's true that Bahiese comes out with a blitzing pace that can be matched by few, these three athletes know how to turn it up as well, and are equally adept at implanting their own game plans to bring the match where they want it.
Ramalho had something of a breakout 2018, shining throughout the ADWJJT and is currently ranked #2 in the organization with 19 wins and two losses (one of them delivered by Bahiense at the 2018 Rio Grand Slam and the other from Manuel Ribamar).
The ZR team representative makes clever use of the lapels when playing guard is and can be quick to jump on a footlock should the opportunity arise.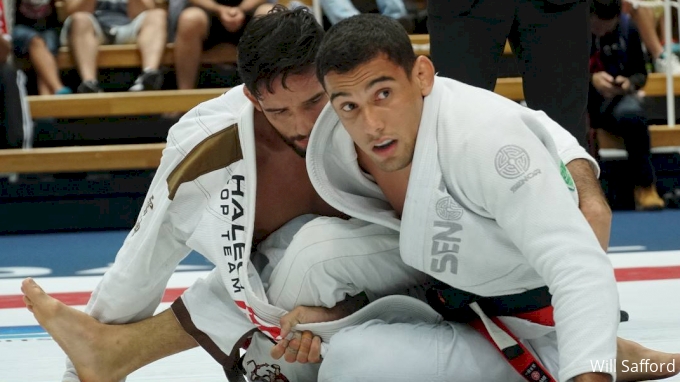 Diego Ramalho.
As mentioned DJ Jackson is another grappler who truly 'embraces the suck' as they saying – he has the will to take matches into deep waters and attempt to break his opponent through sheer-will and pressure. A top-player through and through, DJ intends to impose his will throughout the matches.
One of the busiest athletes in 2018, we're excited to see that Jackson intends of keeping his busy-work rate up in the new year!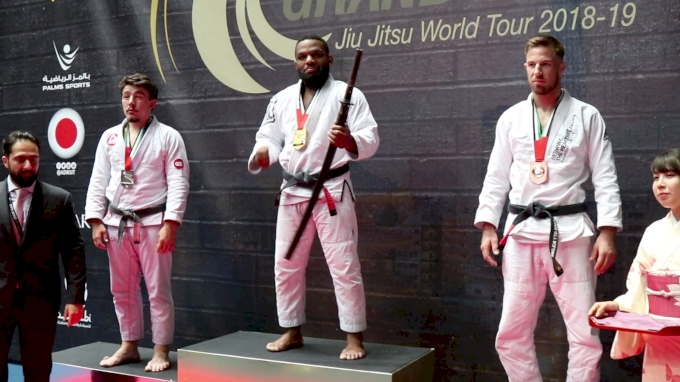 DJ Jackson at the top of the podium at ADGS Toyko.
Manuel Ribamar quietly had one of the best seasons of his career in 2018. The unity representative had incredible performances the 2018 LA Grand Slam and World Series of Grappling 2 – besting Gabriel Arges at WSOG and Rudson Mateus + Diego Ramalho at the LA Grand Slam. Ribamar's game is understated, but controlling and overwhelming for his opponents.
Expect him to thrive in the round-robin format.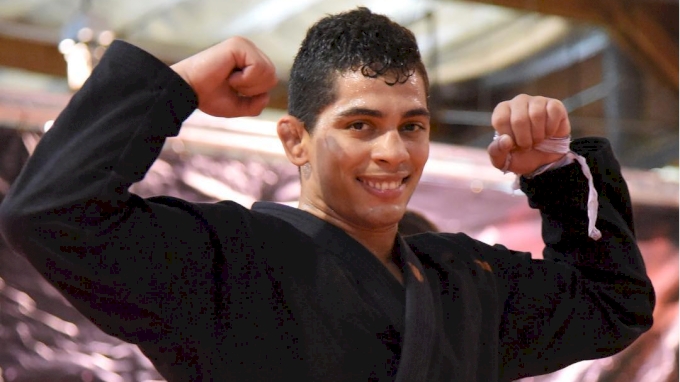 Ribamar celebrates at WSOG.
The Showman – Roberto Satoshi. If you've ever seen Roberto Satoshi in action, you understand why he's must-watch TV. Highly creative, exceptionally technically, Satoshi eschews playing it safe and instead favors forcing scrambles and attacking with ballistic intensity. Flying attacks are certainly a possibility in a satoshi match and his triangle has been the demise of many game opponents.
Just as with Espen above, we're eager to get as much time watching Satoshi as possible, meaning we're PUMPED on all five matchups featuring. the Bonsai jiu-jitsu leaders. His toughest challenges likely come from DJ Jackon and Bahiense, who' will do their best to smother Satoshi's game and keep him from entering overdrive.