The 2019 Pan Jiu-Jitsu IBJJF Championship is one of the most important jiu-jitsu events of the year, bringing together world-class athletes of every belt color in a multi-day event that will help determine how the 2019 gi season plays out.
Pans goes down from March 20th* to 24th, 2019 and you can watch every match LIVE or On Demand ONLY on FloGrappling.
* The organization may schedule fights for March 20th, if the number of athletes registered exceeds capacity to fit the event in four days.
Pans has long been one of the most important events on the calendar, second only to Worlds in terms of prestige and difficulty. The location of Irvine, California means we see many local teams come out in force, as well as top-level competitors flying in from around the world.
Some of the best matches we've ever seen have taken place at Pans, such as Leandro Lo vs Keenan Cornelius, Joao Gabriel Rocha vs Lucas Lepri, Dante Leon vs Tommy Langaker, JT Torres vs Espen Mathiesen, Mahamed Aly vs Jared Dopp, Karen Antunes vs Bianca Basilio, Erberth Santos vs Matheus Diniz, Edwin Najmi vs Sinistro, Nicholas Meregali vs Otavio Nalati and many more.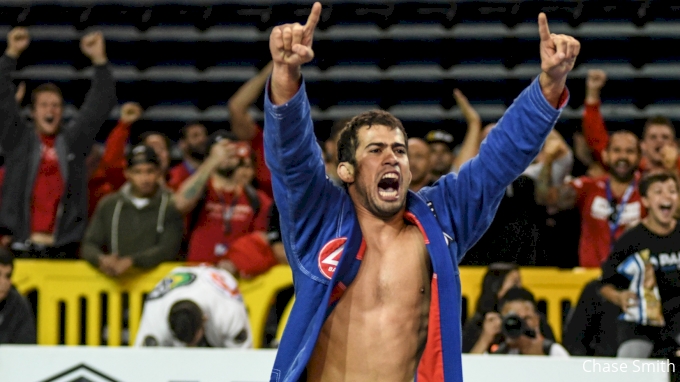 Two-time Pan champion Otavio Sousa in 2017.
Black belts now require 40 points to enter. As one of the IBJJF "Grand Slam" events, Pans is a 4-star ranked event and can offer gold medal-winning black belts 108 points in the season ranking.
Currently Lucas "Hulk" Barbosa is the no.1-ranked athlete in the IBJJF ranking with 1168 points, ahead of no2.-ranked Leandro Lo, who has 997.5. Hulk's Atos teammate Keenan Cornelius is at no.3 with 847.
Important Dates
Registration deadline Mar 11th, 2019
Schedule release date Mar 19th, 2019
Brackets release date Mar 19th, 2019
Pre-schedule (Published February 2019)
Wednesday:
White Adult
White Masters 1 to 3
Blue Adult male
Thursday:
White Adult
White Masters 1 to 3
Blue Adult male and female
Purple Adult
Blue Master 1 to 7
Purple Master 1 to 7
Friday:
Blue Adult female
Purple Adult
Blue Master 1 to 7
Purple Master 1 to 7
Brown Master 1 to 7
Saturday:
White Juvenile
Blue Juvenile
Purple Juvenile
Brown Adult
Brown Master 1 to 7
Black Master 1 to 7
Black Adult
Sunday:
Brown Adult
Black Master 1 to 7
Black Adult
How to Watch
If you can't make it out to Irvine, California for this crucial tournament you'll be able to watch all of the unmissable action from the comfort of your own home or even on the go via a mobile device.
Watch on your desktop
Every mat will be streamed live on FloGrappling.com. Our player allows you to switch between all 12 mats, meaning you can search out the best divisions and best matches and watch them live.
Every match is automatically recorded and uploaded to our archive, meaning you can go back and look for you favorite athletes or the most talked-about matches.
Watch on mobile
By downloading the FloSports IOS app fans everywhere can watch live events, access breaking news and articles, and view highlights across the entire digital network of sports sites, including wrestling, MMA, basketball, football, track and more.
You can even get notifications when key events are about to start, meaning you won't miss out on any of the action.
Watch on the big screen
The Flsports apps on Roku and Apple TV gives you direct access to live events as well as our premium documentaries and more.
FloSports apps are free to download and include both free and premium content– subscribers can view live events on their TV screens from the comfort of their living room.
When to watch
The 2019 Pan Jiu-Jitsu IBJJF Championship will take place in Irvine, California, and matches start every day at 9am local time.
| | | | | | | |
| --- | --- | --- | --- | --- | --- | --- |
| Los Angeles | Chicago | New York | London | Abu Dhabi | Tokyo | Sydney |
| Thu 9:00am | Thu 10:00am | Thu 11:00am | Thu 4:00pm | Thu 7:00pm | Fri 0:00 | Fri 2:00am |
Mobile app users will get notifications when the event starts, and we'll announce the start of each day on our Facebook and Instagram pages.
How to follow the action
The IBJJF publish all brackets and a live-updated running order for every mat. You can filter by division, gender and even search for specific athletes. We will post the link when published.
Stay connected
Follow FloGrappling on:
Follow IBJJF on: