Fight 2 Win rolled into Houston last night with a card that was fire from top to bottom.
The main billing included GF Team superstar Gutemberg Pereira take on hometown hero Alexandre Ceconi; with the co-main event featured Hannette Staack, a legend of women's jiu-jitsu facing one of the sports rising stars in Amanda Alequin.
Make the jump to see how the matches played out.
Gutemberg Rolls Through Ceconi, Retains F2W Heavyweight Title
Ceconi walked out to a cacophony of cheers: the hometown favorite lives in Houston and as a thriving e association, many of his teammates were on hand to cheer the former World Pro and Brazilian national champion on.
But it was not to be the Cinderella story they had hoped for: Gutemberg was in control of the match from the opening bell and looked to finish the fight with ferocious intent.
Opting to pull guard early, Gutemberg hit a beautiful bump sweep to land directly into mount. Ceconi was able to recompose his half guard, but Gutemberg worked his way back to mount and locked in a slick triangle from the top, rolled to his back, and finished the fight.
Staack Becomes Featherweight Champ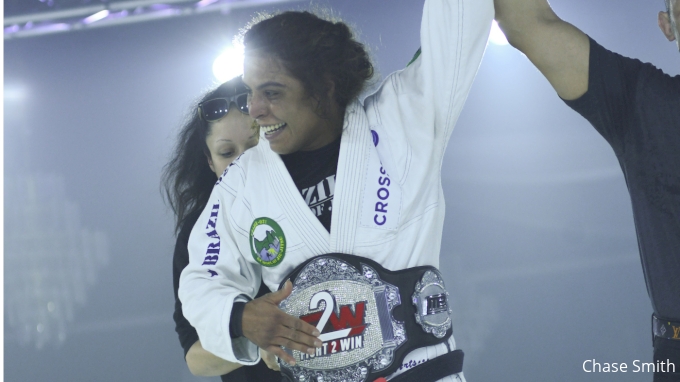 Hannette Staack made her Fight 2 Win debut last night in fine fashion.
The 2x ADCC Champ and 5x IBJJF champ took on F2W Veteran Amanda 'Tubby' Alequin in one of the most exciting bouts of the night. It was evenly paced throughout, with both women hunting for toeholds and chasing down scrambles. In the end, the judges awarded Staack with the decision victory and the Fight 2 Win belt.
Watch the full event replay of Fight 2 Win 103