The arrival of the Pan Championships means that we've entered the heat of the 2019 season.
Athletes have already fine-tuned their game plans and faced their rivals at least one time this year. A strong showing at Pans is an indication fo what is to come at Worlds just two months later.
Brackets have yet to be released, but the full list of competitors is out, meaning we've had some time on our hands to dream up our favorite matches that may prove to come true. Make the jump to find out which matches we're dying to see next week at the 2019 Pan Championships.
---
Leandro Lo vs Kaynan Duarte – Heavyweight
We're calling it now – this is the most hotly anticipated match coming into the 2019 Pan Championships. Though the brackets have yet to be released, it's our hope these two monsters can share the mats together it a generation bout for the ages.
Kaynan Duarte vs Fellippe Andrew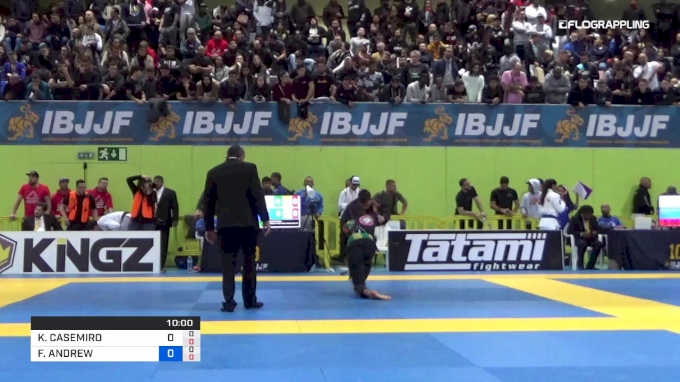 Unlock this video, live events, and more with a subscription!
Get Started
Already a subscriber? Log In
Should he succeed in taking double gold next week, Leandro Lo would pass Andre Galvao to become the person with the most Pans Championship titles of all-time. Meanwhile, Kaynan Duarte, still in his first year as a black belt, has looked nearly unstoppable and taken out the very experienced competition on hsi way to collect the 2018 European Championship Gold and London Grand Slam gold.
Leandro has the added pressure of coming off a disappointing loss to Nicholas Meregali just two weeks ago and the word on the street is that he is hungry for a victory.
---
Shane Jamil Hill-Taylor vs Kennedy Maciel – Featherweight
It's been a minute since we've seen Jamil Hill-Taylor in action; he competed once at the Spyder Invitational just a few weeks after the winning the 2018 World Championships and suffered a decision loss to brown belt phenom Jonatha Alves. But since then, he's simply been in the lab training and getting ready for the next big challenge, which as it turns out, is the 2019 Pan Championships.
Meanwhile, Kennedy has been competing non-stop since winning brown belt worlds, with excellent but mixed results. He uncharacteristically bombed out of the European championships in January but came back strong at the IBJJF LA Pro to take gold a few weeks back.
As far as styles go – this bout sees two of the most technical go head to head. Jamil's R-DLR and use of the lapel is next level but he is equally keen to bob and weave on top; Jamil also clearly has the edge in terms of back belt experience, but Kennedy's talent and will to win is undeniable.
Jamil Hill-Taylor: How I Wont vs Sami Chantre - 2018 Pans
Unlock this video, live events, and more with a subscription!
Get Started
Already a subscriber? Log In
---
Renato Canuto vs Johnny Tama – Lightweight
Both of these men bring an intensity to the tatami matched by few others.
Renato Cantuo's is channeled through pure kinetic energy; he's prone to launch flying attacks and guard passes and simply never quits moving. Tama, on the other hand, is much more calculated in his movements, but when he sees the opportunity for a submission, he attacks with no remorse. His vicious estima lock variation (known as the tamalock) has been the downfall of many keen competitors and sure the San Diego based competitor is more than ready to add a major title to his list of accolades.
Renato Canuto vs Mike Sanchez - Marianas Open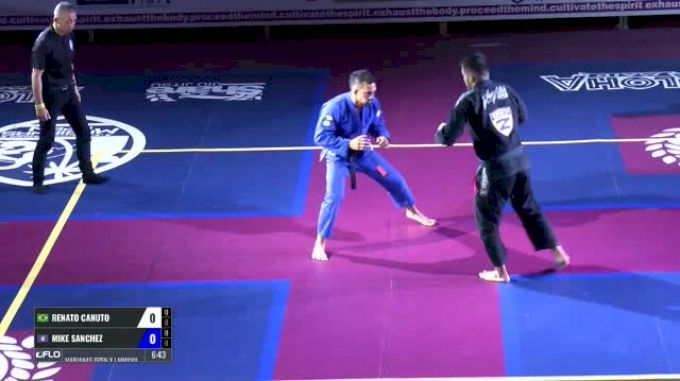 Unlock this video, live events, and more with a subscription!
Get Started
Already a subscriber? Log In
---
Issac Doederlein vs Matheus Gabriel – Featherweight
Issac Doederlein is another Cobrinha competitor that has been having an incredible year so far. A perennial contender since he earned the his black belt in 2015, Doederlein a regular feature on the podium at the worlds biggest events, and he is just one big win away from a major title.
Doederlein has a crafty guard and wicked ankle lock and kneebar – both of which could be seen in action very recently at the London Grand Slam where Doderlein nearly broke Paulo Miyao's leg (instagram post below) and brutalized Tiago Bravo's ankle.
Meanwhile Matheus Gabriel is one of Checkmat's hottest prospects. A strong passer, It's likely the Gabriel would prefer to stay on top in this potential matchup; look for his lighting quick leg drag and back step take sequences to come into place.
---
Isaque Bahiense vs Thomas Keenan – Middleweight
Isaque Bahiense is one of the most consistent and impressive competitors of our time. The 2018 World champion just doesn't know how to lose, and as of late has been traded his points-focused approach for some incredible submission finishes.
Bahiense has total faith in his guard, but he truly shines when blitzing passing takes and engaging in scrambles.
Which is why Thomas Keenan is an interesting riddle for the Alliance standout.
Keenan is another competitor that excels in transitions; he's extremely scrappy and eager to throw up a submission attack from unorthodox positions – which is what is required to beat someone like Bahiense.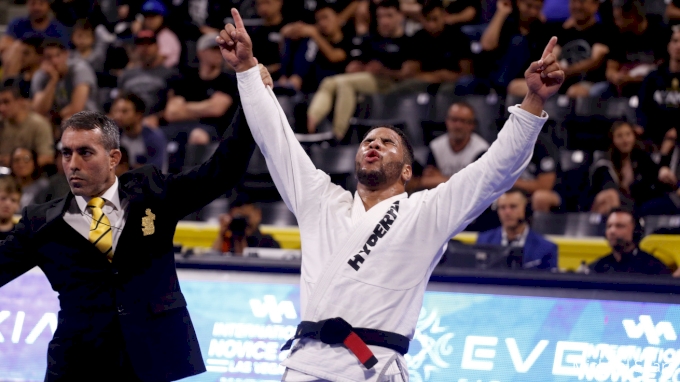 ---
Levi Jones-Leary vs John Combs – Lightweight
A true clash of styles appears here – ADCC 2019 West Coast Trials Winner John Combs is known for his aggressive passing sequences and brutal guillotine attacks (aka, the 'Combatine').
Meanwhile, Levi Jones-Leary has exploded onto the international consciousness after winning the European Championships by besting Lucas Lepri in the final; Levi recently made an appearance at the Spyder Invitational and was able to earn wins over Mathias Luna and Tanquinho.
Levi Jones-Leary's game plan is fairly transparent at this point – he wants to berimbolo his opponents at all costs, but he's so damn good at it that it remains a problem none the less.
---
Dante Leon vs Otavio Sousa – Middleweight
Otavio Sousa is one of Gracie Barra's strongest competitors and a prime candidate for a first place finish at Pans. A three-time World Champ and two-time pan Champion, Sousa's omoplata attacks and savvy top game leave his opponents clutching at straws.
Dante Leon is a GF Team competitor that likes to employ a variety of attacks from both the bottom and top position, and is simply a sledgehammer of a human being. Leon is a positional player that absolutely wants to smash and pass someone's guard on his way to mount of the back position.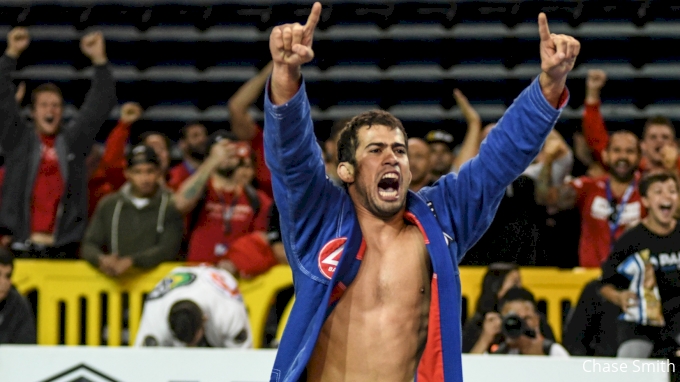 Otavio Sousa.
---
Mahamed Aly vs Fellipe Andre – Super-Heavy
This is the only rematch featured on the list, and with good reason – these two had an absolute war last year at the 2018 World Championships.
Just watch this and tell me you don't want to see it a second time.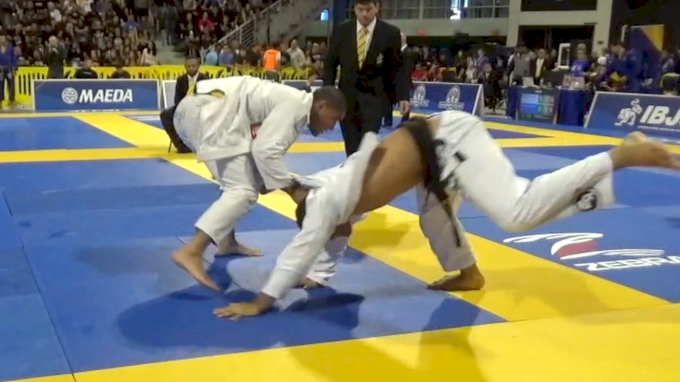 Unlock this video, live events, and more with a subscription!
Get Started
Already a subscriber? Log In