For jiu-jitsu fans there are few things more exciting than a showdown between two takedown artists, relentless in their efforts and unafraid of the pursuit to bring their opponent to the mat.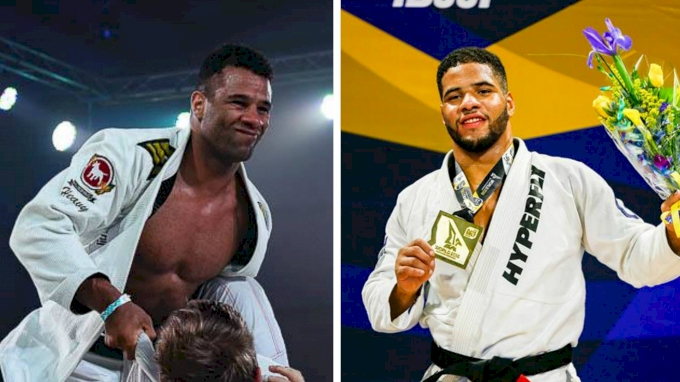 Oliveira and Bahiense
That's exactly what F2W 105 is bringing to the main event this Saturday night (Mar 16) when they arrive in Tulsa, Oklahoma with a 175lbs black belt gi main event between current IBJJF Middleweight World champion Isaque Bahiense (Alliance) and 3x IBJJF Master World champion Vitor Oliveira (GF Team).
Current IBJJF World champion and Flograppling no.1-ranked middleweight Isaque Bahiense has the speed, agility, and deadly pressure to tame the most threatening of guards and defy the most menacing top players. Already, in the few, short months of 2019 we have seen the Alliance bulldog take victories in thrilling matches against both established players and promising up-and-comers, including DJ Jackson, Tommy Langaker, Roberto Satoshi, and Diego Ramalho. That's the kind of resume you expect when you have the technique and athleticism developed by Bahiense. Those qualities combined with the sub-only format is destined to ignite the stage.
It will take both strategy and skill to subdue the momentum Bahiense has developed recently. Luckily for fans, that's exactly what Vitor Oliveira will deliver. In addition to being a 3x IBJJF Master World champion, Oliveira frequents the adult divisions, collecting hardware at the IBJJF Pan American and World championships just last year by taking out some of the division's toughest contenders including Victor Silverio and JT Torres.
Oliveira is known for his brutal throws, hitting a highlight-reel worthy seio nage multiple times during his Master Worlds campaign. Though the GF Team time bomb is nine years Bahiense senior, it doesn't look like age will make much of a difference in this explosive match up.
Both players are determined to stay in control, but have an incredible ability to transition and benefit from a scramble. Fans should expect a toe-to-toe match that shakes the stage! In addition to the main event the card hosts 37 gi and no-gi matches.
Catch it LIVE this Saturday, March 16 on FloGrappling on On Demand anytime after. The biggest party in jiu-jitsu starts at 5pm –don't miss it! Click to watch.