Unlock this article, live events, and more with a subscription!
Get Started
Already a subscriber? Log In
The 2019 IBJJF Pan Jiu-Jitsu Championship black belt absolute division will run on Mats 5-8, with men on 5 & 8 and women on 6 & 7. Watch the live stream here.
We're back! After a quick break for lunch we're back at the Bren Center at the UCI and the absolute division is underway. Women are up first, so we'll probably work through all of those before the men start. Could change though, the schedule is very flexible.
Here are our picks for the men's absolute division.
FloGrappling predicts the Pan absolute! ? pic.twitter.com/5IxhCs0SWQ

— FloGrappling (@FloGrappling) March 23, 2019
Here are the brackets:
Mens absolute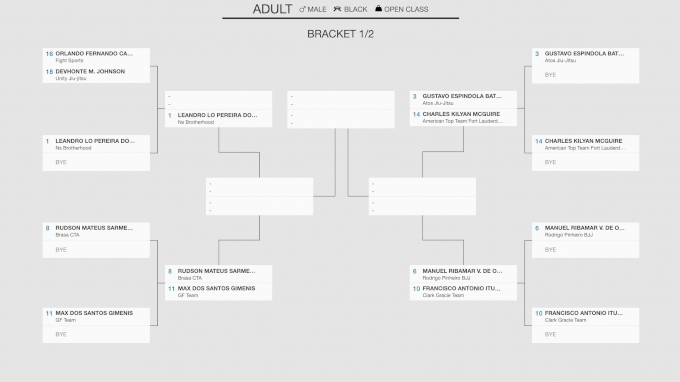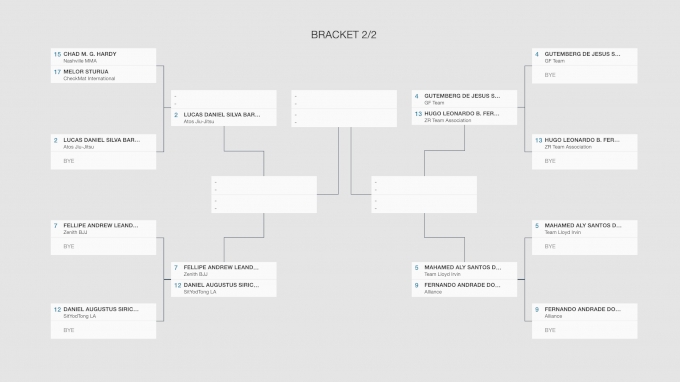 Women's absolute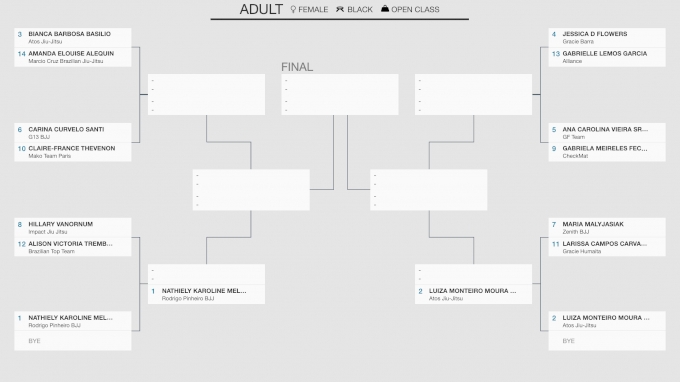 ---
Women's absolute
Carina Santi vs Claire-France Thevenon – watch video
Carina Santi just wrecked Claire-France Thevenon, taking her down, getting the back and choking her in 1.11. A strong start for the G13 team member. Thevenon shrugs as she walks off the mat like "well, I did my best!"
Winner: Santi via choke
Amanda Alequin vs Bianca Basilio – watch video
You got to love a verbal tap! Bianca Basilio has a mean straight ankle lock and she slapped a quick one on Alequin, getting the submission in 54 seconds. Ouch.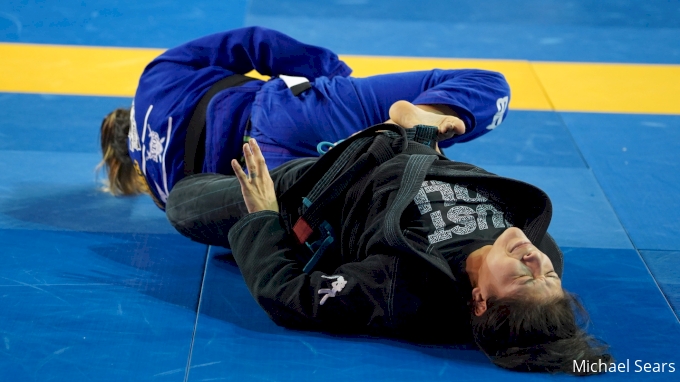 Winner: Basilio via footlock
---
Hillary Vanornum vs Alison Tremblay – watch video
Not much to write about, it was a 0-0 decision for Tremblay.
Winner: Tremblay by decision
---
Bianca Basilio vs Carina Santi
No match here as Santi is married to Basilio's coach Diogo Almeida, and let her advance in the bracket.
---
Jessica Flowers vs Gabi Garcia – watch video
Rematch! Gabi beat Jessica Flowers in the opening round of the super-heavyweight division. Flowers is desperately trying not to fall victim to the size and strength advantage of Garcia second time around, and they're playing mostly from their feet.
Flowers pulls guard and Garcia starts smashing– crossface pressure that looks like she's going to break her neck! The clock runs out 0-0, 3-0 to Garcia
Winner: Garcia by points 0-0, 3-0 adv
---
Nathiely de Jesus vs Alison Tremblay – watch video
Nathiely goes right to work with her famous guard, using her long legs to create leverage and sweep Tremblay. The Canadian sweeps her right back with a kimura from bottom half guard though and gets an advantage too: 2-2, 1-0 for Tremblay after 3 mins. Not happy with that, Nathiely pulls and slaps on an armbar from closed guard to end it.
Winner: Nathiely de Jesus via armbar
---
Larissa Campos vs Maria Malyjasiak – watch video
Big size difference between the light-featherweight Campos and medium-heavyweight Malyjasiak. The Brazilian pulls guard and works attacks but Malyjasiak takes an armbar in a little over three minutes.
Winner: Malyjasiak by armbar
---
The Mens absolute divisions is starting too, so we'll be switching coverage back and forth as the matches come up.
---
Ana Carolina Vieira vs Gabriela Fechter – watch video
Vieira returns and takes on the much smaller Fechter, a first year black belt. The Checkmat rep is known for her strength and she'll need it against Vieira, who pulls guard. Vieira works a wrestling-style single leg from guard and comes up for 2. Vieira works from top and takes a kneebar.
Winner: Vieira via kneebar
---
Nathiely de Jesus vs Bianca Basilio – watch video
Basilio actually got a win over Nathiely here in the absolute division one year ago when de Jesus was DQ'd for fleeing the area during a footlock attacks. No repeat this time and Nathiely jumps guard and works an armbar for the tap.
Winner: Nathiely via armbar
---
Devhonte Johnson vs Orlando Castilo – watch video
Featherweight Castilo is one of the lightest men in the absolute division. Devhonte's size a big factor here, as the Unity athlete passes the guard and works from top with little effort. Johnson goes up 7-0 and wins via choke.
Winner: Johnson via choke
---
Luiza Monteiro vs Maria Malyjasiak – watch video
Monteiro is looking fired up, she comes out guns blazing and tests Malyjasiak's guard to the limit with dynamic movement. The Polish black belt manages to slow her down a touch with leg fighting and lapel work but Monteiro is relentless.
Malyjasiak gets a sweep with 3.30 left, and they go into 50-50 guard. 2-0 for Malyjasiak. Luiza sweeps back and Malyjasiak answers. 4-2. Monteiro manages to get the leg into a solid position and hyperextends it for the tap.
Winner: Monteiro via kneebar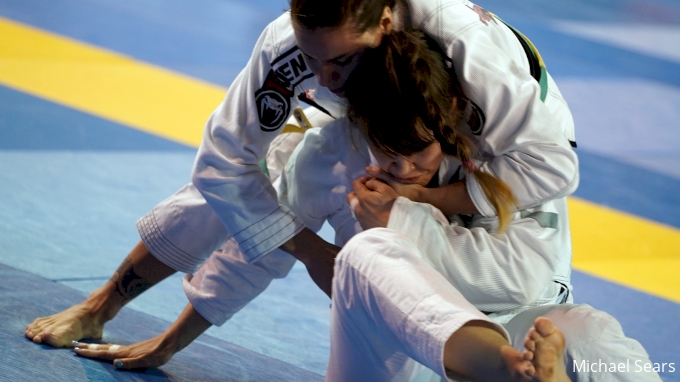 ---
Rudson Mateus vs Max Gimenis – watch video
No surprise, Rudson pulls closed guard. It's his bread and butter, and a smart move for the giant Gimenis. He's one of the few people I've seen that has been able to stand and open Rudson's closed guard. Not a lot to say other than Rudson wins via a single advantage.
Winner: Rudson 0-0, 1-0 adv
---
Gustavo Batista vs Charles Macguire – watch video
Easy work for Batista as he gets an ezekial from the back.
Winner: Batista via choke
---
Leandro Lo vs Devhonte Johnson – watch match
Wow, never thought I'd see this. Devhonte's coach Murilo Santana is the man who coaches Leandro in every major match. His distinctive deep booming voice is notably silent. I don't even see him at matside.
Leandro pulls closed guard and switches between open and closed, but Devhonte's doing his best to deny him any solid grips. Lo finally gets that pant leg / upper body grip he loves so much and puts Johnson down.
Winner: Lo via points 2-0
---
Gabi Garcia vs Ana Carolina Vieira – watch match
Wow, this is one of the absolute matches we hoped we'd see. Vieira playing smart by keeping Gabi at distance and trying to stay from under her. Four minutes in and they're still on their feet, with Gabi stalking forward and Vieira finally getting a penalty for going out of bounds. This keeps playing out and Vieira gets a second penalty, giving Garcia an advantage.
Winner: Garcia via points 0-0, 1-0 adv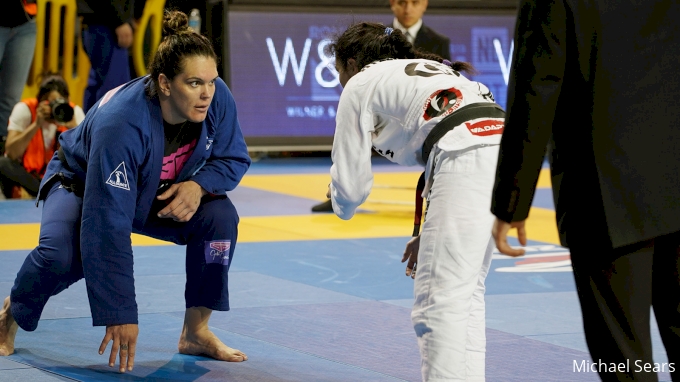 ---
Fellipe Andrew vs Daniel Speirn – watch video
Aggressive start from the Zenith black belt who works a nice smash pass and finishes with an arm-triangle choke.
Winner: Fellipe Andre via choke
---
Gutemberg Pereira vs Hugo Ferreira – watch video
Easy work for Gutemberg who wins via choke from the back in less than three minutes.
Winner: Batista by collar choke
---
Gustavo Batista vs Francisco Iturralde – watch video
"Sinistro" is known for his weird jiu-jitsu and he had Batista in some strange positions, but the Brazilian was able to to get the back and finish with a rear naked choke.
Winner: Batista by choke
---
Mahamed Aly vs Fernando Reis – watch video
These guys don't even look in the same weight division, but believe it or not Reis is a super-heavyweight. Aly cuts a ton of weight and stood next to each other he makes Reis look like a middleweight.
Aly scores early with a beautiful yoko tomoe nage– a side stomach throw. Reis has got a very trick half guard and he nearly gets Aly's back, but the big man works a good top game a finishes with a cross collar choke.
Winner: Aly by choke
---
Gabi Garcia vs Luiza Monteiro – watch video
This is a semifinal, and Monteiro has the crowd screaming with a kneebar attack! She has Garcia's leg locked out straight but can't quite get that extra inch to finish.
Garcia manages to get on top and taps Luiza with pressure. She'll face Nathiely in the final tomorrow.
Winner: Garcia via submission
---
Lucas Barbosa vs Chad Hardy – watch video
First match for Hulk this weekend, and he blows through Hardy winning via arm-triangle.
Winner: Barbosa by submission
---
Leandro Lo vs Rudson Matheus – watch video
I'd love to be able to write plenty about this match, but not that much happened. 0-0, 2 penalties each for inactivity... And the clock running out with Lo just sat on top in Rudson's guard. The referees give it unanimously to Lo. He'll face former student Gustavo Batista in the semifinal. Not at all awkward, given that Batista left Lo's team to defect to Atos. Yikes.
Winner: Lo via decision
---
Mahamed Aly vs Gutemberg Pereira – watch video
Quarterfinal match: don't forget it was Pereira who won here last year in the absolute, beating Aly and going on to face Lo in the final. So a lot on the line in this match.
Pereira pulls guard and Aly attempts a dynamic flying interception. Pereira showed off his flexibility earlier inverting and playing a nice berimbolo, so we know he has a good guard. He uses a 50-50 lapel control to keep Aly under control– we all know what happens when you give Aly space to move.
Aly drops back on a toehold as they playing in 50-50 and makes Gutemberg grimace. The attack allows him to come up. Gutemberg is holding his ribs during the brief restart– he injured them badly some months ago and they're the reason he hasn't been competing much. He looks hurt– not sure if he can continue.
What a gusty performance! Right back into the action and Gutemberg goes up by 2 and nearly passes the guard with around 20 seconds left. Final score: 4-2 to Pereira. Let's see if those ribs allow him to continue though. He gets the winner of Hulk vs Fellipe Andrew!
Winner: Gutemberg Pereira via points 4-2
---
Lucas Barbosa vs Fellipe Andrew – watch video
Quarterfinal match: Near takedown for Hulk who has Fellipe hopping from an uchimata attempt. Fellipe pulls guard, where he works closed guard for about six full minutes. He opens and Hulk passes to the back, where he gets the choke in seconds. Incredible, and revenge for Andrew beating him here in the absolute last year.
Winner: Lucas Barbosa by choke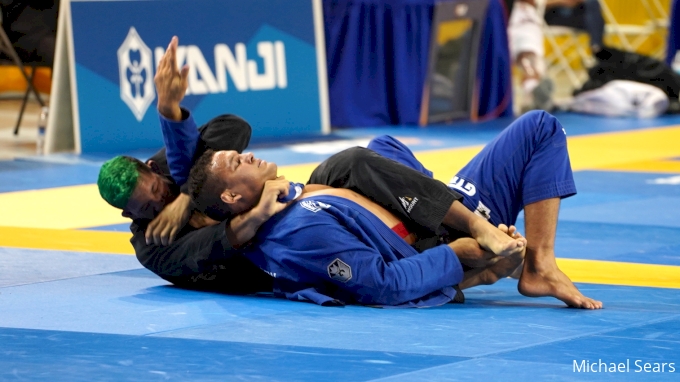 ---
Leandro Lo vs Gustavo Batista – watch video
Semifinal: a master vs a former student. Lo gave Batista his black belt, but left and joined Atos last year.
They start slow– you can imagine they both know each other's games really well. A large chink of the match was them either stalemated or being careful to commit. The highlights including Lo sweeping Batista with the 50-50, and Batista pulling guard into an armbar attack in the last 30 seconds of the match. It was all respect at the end, and they were both exhausted from the effort.
Hard to say how close the armbar was, but Lo has ice on his elbow now the match is over.
Winner: Leandro Lo by points 2-0
---
Gutemberg Pereira vs Lucas Barbosa – watch video
Pereira pulls guard and Hulk immediately starts testing it before the GF Team member decides to close it up. Pereira opens the guard as they come to the halfway mark and works a spider / lasso guard against Barbosa.
Three mins left in the match and they go to their feet, Pereita signals to the ref that his ribs are hurting him. A quick look from the medic and he's OK to continue.
A passing blitz from Barbosa with two mins left. He tries double unders left and right but can't get around Pereira's long legs. Pereira throws up a triangle with 40 seconds left and Hulk passes around it and forces Pereira to turtle. That's an advantage for Hulk. Pereira pulls again and throws up an armbar as time runs out. Hulk takes it.
Winner: Hulk via points 0-0, 1-0 adv
---
That's it for today!
The weight divisions kick back off tomorrow at 9am, and the absolute finals go down tomorrow afternoon approximately 5.45pm local for the women and the men around 6.00pm.
See you then!