Unlock this article, live events, and more with a subscription!
Get Started
Already a subscriber? Log In
Fans and followers of women's jiu-jitsu were treated to a spectacular line-up at this year's Pans. There were World, Pan and European champions in attendance and for the most part the divisions were– save for some extreme examples– hyper-competitive. If there is any criticism of the current state of affairs of women's jiu-jitsu is that there are many black belts out there but only a handful tend to register for tournaments, and less so for significant events like Pans. That's why were delighted to see some of the deepest divisions since last year's Worlds. Nearly 40 women were signed up in the female adult black belt divisions, with an average fo 4.7 competitors per division. Roosterweight was the only division with less than four competitors, being a single match between Mayssa Bastos and Serena Gabrielli. Light-featherweight had a solid 7 entrants, but only six competed as Gabriela Fechter missed weight.
Of the eight women crowned champion at Pans, three of them were competing in their first year as black belts.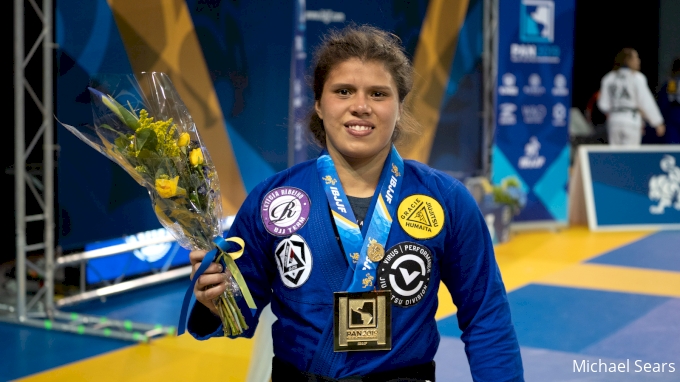 Pan Gold Streak Continues For Gabi McComb
The Gracie Humaita rep had a standout career in the lower ranks, winning Worlds as both a blue and purple belt and No-Gi Worlds as a brown belt. In 2018 she took double gold at Pans, winning both her weight and the absolute division. Though she skipped Worlds last year she was awarded her black belt right around the midway mark and soon got to work showing what she's made of.
Since getting her black belt in June 2018, McComb has competed in various grappling events: from a no-gi submission-only F2W match vs UFC veteran Liz Carmouche to winning the UAEJJF LA Grand Slam, taking gold at No-Gi Pans or the LA BJJ Pro– McComb is a versatile and dangerous competitor. Interesting fact: she defeated Nikki Sullivan of Atos in the brown belt final in 2018 and again in the black belt final in 2019, most recently via rear naked choke.
McComb has now won Pans at four different belts in five years: as a blue in 2015, purple in 2016, brown in 2017 and 2018 and now black in 2019.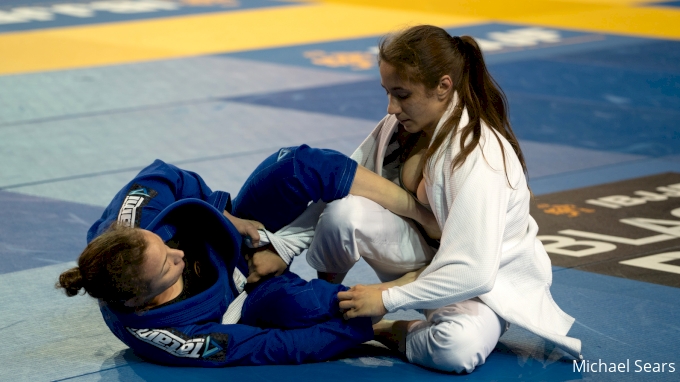 Mayssa Bastos Unbeatable As Always
Let's forget for a minute there was only one fight for Mayssa Bastos and remember that the 21-year-old Brazilian has won every single event she's entered since getting her black belt midway through 2018. The Pan gold follows on from European gold in January, and there are a multitude of gold medals in her collection: World and Pan No-Gi champ, American Nationals champ, champion in the UAEJJF Tokyo, Rio and London ADGS events, and more.
Almost all of her matches play out the same: a swift berimbolo to the back and a choke to finish. The diminutive yet deadly black belt uses her dexterity to great effect and so far few opponents have found an antidote to her lethal game.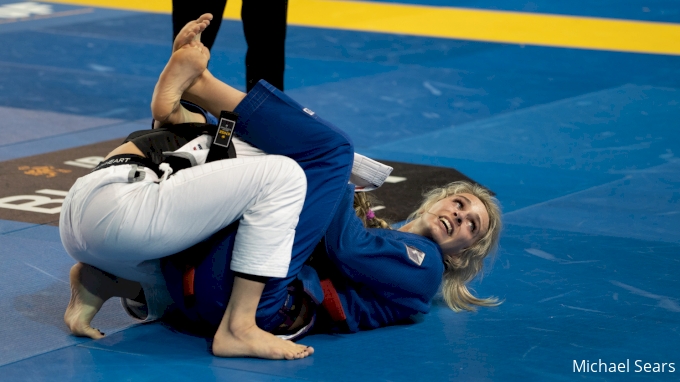 Ffion Davies Brings Fire To Featherweight Division
In just four short months Ffion Davies has risen to the very top of the jiu-jitsu world, and if her current form is anything to go by then she could enjoy one of the most successful first years as a black belt we've ever seen. Since getting her black belt at the end of November Davies has won the World No-Gi, European and Pan Championships, not to mention multiple superfights and a gold at the ADGS London. And, she says, she's not stopping there. The plans include Brazilian Nationals, Abu Dhabi World Pro and Worlds, a breakneck run of tournaments between now and the beginning of June.
Davies faced off with 2018 World and Pan champ Karen Antunes in the featherweight final and one of the defining moments of the match was when she used her judo skills to throw the Brazilian to the mat. Davies was a dedicated judo competitor until the age of 15, later taking up MMA when her interest waned. Luckily we've got her in jiu-jitsu now, and this tireless Welsh warrior stands as one of the most promising talents we've seen in a long time. Watch this space.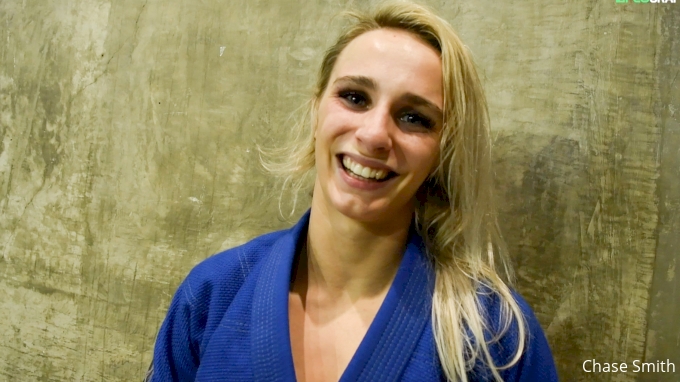 Unlock this video, live events, and more with a subscription!
Get Started
Already a subscriber? Log In